Around this time last year, Michael, owner of Yesteryear Comics of San Diego, wrote an article on Bleeding Cool in which he made the following pledge, as a way to combat what he saw as his audience being picked off by Amazon. He wrote,
So the one thing that I continue to hear is that small stores can not compete with larger outlets.

I personally think that is garbage.

So to put my money where my mouth is…I will be selling Trade-Paperbacks/Graphic Novels at 30% off everyday this year.

Obviously this will be good news for people who live in San Diego.

Big businesses had to start somewhere…right?

Here's a picture of the sign that is now hanging in my front window… So one year on, how have things changed? If indeed they have changed? Well, the sign is still up.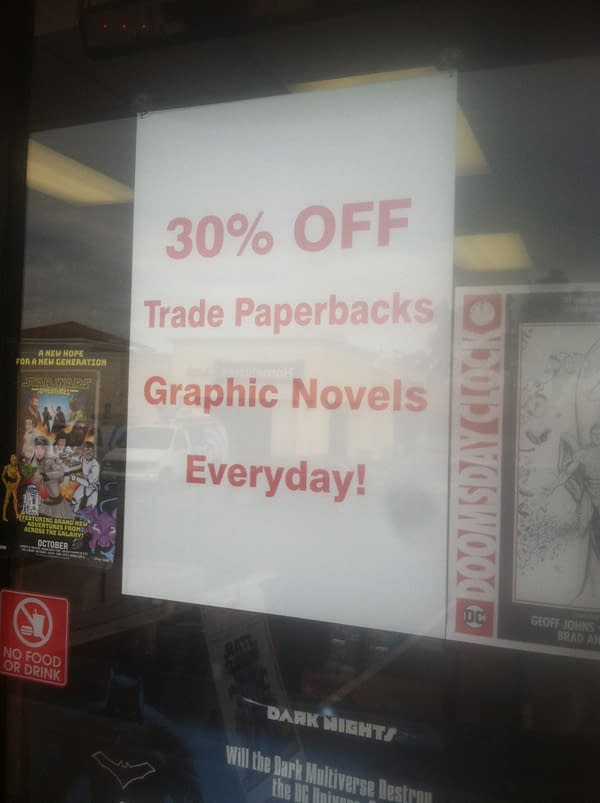 Michael tells us,
In 2016 with a 15% discount of trades and graphic novels I sold 1471 copies. In 2017 with the 30% off discount i have moved 3980 copies. Even if you want to do low fuzzy math at $1 per copy it helped generate close to $4000 dollars more in revenue. I, however, believe that the difference from 15% to 30% still helped to bring in closer to $7500 to the store.

I noticed that many people who were checking out product were more inclined to pick up a second and sometimes a third collection when I told them about the discount that they missed even though the sign takes up about a third of the window panel to the right of my entrance.

Considering that my main focus is still individual issues and not collected editions this was a huge plus to the store which allowed Yesteryear to increase its sales by 2% overall. In a year with most stores being down, this is a pretty big win.

The overall question to stores that think they can not compete with online sellers is pretty simple. Do you want the money or are you going to allow someone else like Amazon take the money? I believe something is better than nothing…
Enjoyed this article? Share it!