James Gunn Talks Writing The Guardians Of The Galaxy Vol. 3 Script
Guardians of the Galaxy Vol. 2 director James Gunn has been making the press rounds now that the home release for Guardians 2 has been set. He sat down with Collider to talk about the third movie, presumably titled Guardians Of The Galaxy Vol. 3, and how he wants to bring in the original Guardians group introduced during an after-credits scene into the Marvel Cinematic Universe. Gunn more or less knows the release date for the third Guardians movie, even if it hasn't been released to the public yet, but he also knows that things can change. As far as the third movie is concerned, Gunn is writing these in a three-act structure so three is going to wrap everything up and answer questions:
"It's been pretty easy. The truth is, the first movie is the first act, the second movie is the second act, and the third movie is the third act so I'm tying a lot of stuff together in the third film. We get a lot of answers on a lot of different things, so doing that in an elegant way takes a little bit of grace and elegance. It's more challenging in that respect writing the third movie than the second movie." Gunn also talked about his writing style and how it hasn't changed from when he was doing indies to handling the unexpected breakout franchise of the Marvel Cinematic Universe:
"I do an incredibly in-depth treatment for every movie. I think of writing a screenplay as creating the body of a human being and you've got to start with the skeleton, start with the bones, and you create the bones. You take a lot of time because that's the actual base of the movie and if you screw that part up, later on down the line, you're going to have a lot of mistakes. So by creating a really strong foundation for the story, that's the most important thing. So I write a good treatment that's probably about 70 pages long. It includes photographs and things like that. So that has been the way I've dealt with every movie and this one as well."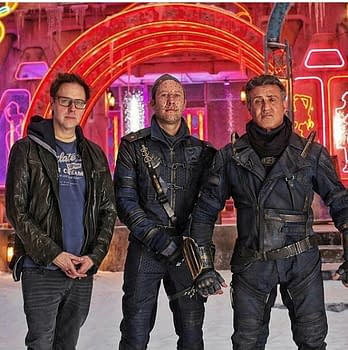 As for the original Guardians we saw in the after-credits scene? There have been talks, but nothing concrete:
"There's always discussion with Ravagers — it would be The Ravagers. It's always a possibility. I would be excited."
Guardians of the Galaxy Vol. 2 is released digitally in HD, 4K Ultra HD, and Disney Movies Anywhere on August 8th and physically on 4K Ultra HD, Blu-ray, and DVD August 22nd.