That Time Leonardo DiCaprio Sold a Dinosaur Skull to Russell Crowe
Leonardo DiCaprio is a collector. He takes collecting rare and valuable things very seriously. As a collector myself, I've heard too many credible rumors over the years to think otherwise. It's said he owns one of the four existing copies of the incredibly valuable Metropolis 3-sheet movie poster. And even if I were to only believe 1/10th of the stories I've been told, he's got one hell of a vintage comic book collection. He appears to be a serious watch collector as well. And he's well known to be a fine art collector, although he surrendered a $3.2 million Pablo Picasso painting and a $9 million Jean-Michel Basquiat collage to U.S. authorities in a matter involving the 1MDB scandal. His interest in comics and art is no doubt due to the influence of his father, who was an underground comix creator and an associate of the likes of Robert Crumb and Robert Williams, and comic and art collector Glenn Bray.
You might think it's a bit of a stretch to go from things like movie posters and comics to dinosaur bones, but… well, I'm not saying it's common, but it's more common that you'd guess, and DiCaprio has become a well-known dinosaur fossil collector. Nic Cage, himself a serious comic book collector in the past, has also been a dinosaur fossil collector. Robert Overstreet, who is best known for the comic book price guide he launched in 1970, is known to have been a serious collector of dinosaur fossils among many other things in his collecting heyday. Once you discover that you've got that collecting gene, you tend to find other things that are rare and historically important interesting.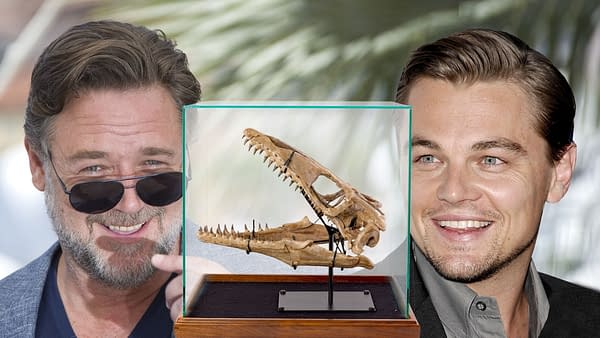 To hear Crowe tell it, DiCaprio does sound pretty serious about it, and perhaps even a little more serious than Crowe realizes. He recently told Howard Stern:
Howard Stern: You auctioned off some of your memorabilia. First of all you were smart enough to save they got things from the Gladiator. But the thing that I always fascinated about… One of the things you auctioned off you had once bought a dinosaur's head from Leonardo DiCaprio.

Russell Crowe: I think it's almost doubled in value since I sold it.

Howard Stern: I bet. I mean to me like how many dinosaur heads are there in the world.

Russell Crowe: In private hands.

Howard Stern: Right. This was a complete dinosaur head. What type of dinosaur was it?

Russell Crowe: I knew you were going to ask. Can you look it up somebody?

Russell Crowe: I don't remember. I bought it for my kids. And you know… to cut myself a little bit of slack, there was a bunch of vodka involved in that transaction. It happened at Leonardo's house.

Howard Stern: You were drinking at Leonardo's house. You guys were having a fun night. And you say to Leonardo, 'gee this is fantastic, this dinosaur head'.

Russell Crowe: I think he started the conversation. He's like 'I've got this one, but there's another one come onto the market I really want so I'm trying to sell that one'.

Howard Stern: And so there's no negotiating. He names a price and you buy it.

Russell Crowe: He was pretty cool about it. he said 'just give me what I paid for it'. And I think he paid like 30 or 35 grand or something.

Howard Stern: Oh I thought we were talking even bigger money than that.

Russell Crowe: It was not a very popular dinosaur.

Howard Stern: Oh it was just one of those regular dinosaurs. It's such a it's such an unusual item.

Russell Crowe: Part of the reason for buying it is that when I did buy it, which is around about 2008 or 2009, my kids, particularly my eldest were fascinated. They're into dinosaurs so, you know.. 'here's one for the playroom'.

Howard Stern: What a dad. It's awesome.
I kind of love this commentary because there's a couple of tidbits there that tell you just how seriously Leonardo DiCaprio takes his collecting habits. DiCaprio is one of the wealthiest actors in Hollywood, and has parlayed that wealth into other investments including real estate — he owns an island off the coast of Belize. But once he decided to "upgrade", he couldn't resist selling Crowe on the skull he didn't want anymore. I have zero doubt that Crowe's $35,000 was used to purchase something else for one of DiCaprio's numerous collections. That's the way the collecting mentality works. And that "just give me what I paid for it" line? A tried and true soft-pressure sales pitch that every serious collector (of anything) in the world has heard on numerous occasions.
Crowe sold the Mosasaur skull along with memorabilia from his movies in an a Sotheby's auction called Russell Crowe: The Art of Divorce, held on April 7, 2018 — the 5th year anniversary of his divorce. Total auction results came to $3,731,553 including buyer's premium, with the Mosasaur skull hammering at $79,300.
mounted on a black enamelled metal stand, within a glazed display case
skull 47 x 46 x 25 cm, glazed case 55.5 cm high, 60 cm wide, 39.5 cm deep, plinth 100 x 66 x 45.5 cm

Accompanied by a letter from Russell Crowe stating his ownership.

Lot Sold $65,000 (Hammer Price)
$79,300 (Hammer Price with Buyer's Premium)

Provenance
Mr Leonardo DiCaprio, Los Angeles
Mr Russell Crowe, Sydney, acquired from the above, December 2008

The fossil relative of the monitor lizard family, which includes the Komodo Drago, the Mosasaur was a giant, serpentine marine reptile, which was prevalent during the Late Cretaceous Period, approximately 65 million years ago. Mosasaurs were formidable hunters, with a double-hinged jaw and a flexible skull enabling them to eat their prey whole.

The Niobrara Formation is a geologic formation located in North America that was deposited between 87 and 82 million years ago.