"Star Wars": John Boyega's Agent Confirms New Rise of Skywalker Trailer on Monday Night Football
Femi Oguns, the agent for John Boyega, revealed on Instagram October 10 that the latest Star Wars: The Rise of Skywalker will be released on Monday Night Football on ESPN on October 14. Boyega plays Finn, a former Stormtrooper, who deserted the First Order and tries to find renewed purpose within the Resistance. He's part of the core trio of actors to lead the sequel trilogy with Daisy Ridley and Oscar Isaac.
Finn's Story in Star Wars up until Rise of Skywalker
Finn's journey in The Force Awakens began when he saved Resistance ace pilot Poe Dameron (Isaac) from the clutches of the First Order. In their escape, they crash land on the planet Jakku. Finn finds himself separated from Poe and searching for sanctuary. He stumbles upon Rey (Ridley) after BB-8, Poe's loyal droid, finds his jacket on Finn. The three escape after the First Order detects them making their way to the abandoned Millennium Falcon to get BB-8 back to the Resistance with its valuable intel.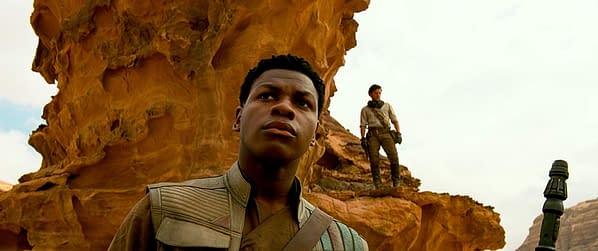 Not much else happens in Finn's story in the Star Wars sequel trilogy other than attempting to find his courage against his former employer. His struggle with his resolve against the First Order continues into The Last Jedi. He meets with Resistance engineer Rose Tico (Kelly Marie Tran). She tries to offset his pessimism with her idealism on why she fights for their cause. They end up trying to track a locksmith in the planet of Canto Blight on a mission to save the remaining contingent of the fleeing Resistance. Near the film's conclusion, he finds both his heart and courage, using his brain to fly his vehicle into the First Order's seige cannon during the Resistance's last stand at Crait. Before his honorable sacrifice, Rose crashes into him with her vehicle, saving him.
Questions to Answer
With the release of the teaser for Star Wars: The Rise of Skywalker on April 12th at D23, audiences are clued to Rey's advancement as a Jedi, but nothing is known about what Finn and Poe do before all three reunite. Do they get an apartment together? Start a business? What about a law firm?
Perhaps we'll start to see more when the next trailer comes out.