Anne Hathaway Starring In Dinosaur Movie For Bad Robot?
Anne Hathaway has signed on to David Robert Mitchell's new film for WB and Bad Robot, that may take place in the 80's and have dinosaurs?
---
Anne Hathaway is reportedly making a new genre movie set in the 80s with dinosaurs from director David Robert Mitchell (It Follows). The project is for WB and Bad Robot, and the news was first reported by Jeff Sneider and John Rocha on The Hot Mic podcast, and Deadline today has confirmed that the film is indeed a go, with production to start in the fall. The exact details of the film are being kept secret, so we cannot confirm the report about the 80's setting or the dinosaurs. Sneider is usually right about these things, though.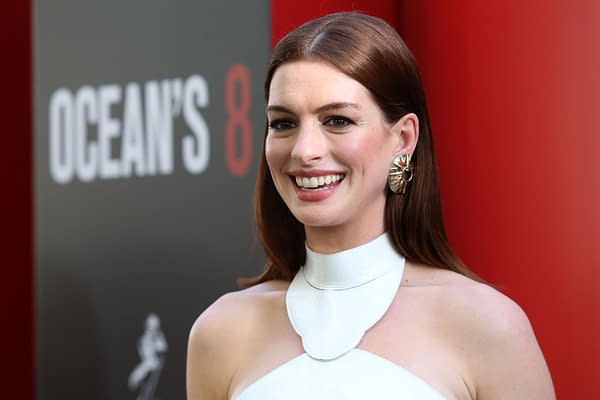 Anne Hathaway & Dinosaurs Sounds Good On Paper
Interesting that another high-concept film with dinosaurs is heading into production so soon after the debacle that is Sony's 65 with Adam Driver. While that film opened to $10 million last weekend, word of mouth was terrible, and Sony basically shoved it out and wants us to forget about it. So to hear that another heady film, this time starring an Oscar winner and with more prestige, wouldn't be sent to the back burner. Especially after all the drama surrounding Bad Robot and WB, as their deal has proven to be less fruitful than most anticipated. JJ Abrams will be a producer on this mystery film, however.
All of my interest in this one pertains to Mitchell, who will direct from his own script. It Follows is a fantastic film, and it earned him must-watch status for me. I also enjoy much of Anne Hathaway's work, so the two teaming up for a movie is excellent. But if those details are accurate, it may be a tough hill to climb. Nevertheless, after all the cancellations and killing of projects at WB, it is nice to see them try something different with this one. Here's hoping we learn more about it soon.