30 Rock Reunion: Here's Why Half of You Won't Be Able to Watch It
Good news: Liz (Tina Fey), Jack (Alec Baldwin), Tracy (Tracy Morgan), Jenna (Jane Krakowski), and Kenneth (Jack McBrayer) are back together this Thursday night for the one-time scripted reunion event 30 Rock: A One-Time Special. Bad news: more than half of the United States won't be able to watch it when it airs Thursday, July 16, at 8 pm ET. Some of NBC's largest affiliates – Gray Television, Hearst, Nexstar, Tegna, and Sinclair Broadcast Group – have told the network that they will be preempting the special. The number of affiliates represented by those five media companies makes-up over half of NBC's broadcast reach in the U.S.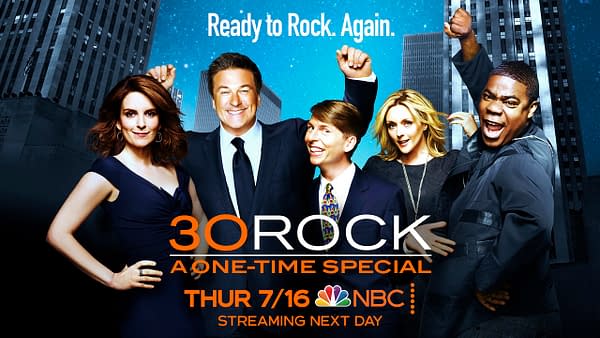 As for the reason originally reported by Vulture, think of it in terms of being the television version of the generational technology fight going on in the film world. Station owners of those affiliates choosing to go with alternative programming see the special as nothing more than a glorified infomercial for NBCUniversal's Peacock streaming service. With linear television continuing to lose viewers to streaming and other platforms and seeing their programming exclusivity windows shrinking, the affiliates felt that running the special would be the professional equivalent of shooting itself in the foot.
NBCUniversal officials would argue that the Oz Rodriguez (Saturday Night Live)-directed special was meant to highlight upcoming 2020-2021 programming across the entire NBCU family (NBC, Telemundo, USA Network, SYFY, E!, Bravo, and more) as well as Peacock. At the time of the initial Vulture report, representatives from the media companies as well as NBC declined further comment. The 30 Rock reunion will still be available in approximately 40% of the country, including large markets New York and L.A. NBC is set to post the full special on its website, cable on-demand platforms, and Peacock on Friday morning. In addition, USA Network, Bravo, E!, Oxygen, SYFY, and CNBC will air the special on Friday night, at 9 pm ET.