'A.P. Bio' Season 2, Episode 3 "Wednesday Morning, 8 AM": I Am Jack's Dumpy Groin [SPOILER REVIEW]
Welcome back to our weekly review NBC's A.P. Bio season 2, with this week's episode "Wednesday Morning, 8 AM" being a change-of-pace from the season norm. Viewers get a break from Jack's (It's Always Sunny in Philadelphia's Glenn Howerton) mission to create a marketable "life philosophy" out of Toledo, Ohio – so that he can leave Toledo, Ohio. Instead, we focus on what life is like for a teacher at Whitlock High – and yes, Jack does kinda' teach so he sorta' counts.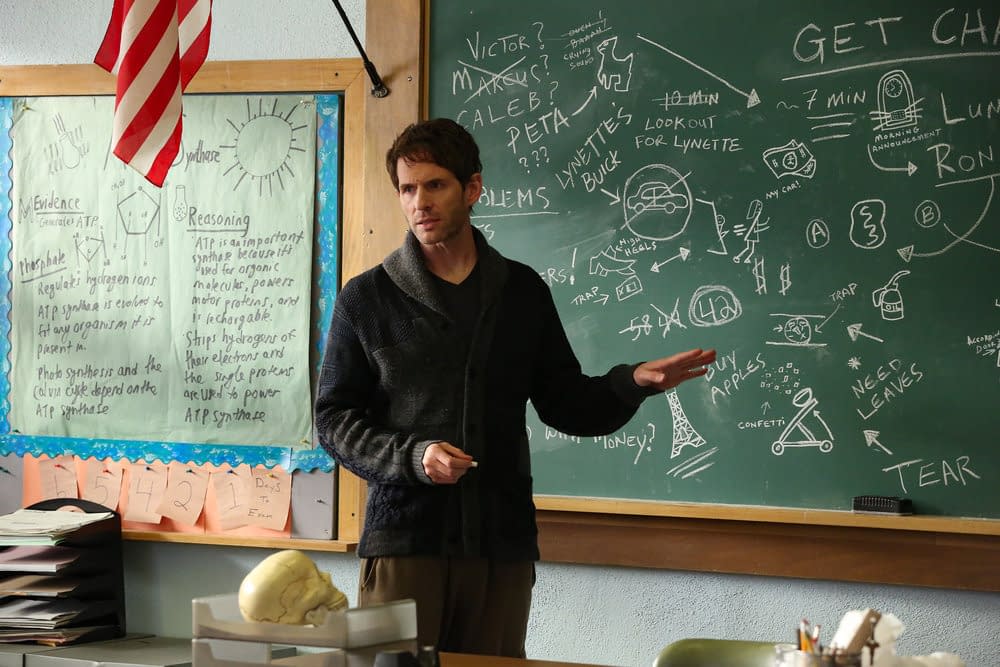 Except this episode focuses on a particularly tough time for teachers: the morning… that half-hour before the opening 8 a.m. bell to be specific. In that time, Jack's mission to retrieve his massage chair takes some unexpected turns; Helen (Paula Pell) and Durbin (Happy!'s Patton Oswalt) brace for the responsibilities that come with morning announcements; and Mary (Mary Sohn) and Stef (Lyric Lewis) have to MacGyver an art project.
Oh, and it looks like Whitlock's "White Rihanna" Michelle (Jean Villepique) has gotten herself involved… maybe it's better if we just dive right into our review:
A.P. Bio s02e03 "Wednesday Morning, 8 AM": In the hectic thirty minutes that start every day at Whitlock, Jack tries to retrieve his massage chair from Whitlock's intriguing payroll accountant, Lynette. Durbin and Helen prepare for the morning announcements, Michelle gives a eulogy, and Mary and Stef fix an art emergency.
Here's the problem with an episode structured like this: every vignette in a "Day in the Life"-like structure needs to be strong and on-point – and it wasn't here.
The positives? Lynette (Disjointed's Elizabeth Alderfer) is a nice foil/potential love interest for Jack: humbles him without making him look like an idiot. While broad on the slapstick, there's was something very Zen-like meaningful in Dale's (Brendan Jennings) attempts at bathroom namaste. I also enjoyed the way the episode gave Durbin more of the spotlight: he may be a mess… but he's the messy ringmaster on the morning dumpter fire that is Whitlock High. Seeing how the morning announcements came together almost had a twisted Sorkin/The West Wing vibe to it – if President Bartlett ever had to pay $4 to save a hamster or eulogize a dead crossing guard in less than 8000 words.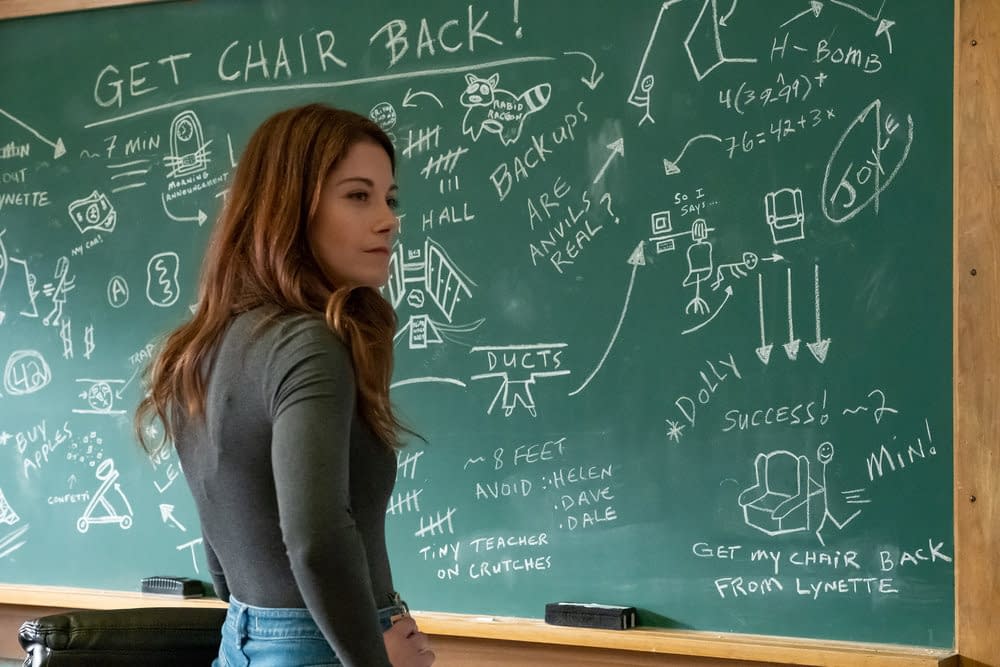 What didn't work? The entire "dead crossing guard" storyline – especially Coack Novak's (Charlie McCrackin) guilt over taking money from the dead guy's safety vest. I'm not sure what the writers are doing with Mary, Michelle, and Stef, but they're making me not like the characters. Again, not an indictment on the actresses because they're still killin' it… but the stories they're being given makes it tough to like them. Finally, why were the students even there? You can't have a classroom full of talent like that and then not utilize them to their best potential. What we did get gave us some insight into their lives before the classroom – from Heather's (Allisyn Ashley Arm) "meat locker" to Sarika's (Aparna Brielle) "snitch book – and we needed more of that.
Best way to put it? NBC's A.P. Bio "Wednesday Morning, 8 AM" got the day started… just a few minutes late.

Here's a sneak preview of what we can expect from next week's A.P. Bio, "Toledo's Top 100":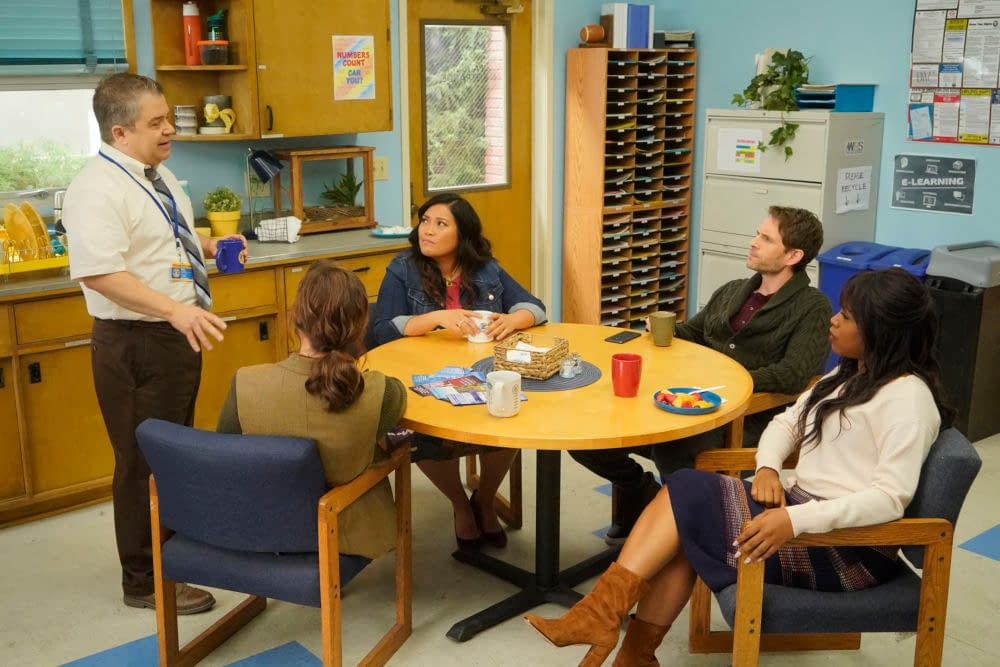 A.P. Bio s02e04 "Toledo's Top 100": Jack is aghast to learn he didn't make the Top 10 in Toledo's Top 100 bachelors, and Durbin did. Meanwhile, Victor and Eduardo decide it's time to reveal their feelings to their unexpected crushes.
NBC's A.P. Bio also stars Lyric Lewis, Mary Sohn, Jean Villepique, Tom Bennett, Paula Pell, Charlie McCrackin, Jacob McCarthy, Aparna Brielle, Nick Peine, Allisyn Ashley Arm, Eddie Leavy, Jacob Houston, Sari Arambulo, Tucker Albrizzi, and Spence Moore II also star.
A.P. Bio is written and executive produced by Mike O'Brien. Seth Meyers, Mike Shoemaker, Andrew Singer, and Lorne Michaels also serve as executive producers. A.P. Bio is produced by Universal Television, Broadway Video and Sethmaker Shoemeyers Productions.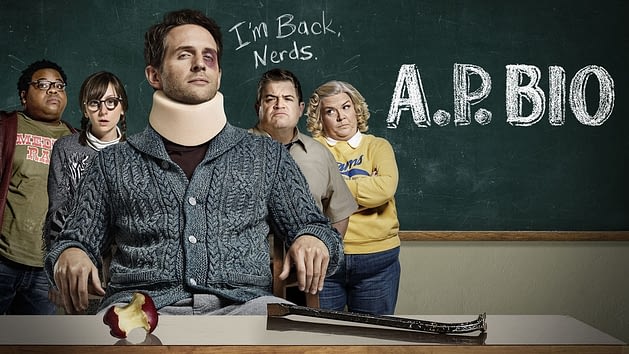 A.P. Bio airs on Thursdays at 8:30 p.m. ET/7:30 p.m. CT on NBC.