Agent Elvis Trailer: Kaitlin Olson, Johnny Knoxville & More Join Cast
With Kaitlin Olson, Johnny Knoxville, Niecy Nash-Betts, Tom Kenny & Don Cheadle joining the series, here's the official Agent Elvis trailer.
---
Last month, Netflix dropped a teaser for its upcoming animated series spotlighting Elvis Presley's double-life as the "King of Rock & Roll" as well as a secret agent. and just like that, we became early fans of Priscilla Presley & John Eddie's (with Eddie co-showrunning with Mike Arnold) ten-episode, Matthew McConaughey-voicing Agent Elvis. With the streamer dropping an official trailer ahead of its now-confirmed March 17th debut, we're also learning that Kaitlin Olson, Johnny Knoxville, Niecy Nash-Betts, Tom Kenny, and Don Cheadle are also aboard. The guest cast for the season includes Ed Helms, Jason Mantzoukas, Christina Hendricks, Kieran Culkin, Chris Elliot, Asif Ali, Fred Armisen, Ego Nwodim, Simon Pegg, Craig Robinson, Gary Cole, George Clinton, Tara Strong & Tony Cavalero (with Priscilla Presley voicing herself).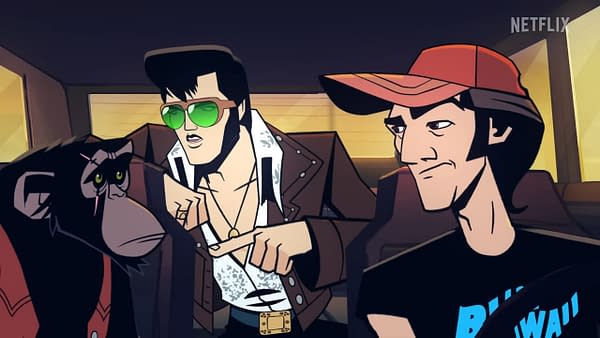 Olso's CeCe Ryder is the unpredictable and highly skilled secret agent who barges into Elvis' life when he joins TCB. As a product of the counterculture, she enjoys annoying Elvis, but she's still a headstrong, mission-focused agent. Knoxville's Bobby Ray is Elvis' not-so-smart best friend and sidekick. As Elvis' one-man entourage, he's fully devoted to his boss. Nash-Bett's Bertie is Elvis' strong-willed mother figure who runs his day-to-day life and is the only one who can go challenge Elvis. Kenny plays Scatter, Elvis' weaponized, chain-smoking, degenerate former NASA chimp with a trigger-happy dark side. Cheadle's The Commander is the unknown spy master who runs the covert agency known as The Central Bureau (TCB). He's the mercurial man in charge who knows where all the non-metaphorical bodies are buried.
Netflix's Agent Elvis was created by Priscilla Presley and John Eddie and was developed by co-showrunners Eddie & Mike Arnold, who also serve as executive producers along with Kevin Noel, McConaughey, and Presley, with Fletcher Moules serving as co-executive producer and Seranie Manoogian as producer. Jamie Salter, Corey Salter, and Marc Rosen with Authentic Brands Group also served as executive producers. Vancouver-based Titmouse served as the animation studio with Chris Prynoski, Shannon Prynoski, Antonio Canobbio, and Ben Kalina serving as executive producers and Gary Ye as the supervising director, Chris Thompson as art director, and Josue Sanchez as editor. Robert Valley created original character designs, and Agent Elvis' wardrobe was designed by John Varvatos. The music and original score were composed by Tyler Bates and Timothy Williams.