Posted in: Disney+, Preview, Star Wars, Trailer, TV | Tagged: Ahsoka, lucasfilm, star wars, star wars rebels, The Clone Wars
---
Ahsoka Essential Eps: Clone Wars, Star Wars Rebels, Mandalorian & More
Need to catch up before checking out the Rosario Dawson-starring series? Here are 10 key Ahsoka Tano episodes for you to check out first.
---
With only hours to go until Disney+, Lucasfilm, and Dave Filoni's Rosario Dawson-starring Star Wars: Ahsoka takes over Tuesday night with a two-episode debut (6 pm PT/9 pm ET), we understand that there are some of you out there who won't be able to watch it until tomorrow – or until they've caught up on all of the storylines. Well, the fine folks over at the franchise's main website have made your lives a little easier by compiling an official list of the 10 episodes of Star Wars: Tales of the Jedi, Star Wars: The Clone Wars, Star Wars Rebels, and The Mandalorian that you can check out to know who's who and whats' what.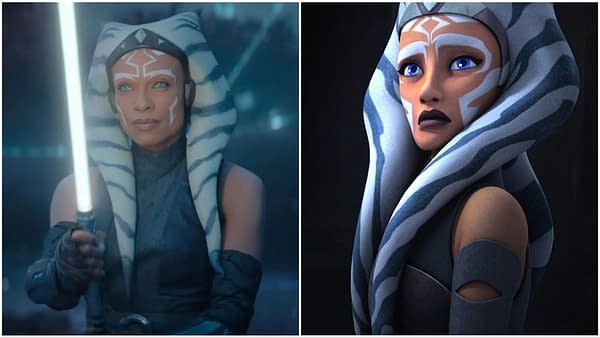 So what did the official Star Wars website have as their 10 essential Ahsoka Tano episodes? We have Star Wars: Tales of the Jedi ("Life and Death"), Star Wars: The Clone Wars ("Storm Over Ryloth," "Lightsaber Lost," "Heroes on Both Sides," "Altar of Mortis," "Padawan Lost," "The Wrong Jedi," and "Siege of Mandalore" arc), Star Wars Rebels ("Twilight of the Apprentice"), and The Mandalorian ("The Jedi"). Now, here's a look back at a recently-released official clip from Disney+ & Lucasfilm's Star Wars: Ahsoka (followed by a look back at what we know about the streaming series so far):
Ahsoka: Rosario Dawson on "Star Wars Rebels" Connections & More
In a pre-SAG-AFTRA & WGA strike interview, Dawson agreed with the series also being viewed as a continuation of Star Wars Rebels while also explaining how Filoni is looking to offer something that works for long-time fans & new viewers and for fans who enjoy "Star Wars" beyond the films. "Oh my goodness, yes. Natasha [Liu Bordizzo] said something to that effect, and there was some fanfare about it. But it's important," Dawson shared, explaining how Filoni & the team were looking to create a series that would interest all levels of "Star Wars" fans.
"With Star Wars fans, there's folks who really just watch the films, but now and especially with 'The Mandalorian,' more [and more] people are watching the live-action shows. And then there are people who watch the animated shows. There's even a tier beyond that with all the books and fan fiction," Dawson added. "So there's different levels to the 'Star Wars' family, and it's always been very highly considered to make sure [everyone can watch it]. Dave has done a really brilliant job, and knowing the universe so inside and out — and having created so many of the characters and spaces within that universe — he just knows where to start. He knows what needs to be alluded to, and he is just really brilliant at figuring out how to make it for both. So it made a big impact and difference having him on set.
As for how accessible the series will be to those not familiar with past storyline threads (like the animated series), Dawson doesn't see any issues on the horizon. "It is a new part of the journey, but you don't need to know the previous part of it to get engaged. And that's one of the things I'm excited for people to see and experience," Dawson shared, adding that Filoni "had many test opportunities to figure out if it was gonna work for both the dedicated old-school fans and the new."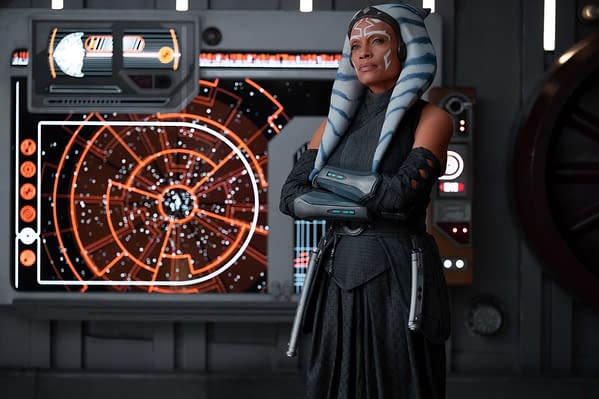 And for a deep dive with the cast & crew into the franchise's master/apprentice legacy for clues to what's to come, here's a look at the featurette "A New 'Star Wars' Legacy":
With the Lucasfilm & Disney+ series set for a two-episode debut on August 23rd, here's a look at the official trailer for Star Wars: Ahsoka – followed by a look back at Dawson's journey to Ahsoka Tano:
Disney+'s Star Wars: Ahsoka also stars Natasha Liu Bordizzo (Sabine Wren), Mary Elizabeth Winstead (Hera Syndulla), Eman Esfandi (Ezra Bridger), Lars Mikkelsen (Admiral Thrawn), Ivanna Sakhno (Shin Hati), Ray Stevenson (Baylan Skoll), Genevieve O'Reilly (Mon Mothma), Diana Lee Inosanto (Morgan Elsbeth), Maurice Irvin (Senator Mawood), Jacqueline Antaramian (Senator Rodrigo), Nelson Lee (Senator Xiono), Erica Duke (Gran Senator), David Tennant (the voice of droid Huyang), and Wes Chatham (Admiral Thrawn's right-hand man). Hayden Christensen is reportedly set to return as Anakin Skywalker for the series. Filoni, Steph Green, Peter Ramsey, Jennifer Getzinger, Geeta Patel, and Rick Famuyiwa are also helming chapters this season.
---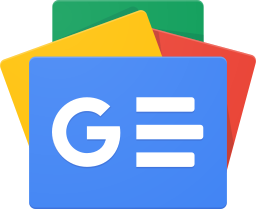 Stay up-to-date and support the site by following Bleeding Cool on Google News today!