Combine our professional obsession with uber-creative genius Ryan Murphy (Glee, Pose, 9-1-1, Feud, and a billion more) with our love for 80's horror/slasher film, and it's easy to understand why we're excited for FX's American Horror Story: 1984. In fact, executive producer Tim Minear only confirmed our excitement when he said this about the upcoming season of Murphy and Brad Falchuk's horror anthology series American Horror Story:
"I think it's awesome. I think it's gonna be really scary but a lot of fun, like it always is. And that if you have a taste for '80s horror, you're in for a treat."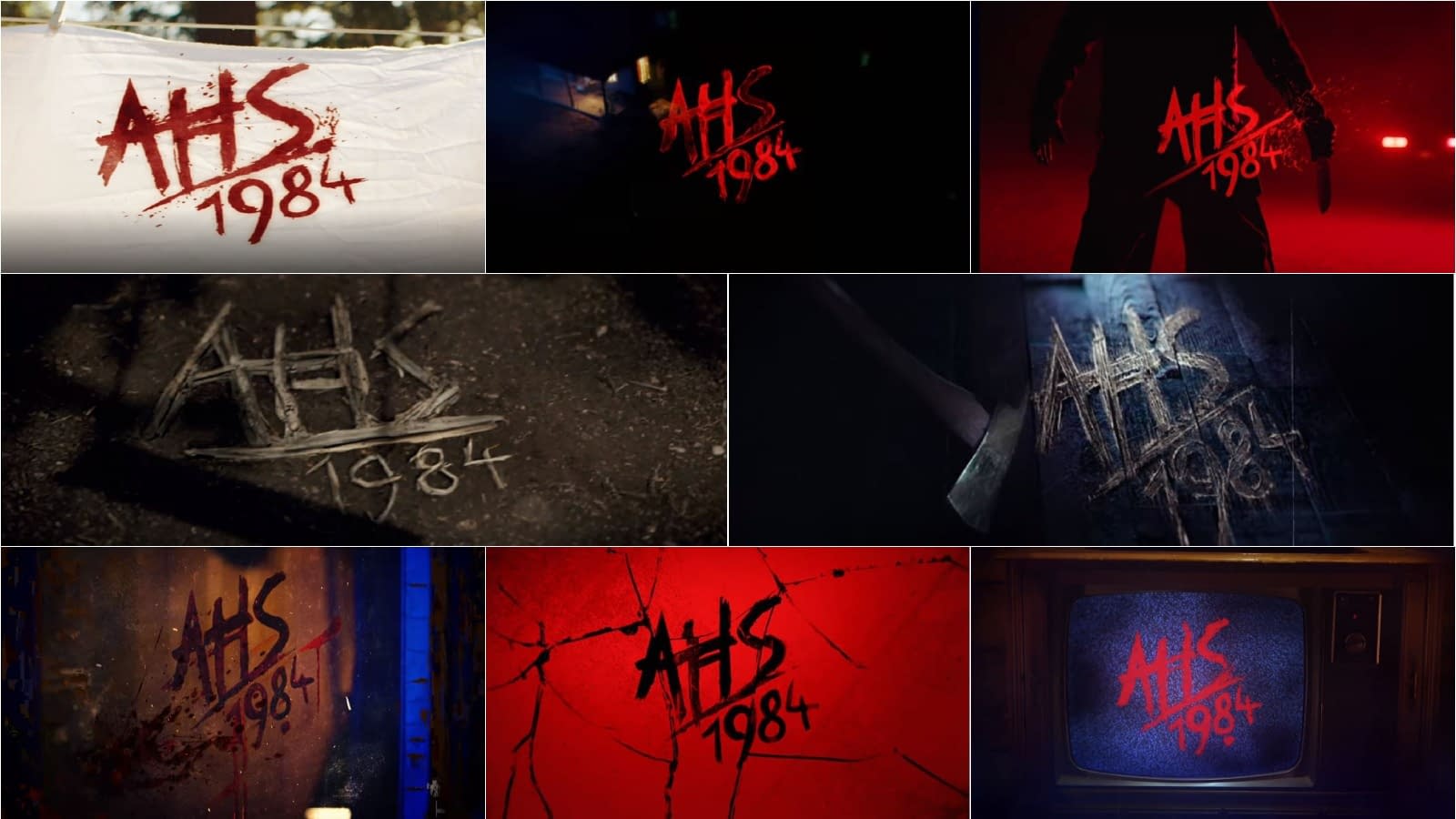 We're not going to weigh you down with a repeat of our review of season opener "Camp Redwood" (you can check out why we compare the series' start to Shaun of the Dead and The Cabin in the Woods here). What we will say is this: while we concede that it's still early and there's a hundred different good and bad ways this could all still go, AHS: 1984 is one of the strongest season-starts so far on a number of levels.
Before you check out the preview for "Mr. Jingles" (below), here are a few between-episodes gems that should keep us busy until the next round of victims – including this look back at the Jazzercize intro to the season opener that also substituted as a "welcome" to some of suspects/victims.
And any chance you get to listen to Frank Stallone's "Far From Over"? You take it…
Meanwhile, Leslie Grossman didn't waste time clearing up how Margaret is able to sport glasses sans an ear. The answer? Pretty simple… and sad… and disturbing…
For those of you asking how my character on @AHSFX keeps her glasses on if she is missing an ear: the arm of the glasses rests on the ear nub :(

— Leslie Grossman (@MissLeslieG) September 19, 2019
Of course, there's a familiar face that's been dealing with that issue for years so he might be able to offer Margaret some advice…
ANOTHER EAR/GLASSES SITUATION HAS BEEN BROUGHT TO MY ATTENTION DON'T ASK TOO MANY QUESTIONS GUYS JUST GO WITH IT pic.twitter.com/SOecyFpiFX

— Leslie Grossman (@MissLeslieG) September 20, 2019
Finally, Gus Kenworthy (Chet) and Billie Lourd (Montana) have a simple-yet-direct message for those who haven't checked out the season premiere – and we're thinking probably for any of a number of other reasons, too…
From the looks of the following preview for next week's "Mr. Jingles," it doesn't look like the madness – or body count – is going to end any time soon. Which is more than fine for John Carroll Lynch's Benjamin "Mr. Jingles" Richter…
"American Horror Story: 1984" season 9, episode 2 "Mr. Jingles": Darkness descends upon the camp. Although it's lights out, evil has no curfew. Written by Tim Minear and directed by John J. Gray.
But if you're like us, you're not just thinking about next week – you're thinking "long game." Thankfully, FX had us "show addicts" in mind when they also released the following teaser-filled "Still To Come" video…

https://youtu.be/9wcEiFIM3mM
In case you're like us and you need to see it for the 166th time, here's a chance to see the cast in all their '80's slasher-film-audition glory:
American Horror Story: 1984 stars Emma Roberts (Brooke), Billie Lourd (Montana), Cody Fern (Xavier), Angelica Ross (Nurse Rita), Leslie Grossman (Margaret), John Carroll Lynch (Benjamin "Mr. Jingles" Richter), Gus Kenworthy (Chet), Glee's Matthew Morrison (Trevor), DeRon Horton (Ray), Zach Villa ("The Night Strangler" Richard Ramirez), Alhan Bilal (Jamie), and Tara Karsian (Chef Bertie).
FX's American Horror Story: 1984 slashes its way onto our screens every Wednesday at 10 p.m. EDT.
Enjoyed this article? Share it!