"American Horror Story: 1984" – "Mr. Jingles" Doesn't Waste Time Bringing the Twists [SPOILER REVIEW]
Combine our professional obsession with uber-creative genius Ryan Murphy (Glee, Pose, 9-1-1, Feud, and a billion more) with our love for 80's horror/slasher film, and it's easy to understand why we're excited for FX's American Horror Story: 1984. In fact, executive producer Tim Minear only confirmed our excitement when he said this about the upcoming season of Murphy and Brad Falchuk's horror anthology series American Horror Story:
"I think it's awesome. I think it's gonna be really scary but a lot of fun, like it always is. And that if you have a taste for '80s horror, you're in for a treat."
"American Horror Story: 1984" season 9, episode 2 "Mr. Jingles": Darkness descends upon the camp. Although it's lights out, evil has no curfew. Written by Tim Minear and directed by John J. Gray.
When we offered up our review of last week's season opener "Camp Redwood," we made a connection to both Shaun of the Dead and The Cabin in the Woods when describing how the season's initial tone and vibe made us feel. We also called into question if what we were seeing was a smokescreen for something bigger and deadlier.
Well, second episode "Mr. Jingles" didn't just keep the momentumfrom last week going: it exploded with societal symbolism while throwing out ten-ton "hints" that things aren't quite right around Camp Redwood – with the episode-titled killer possibly being the least of the camp counsellors' concerns.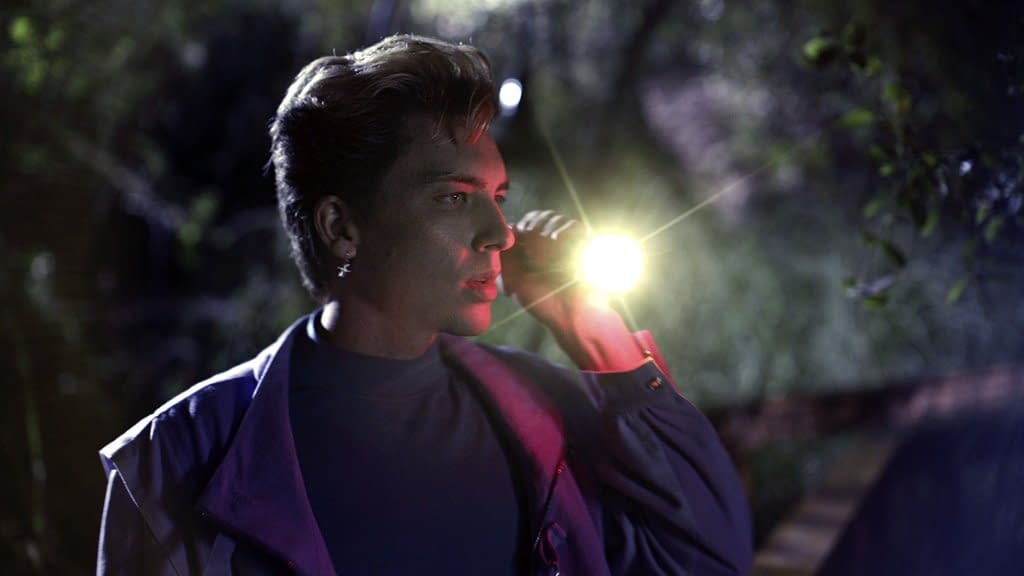 ● First, let's address the in-your-face metaphors that flow throughout the episode. Leslie Grossman's Margaret and Camp Redwood aren't just living, breathing representations of the toxic 80's Jerry Falwell christian conservative movement – they also represent the still-current fantasy that homosexuality is a "sin" that can be "cured" through "morality camps" like the one Margaret's reopening. Having Margaret cling to her "it's okay of you do it in the right god's name" faith even in the face of clear and present danger only further demonstrates the blind ignornace that comes from such self-flagellating close-mindedness (Freedom comes from a combo of god and trauma? Wow…)
● Never thought I'd say this but it's consistant with last week's observation that almost everyone seems "sex worthy" this season, but damn the chemistry between Grossman and Zach Villa's "The Night Strangler" Richard Ramirez was starting to fog up the screen. Curious to see if Murphy and Falchuk get any pushback from those who think they're making serial killers "sexy"…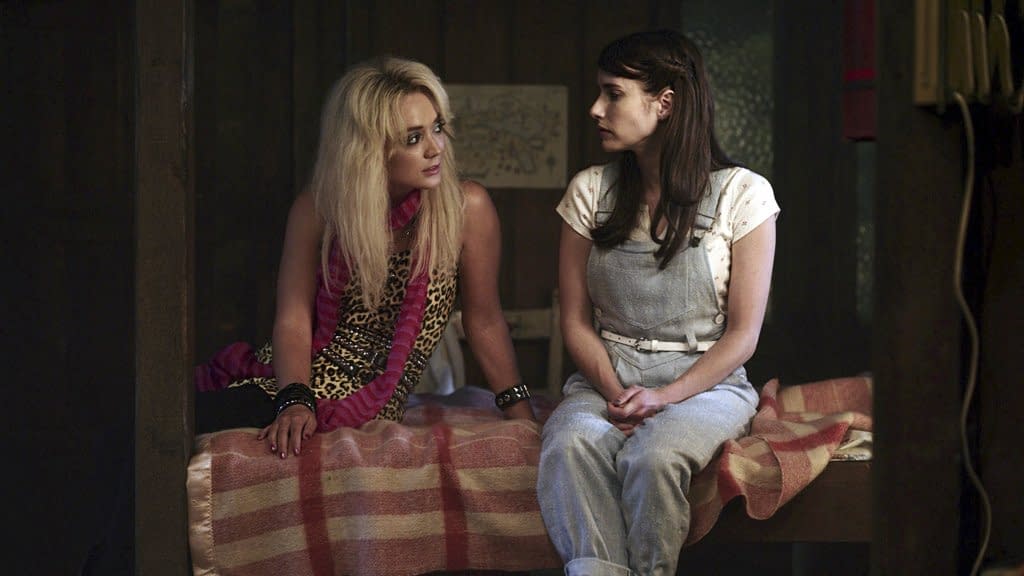 ● Emma Roberts' Brooke and Cody Fern's Xavier: both with heart-breaking backstories (though we'll get to Brooke's in a minute), with both characters also placed into a 2019 context. Brooke is a woman who is clearly being threatened and stalked – yet for way too long, no one either believed her or wanted to be "bothered" by what they were "sure" she was exaggerating. She wasn't listed to – she wasn't heard. Xavier looks to the camp as a way of escaping the threats of having his "gay for pay" porn tape released – but is he running from the tape and Blake, or from finally opening up about who he truly is as a person?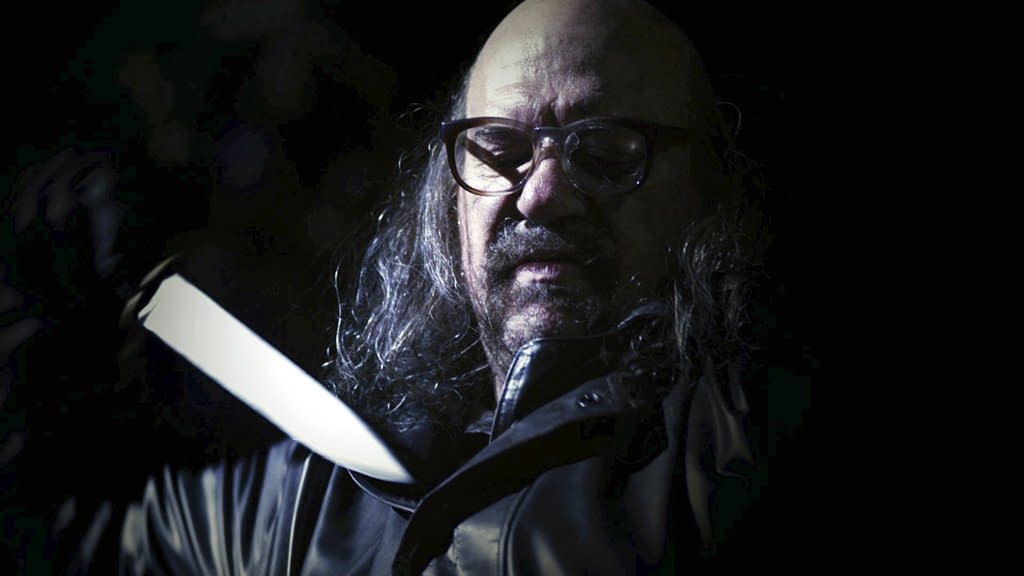 ● CONSPIRACY THEORIES! Okay, now we get to Justin and his "You're not supposed to be here" line. No surprise, there's a lot more going on then "just" and '80s slasher film homage. Our prediction? Brooke is some kind of magnet for all of the "bad mojo" out there, Margaret actually helped kill her fellow counsellors back in 1970, Ramirez is going to end up going toe-to-toe with Mr. Jingles, and Xander is actually Margaret's son. As for a '70s camp counsellor being trapped in a Happy Death's Day-type time loop? Sure there's one "helluva'" explanation coming…
Whew!
That said, we're still waiting to make any hard predictions on how this all ties into the AHS universe – aside from what we addressed already. But we can't shake this feeling that there may be some kind of direct Coven or Apocalypse connection coming down the road – and possibly a deeper dive into the backstory of Hotel.
But if anyone still has any doubts about this season of American Horror Story that "Mr Jingles" didn't put to rest needs to be sent to Nurse Rita's (Angelica Ross) infirmary… stat!

https://youtu.be/9wcEiFIM3mM
In case you're like us and you need to see it for the 166th time, here's a chance to see the cast in all their '80's slasher-film-audition glory:
American Horror Story: 1984 stars Emma Roberts (Brooke), Billie Lourd (Montana), Cody Fern (Xavier), Angelica Ross (Nurse Rita), Leslie Grossman (Margaret), John Carroll Lynch (Benjamin "Mr. Jingles" Richter), Gus Kenworthy (Chet), Glee's Matthew Morrison (Trevor), DeRon Horton (Ray), Zach Villa ("The Night Strangler" Richard Ramirez), Alhan Bilal (Jamie), and Tara Karsian (Chef Bertie).
FX's American Horror Story: 1984 slashes its way onto our screens every Wednesday at 10 p.m. EDT.