AMPAS President: Response to Will Smith/Chris Rock Slap "Inadequate"
The Academy of Motion Picture Arts and Sciences' Janet Yang says their response to the Will Smith/Chris Rock Oscars slap was "inadequate."
---
It's hard to believe that this March will mark one year since "The Slap Heard Round the World (on Social Media)" took place at the 94th Annual Academy Awards Ceremony, airing on ABC. That's when Oscar nominee (and eventual winner) Will Smith made his way onto the stage during the live broadcast to slap Oscars presenter Chris Rock over a joke that Rock made about Smith's wife, Jada Pinkett Smith. Will Smith would go on to voluntarily resign his membership from the Academy of Motion Picture Arts and Sciences (AMPAS) ahead of The Academy's Board of Governors voting to ban Will Smith from the Oscars ceremony for ten years. Ten months later, AMPAS president Janet Yang made her feelings known on the academy's handling of the Smith/Rock incident during today's annual Oscar Nominees Luncheon at the Beverly Hilton (with the 95th annual ceremony set for March 12th). And it's safe to say that Yang wasn't impressed, calling AMPAS' decision "inadequate."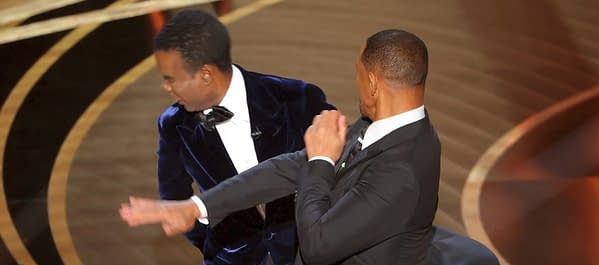 "I'm sure you all remember we experienced an unprecedented event at the Oscars," Yang told the group gathered for this afternoon's event, clearly referencing what went down on the stage between Will Smith and Rock. "What happened onstage was fully unacceptable, and the response from our organization was inadequate. We learned from this that the Academy must be fully transparent and accountable in our actions, and particularly in times of crisis, you must act swiftly, compassionately, and decisively for ourselves and for our industry." From there, Yang made a promise to everyone in attendance as witnesses, adding, "You should and can expect no less from us going forward." Now here's a look back at the full video message that Smith posted last summer that sought to address the incident and answer a number of questions that were out there surrounding the incident: