Anthony Mackie Says "Falcon" Will Feel Like "Six or Eight-Hour Movie"
As television productions around the world slowly begin getting back to some level of post-COVID-19 normalcy (though the U.S. may have some issues in that area considering the spike in cases), Disney+ and Marvel Studios is looking to find the safest, easiest, and fastest way to wrap up work on The Falcon and the Winter Soldier, WandaVision, and 2021's Loki. Our previous reporting shows that WandaVision is looking to finish some filming in LA in July, and the government and health agencies in the Czech Republic have health policies in place for The Falcon and the Winter Soldier to finish up what is reportedly a few more weeks of work. Now we're learning a little more about what the experience of having to shut down production was like as well as what viewers can expect from the series from a very credible source: Anthony Mackie aka Sam Wilson aka The Falcon.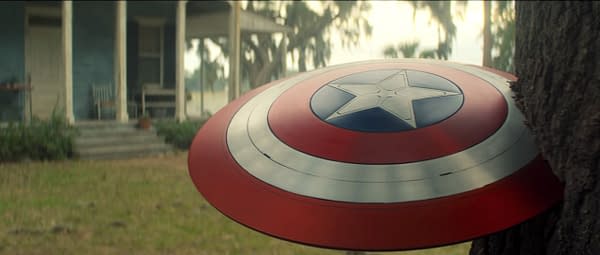 During an interview with Snowpiercer star Daveed Diggs as part of Variety's "Actors on Actors" issue, Mackie explained that while the series comes with a pretty hefty pricetag budget-wise, there's still a difference between the small screen and the big screen, and that became very clear when it came time to shut down production: "We were in Europe, and everything got crazy in Europe first. So they shut us down two weeks before the U.S. shutdown. It was really amazing just because I feel like we're the first Marvel show or movie that had budget constraints. And that was always my [experience], 'It's Marvel, we could shoot forever.' And they're like, 'Nah.' So it was a very different experience from the rest of the movies. But at the same time, it was a lot of fun." Mackie has a point: while a $150 million is an impressive budget for a limited series, that's still less than half of the advertising costs-less budget for Avengers: Endgame.
Monetary differences aside, Mackie is finding his work on the streaming series almost identical to his time on the films- and with good reason: "Those movies are like summer camp and this show, it was no different. It was the same group of people, coming together to make it work. And so the stunt stuff — everything is just on another level. Every show, every movie, they just push it — they push the envelope so much. So hopefully, knock on wood, we'll be going back soon." But Mackie says the similarities don't stop there: viewers will notice a cinematic vibe to the series: "We're shooting it exactly like a movie. Everybody who had worked on TV before was like, 'I've never worked on a TV show like this.' The way in which we were shooting, it feels exactly like we were shooting the movie cut up into the show. So instead of a two-hour movie, a six or eight-hour movie."
Directed by Kari Skogland, The Falcon and the Winter Soldier features Mackie and Sebastian Stan (Bucky Barnes aka Winter Soldier) returning to their feature film roles, alongside Emily VanCamp (SHIELD agent Sharon Carter), Daniel Bruhl (Baron Zemo), Wyatt Russell (John Walker aka US Agent), Desmond Chiam (Now Apocalypse), and Miki Ishikawa (The Terror: Infamy). Noah Mills (The Enemy Within, The Brave) and Carl Lumbly (Supergirl, Alias) were recently cast in undisclosed roles.