Tonight is the penultimate episode of Arrow season 6. As with most of their season finales, the big bad is making his move and all hell is breaking loose — and Oliver Queen (Stephen Amell) is in the center of it. The CW has released a new clip that has all of Team Arrow together for the first time in a long time… spoilers ahead.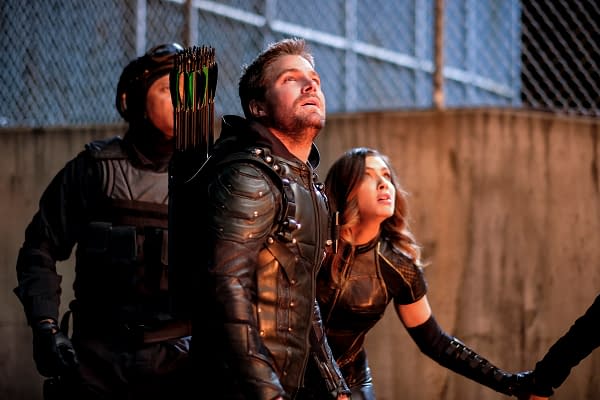 Ricardo Diaz (Kirk Acevedo) is angry that Oliver got acquitted and has decided to kill everyone he's ever cared about. This becomes open season on anyone who was part of Team Arrow and their loved ones.
The scene below shows the Felicity (Emily Bett Rickards), Diggle (David Ramsey), Lyla (Audrey Marie Anderson), Rene (Rick Gonzalez), Curtis (Echo Kellum), and Dinah (Juliana Harkavy) all together in NTA's bunker and ready to roll out and fight back with as many guns as they can carry. But it's Oliver that tells them to wait — if they go out and try to fight fire with fire they'll all just get killed. He thinks he can get Anatoly (David Nykl) to give them intel on where to strike and asks the team to wait and to trust him — something that's a pretty big ask with everything that's gone down this season.
Arrow airs tonight at 9 p.m. ET on the CW.
https://youtu.be/xPYIqlnUueA
Enjoyed this article? Share it!