One thing you can definitely say about Vince Gilligan and Peter Gould's Breaking Bad prequel/sequel/parallel series Better Call Saul, it's not a big fan of staying in any one place for too long. Over the course of four seasons, we've witnessed the lives of Jimmy McGill and Saul Goodman (Bob Odenkirk) in all their glory and heartbreak. So by the time the New Mexico sun set on the show's fourth season, the inevitable had become obvious: it's the end of Jimmy McGill as we know him – and Saul Goodman feel more than fine about that.
So what does this mean for his "constantly evolving" (nice of way of putting it) relationship with Kim (Rhea Seehorn) – and for the fifth season? Though work on the upcoming season is still in its early stages, AMC series co-creator Gould was able to offer EW some insight into what viewers can expect: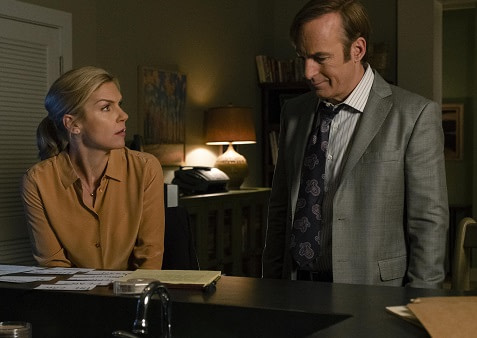 ● Now that Jimmy's enjoying wearing the Saul mask longer and longer (or Saul's hating wearing the Jimmy mask any longer than he has to), what's the next stage in Saul's "evolution":
"It seems like Jimmy's first move is to try to leverage all the contacts he has in the world of selling drop phones. But don't forget, he also knows the vet [Caldera, played by Joe DeRosa], and the vet is sort of Craig's List for the underworld in Albuquerque. So he can get quite far. The question is: how does he establish a reputation as not just a criminal lawyer but a criminal lawyer? And what does that mean to him at this point? Because situations may require him to do things and turn a blind eye to things that Jimmy McGill would not be able to stomach."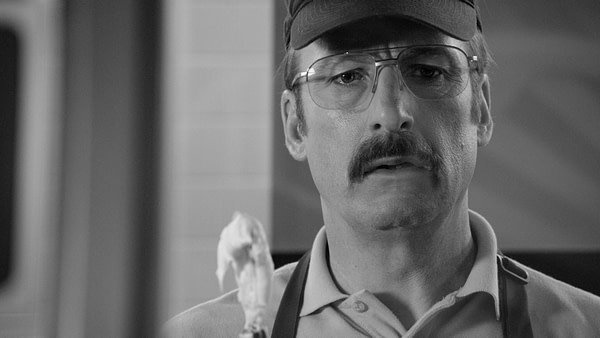 ● While it's easy to get lost in the Jimmy/Saul dynamic, let's not forget about the third "character" in play here: post-Breaking Bad Jimmy alter-ego/Cinnabon manager Gene Takovic. Sounds like "Gene" has a fan in Gould…
"I am very, very interested in Gene Takovic. In some ways, Gene is very enigmatic. In some ways, he's the opposite of Saul Goodman because he speaks so very little, he's so afraid. But I'm fascinated by that situation and by the question of: is there still any chance of redemption or ray of light in this guy's life after all the terrible things that he's done, now that he's run away and hidden himself in Omaha?"
● With talk of Walter White (Bryan Cranston) and Jesse Pinkman (Aaron Paul) appearing on the series soon and confirmed-then-unconfirmed reports of a Breaking Bad movie set after the series finale, Gould would be interested in revisiting the Breaking Bad era again as they did during season 4 – as long as it works for the story:
"The question for us is always: are we telling the story of Jimmy McGill and Mike Ehrmantraut and Kim Wexler? And if showing scenes during the course of Breaking Bad add to that story or are important to that story or turn that story, then I think we should do them. But I don't want to dip in to Breaking Bad just because we can."
● Finally, Gould shared a question that fans should be asking themselves during the off-season – a question that season 5 hopes to answer: "We know who Saul Goodman is, but who is Saul Goodman to Kim Wexler?"