'BH90210': Showrunner Patrick Sean Smith, Several Writers Exit 'Beverly Hills 90210' Revival
It's almost too easy to make a joke about there being more drama going on behind the scenes then in front of the camera or how this could be the ultimate in "meta programming." Of course, it could end up be something as simple as egos and creativity jumping into a metphorical professional mosh pit where not every gets to walk out alive.
Whatever the reason, FOX's upcoming Beverly Hills 90210 revival BH90210 is seeing some serious "musical chairs" taking place. Series showrunner Patrick Sean Smith and several senior writers have reportedly quit the six-episode project. While no official reason has been given, Variety first reported from a source that the exodus may have been the result of "interference from two of the show's lead actresses;" while another source claims the writers had issues with an executive supervising production.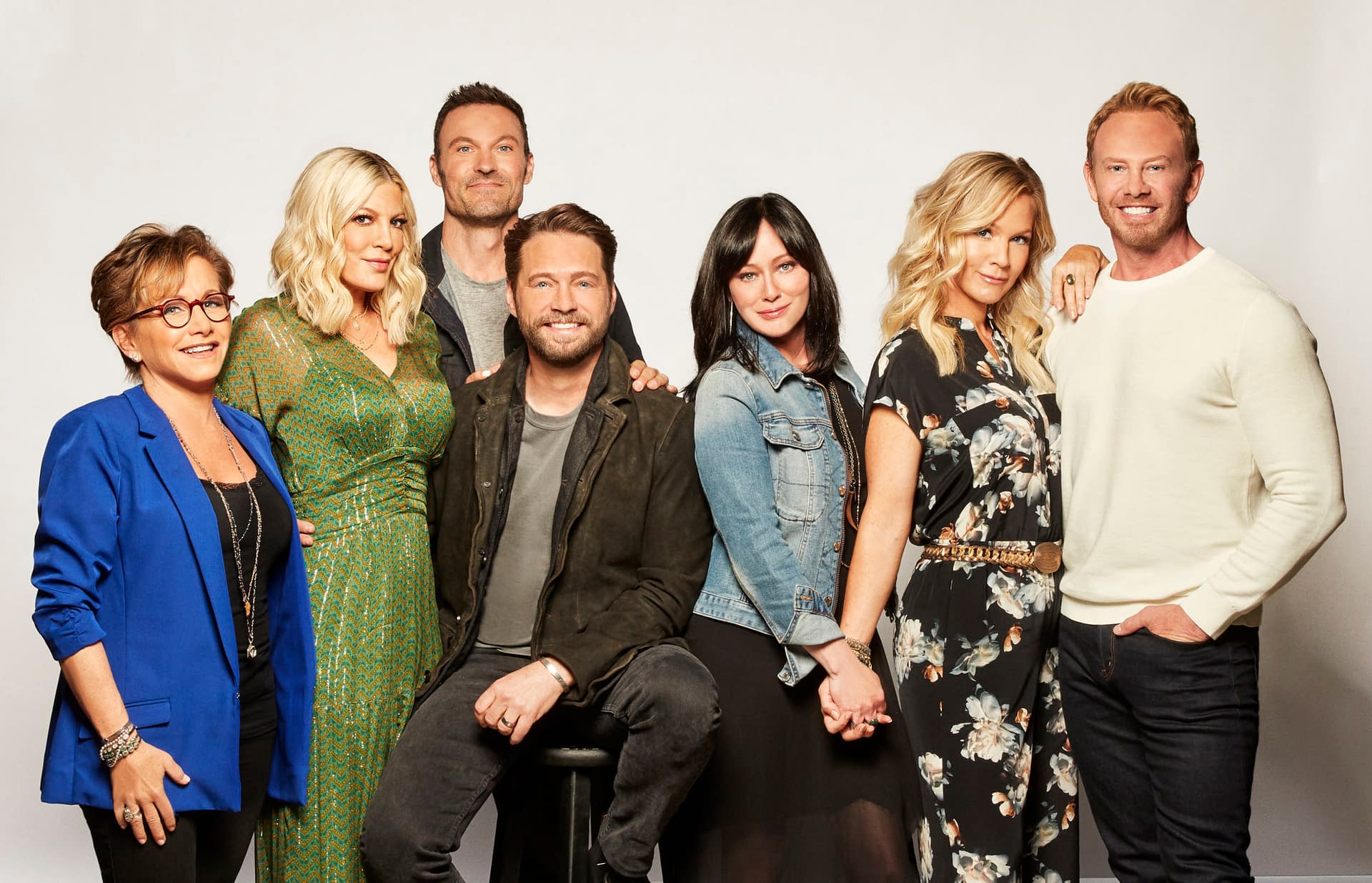 Paul Sciarrotta (Jane the Virgin, The Fosters, 90210) has been named the new showunner, alongside BH90210 creators Chris Alberghini and Mike Chessler. A spokesperson for FOX stated Sciarrotta "is bringing a strong focus and vision for the show."
FOX's BH90210 is a summer event series that reunites Jason Priestley, Shannen Doherty, Jennie Garth, Ian Ziering, Gabrielle Carteris, Brian Austin Green, and Tori Spelling. Over the course of six episodes, the actors will portray "heightened versions of themselves" in what is actually a scripted drama. What adds to the "meta" factor is that storylines are inspired by their real lives and various relationships with one another.
https://www.youtube.com/watch?v=Ja8K614WkpA
Having gone their separate ways since the original series ended 19 years ago, Jason, Shannen, Jennie, Ian, Gabrielle, Brian and Tori reunite when one of them suggests it's time to get a "Beverly Hills, 90210" reboot up and running. But getting it going may make for an even more delicious soap than the reboot itself. What will happen when first loves, old romances, friends and frenemies come back together, as this iconic cast – whom the whole world watched grow up together – attempts to continue from where they left off?
https://www.youtube.com/watch?v=FvJhkiQjdrA
BH90210 will be produced by CBS Television Studios and FOX Entertainment. Patrick Sean Smith, Chris Alberghini and Mike Chessler are executive producers alongside Gabrielle Carteris, Shannen Doherty, Jennie Garth, Brian Austin Green, Jason Priestley, Tori Spelling and Ian Ziering. The series was conceived by Alberghini, Chessler, Spelling and Garth. Smith, Alberghini and Chessler are writers of the series, with Smith serving as the series showrunner.