"Black Mirror" S05, E03: "Rachel, Jack, and Ashley Too": Menace with a Smile [SPOILER REVIEW]
[rwp_box_recap id="0"]
"Rachel, Jack, and Ashley Too" is probably the most Black Mirror feeling of this fifth season of the Netflix series, and despite the light-hearted wrapping, there's some serious menace under the surface.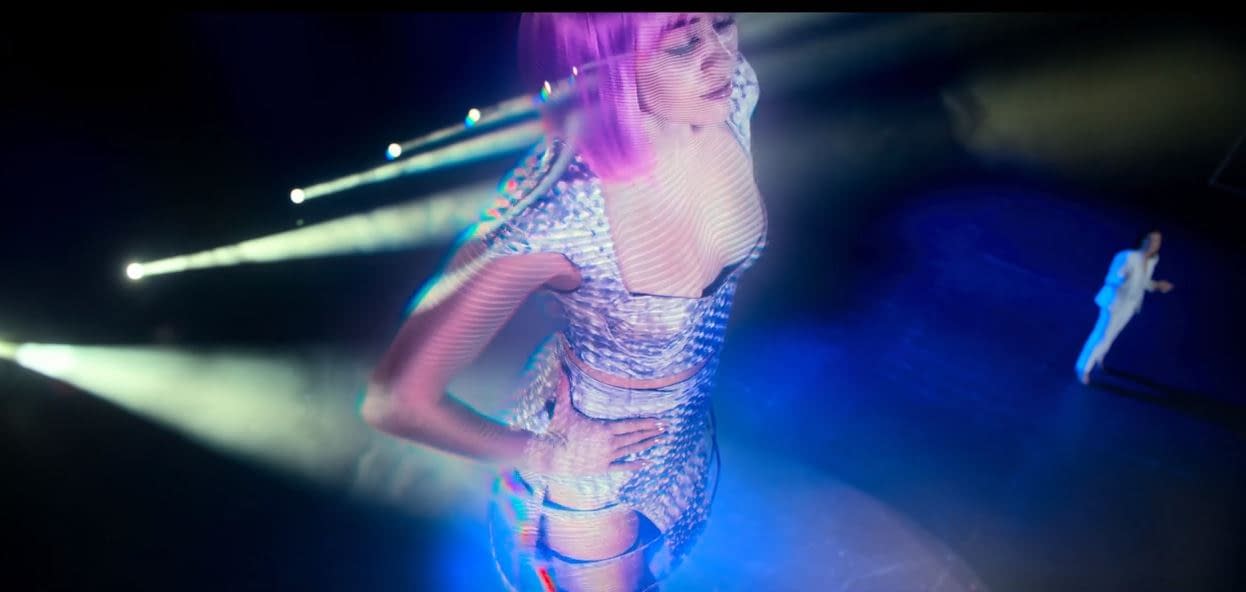 Rachel (Andourie Rice) has a rough life. Sure, she's in high school, which isn't fun for most people, but she's the new kid, her mom passed away recently, and her Dad, Kevin (Marc Menchaca), drives a weird car that advertises his autonomous mouse catching business. It has a furry hood and mouse ears. Embarrassing.
To top all of that off, her sister, Jack (Madison Davenport) hardly talks to her anymore, opting to spend most of her time listening to old alt-rock music like The Pixies.
Rachel passes her time watching videos and interviews of her idol, pop star Ashley O (Miley Cyrus). Ashley has a new robot toy based off of her personality, called Ashley Too. Rachel, of course, must have one.
Life isn't all wine and roses for Ashley, though. She's struggling artistically, and yearns to make music that she can call her own. Sometimes she can't sleep, and stays up all night working out tunes on her piano.
Ashley's aunt, Catherine (Susan Pourfar), who is also her manager, is starting to worry about her niece. She's falling behind with her recording schedule, and what she has been writing is a little too morose for a pop career. Catherine's worries might be more malicious than they appear, though- this is Black Mirror, after all, and we find that Catherine monitors her niece constantly, and has her medicated to keep her compliant.
Rachel gets an Ashley Too for her birthday, after Jack intervenes and helps her father remember Rachel's birthday. Rachel powers up the little robot, and they get to know each other.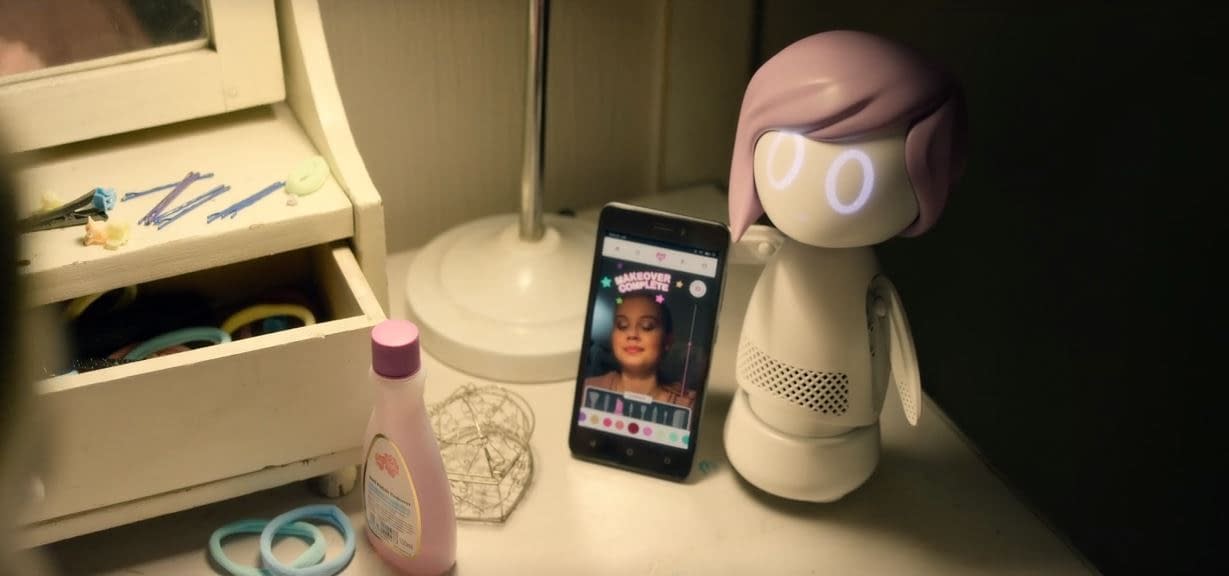 The Ashley Too robot is very personable, and ends up becoming the closest thing Rachel has to a friend. She even plays music and dances for her. The robot knows everything about the real Ashley's song writing process, which thrills Rachel to no end.
Ashley Too begins to interact with Jack as well, and starts asking her lots of questions about their mother, who has passed away.
There's a really endearing montage where the little robot encourages Rachel to follow her dreams, and the two of them work out a dance routine for the school talent show. Rachel suddenly has the courage to follow her dreams, while Ashley continues to fall apart.
The subject matter in this episode might be one that Cyrus can relate to, with her real life early stardom impacting her life with a level of public scrutiny that most people can't even imagine. She's relatable, humanly fragile, and heartbreaking in her performance
Once again, Black Mirror delves into the traps our reliance in technology can inflict upon us, especially when it comes to privacy. It's far too easy for just about anyone to access our most private moments, even more so when we develop a dependency on the technology that could so easily be used against us.
Personal autonomy is a major issue in this episode of Black Mirror, with Ashley struggling to control not only her career, but her creative process, personal life, and at one point, her own life. At what point does an artist lose control of their art? At what point does technology supersede that art?
This might be the only episode of Black Mirror that actually pulls off the kind of "twist" that the series is mostly famous for, and it's a doozy. I won't get into spoilers here, but when it happens? It's pure freaking magic.
The Ashley Too robot is also incredibly cute, personable, and full of personality. Cyrus must have had the time of her life recording the dialogue for the bot- it's foul mouthed and hysterical, which lead to some of the funnier moments this season.
There is a really disturbing sequence where a digital avatar of Ashley is prancing around on stage, manipulated by a dancer in a motion capture suit. It's not Ashley, and at no point is she in control of how she's being portrayed.
It's eerily reminiscent of the holographic performances of Tupac and Michael Jackson that have been used over the last few years, where performers are being digitally resurrected to make other people wealthy.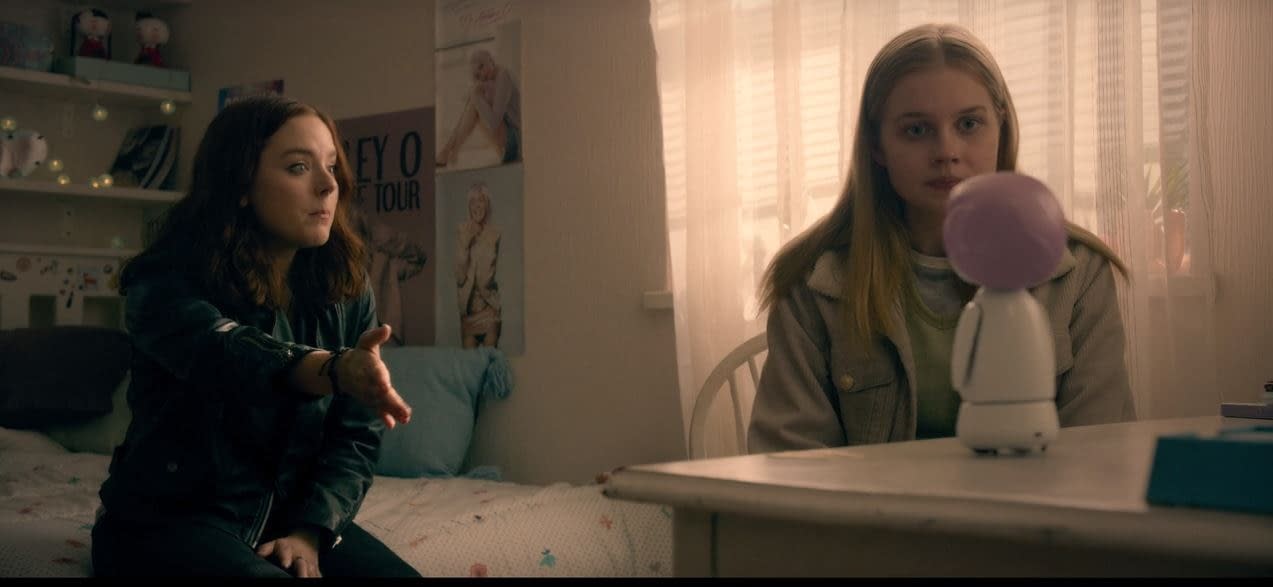 The two young leads in "Rachel, Jack, and Ashley Too" are incredibly talented, and have a great bond with each other. Rice and Davenport have about as real of a sisterly relationship as any other I've seen on television, with Davenport's Jack annoyed with her sister on the surface, but deeply concerned for her, too.
Oddly, "Rachel, Jack, and Ashley Too" makes the second episode of Black Mirror this season to have something of a happy ending. It's a little corny, but the leads worked hard for this payoff, so it's kind of hard not to rock out a little right alongside them. This episode might be a little more light and fluffy than we're used to, but it's still a dark reflection worth having a look at.