BoJack Hoseman Tweets Season 5 Premiere Date, Apparently Shot in Retaliation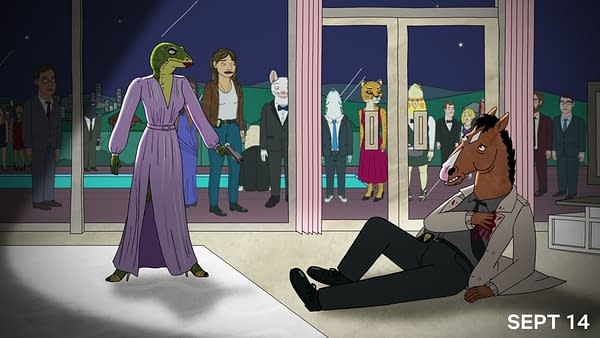 What better way to say goodbye to the summer and get the fall season kicked off on the right note then spending a little quality time with our old friend BoJack Horseman, right? Beating Netflix to the punch — and to get "Princess Leia" and 9,999,999 other like-minded fans off of his back — the series star responded to a question about the show's return date by actually breaking the news himself. Created by Raphael Bob-Waksberg and featuring the voice work of Will Arnett, Aaron Paul, Amy Sedaris, and many more, the series is set to return to the streaming service for season 5 on September 14th, 2018.
You can check out BoJack's tweet below; and the first official (and head-scratching) image from the new season:
In September 2017, less than two weeks after Netflix premiered the fourth season for fan binge consumption, the streaming service announced that the series had been renewed for a season 5. The creative team behind BoJack Horseman wasted no time getting started, with Arnett (BoJack Horseman) tweeting a picture of the season's first episode script, written by Kate Purdy but with the title "conveniently" blocked by a pen; and Paul F. Tompkins (Mr. Peanutbutter) tweeting a picture of his and Alison Brie's (Diane Nguyen) name cards at a table read:

https://youtu.be/Bf12qwPWDVI
Will Arnett voices BoJack, the failed legendary '90s sitcom star from the favorite family sitcom Horsin' Around, who has been trying to find his way through a muddle of self-loathing, whisky and failed relationships. Now, in the presence of his human sidekick Todd (Aaron Paul) and his feline agent and ex-paramour Princess Carolyn (Amy Sedaris), BoJack is primed for his comeback.

BoJack Horseman was created by Raphael Bob-Waksberg. The series is executive produced by Raphael Bob-Waksberg, Steven A. Cohen and Noel Bright. Will Arnett (Flaked, Arrested Development) and Aaron Paul (Breaking Bad) also serve as executive producers. BoJack was designed by graphic artist Lisa Hanawalt and animated by LA-based ShadowMachine. The show is a Tornante Production, brought to life by Michael Eisner's The Tornante Company.