"Brooklyn Nine-Nine" Season 7 "Pimemento" Finds a Familar Face in Fear for His Life [PREVIEW]
Bleeding Cool's very own Brooklyn Nine-Nine "resident expert" Margo Staten is taking over the "case" of weekly reviewing the precinct's return to NBC. In fact, you can check out her review of series' return "Manhunter" & "Captain Kim" here.
We're feeling like that was a great way to get her prepped for this week's episode "Pimemento" – which as you can tell from the title, features the return of Adrian Pimento (Jason Mantzoukas). Former undercover NYPD detective and (last we knew) hand lotion consultant Pimento ends up back in "The 99" – this time, needing their help to stay alive.
As for everyone else? Workshop Conflict seminar – let the irony commence!
"Brooklyn Nine-Nine" season 7, episode 3 "Pimemento": Adrian Pimento shows up unexpectedly to seek Jake and Charles' help after claiming someone is trying to kill him. The rest of the squad endures a Workplace Conflict seminar.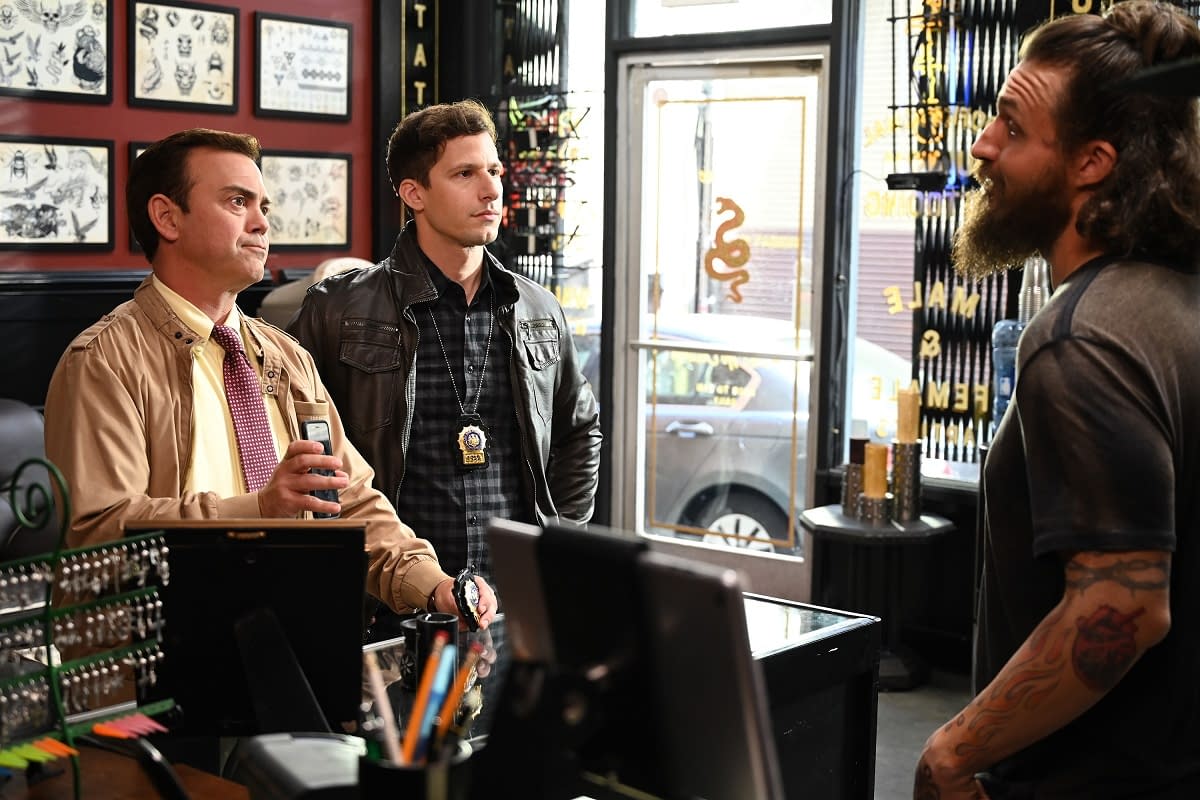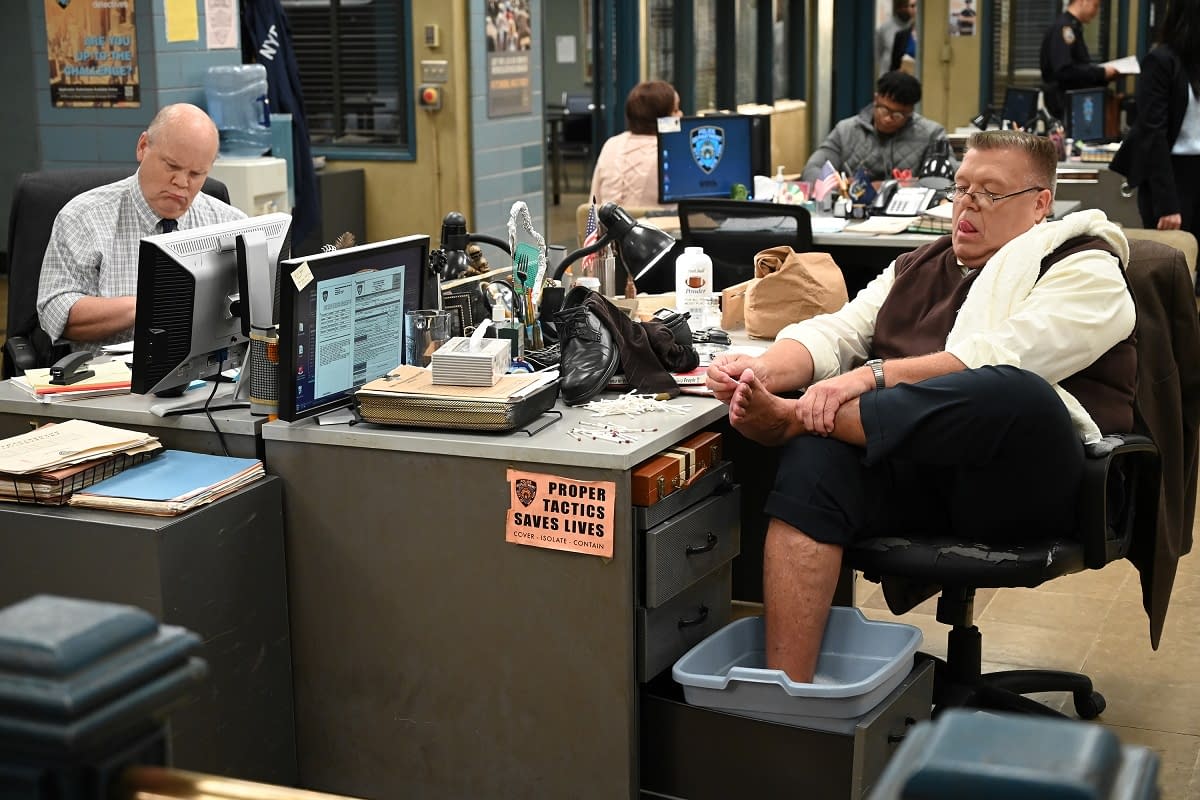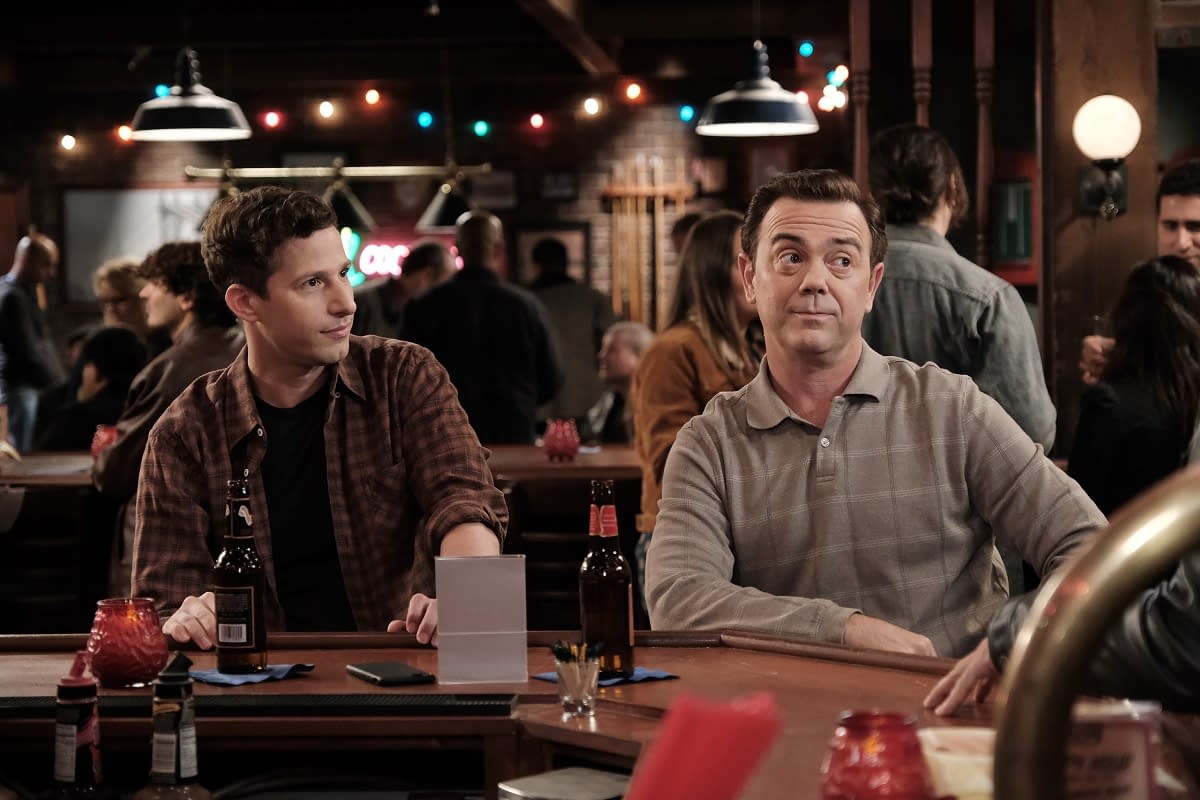 NBC and the fine folks behind B99 have a six-part podcast series Brooklyn Nine-Nine: The Podcast, hosted by Marc Evan Jackson – with guests like Dan Goor, Joel McKinnon Miller, Dirk Blocker, and others revealing behind-the-scenes stories and more (wherever you get your podcasts).

https://www.youtube.com/watch?v=9mgNSMFWiy0
"Brooklyn Nine-Nine" follows the exploits of hilarious Det. Jake Peralta (Andy Samberg) and his diverse, lovable colleagues as they police the NYPD's 99th Precinct. After Capt. Raymond Holt's (Andre Braugher) demotion to patrolman at the end of season six, the squad's world is turned upside down.

Rounding out the ensemble is the newly promoted Lt. Terry Jeffords (Terry Crews), a muscle-bound human mountain who loves nothing more than his three little daughters, except for a fresh carton of full-fat yogurt. The man loves yogurt. Reporting to him is Sgt. Amy Santiago (Melissa Fumero), a consummate rule follower with a weak spot for dork dancing and her husband, Jake.

The other detectives in the squad include Jake's best friend and human puppy dog, Det. Charles Boyle (Joe Lo Truglio), and the incredibly secretive, tough-as-nails Det. Rosa Diaz (Stephanie Beatriz). Also part of the Nine-Nine are veteran officers Det. Scully (Joel McKinnon Miller) and Det. Hitchcock (Dirk Blocker), whose only skill as police officers are their ability to make a passable pot of coffee.