Charlotte Flair to Run Through Asuka on WWE Raw Next Week
So you're WWE, and you have a problem. Charlotte Flair got the stupid COVID before WrestleMania and so you had to job Asuka out to Rhea Ripley instead. Now Ripley has the belt. Obviously, Charlotte needs to beat Ripley again and become the champion, but what about Asuka? The stupid fans will probably complain that Asuka isn't competing for the belt. Well, WWE has the solution: feed Asuka to Charlotte, and then feed Ripley to Charlotte after that. Problems solved!
And so, a press release about this Monday's episode of WWE Raw informs us:
It's time for another showdown between The Queen and The Empress.

Charlotte Flair plans to address the entire Raw Women's locker room this Monday, but she will also have to back up her words in the squared circle.

After brutally assaulting both Asuka and Rhea Ripley during their WrestleMania rematch for the Raw Women's Championship, Asuka looks to avenge the attack by squaring off against The Queen one-on-one this Monday on Raw.

Don't miss Raw live this Monday at 8/7 C on USA Network!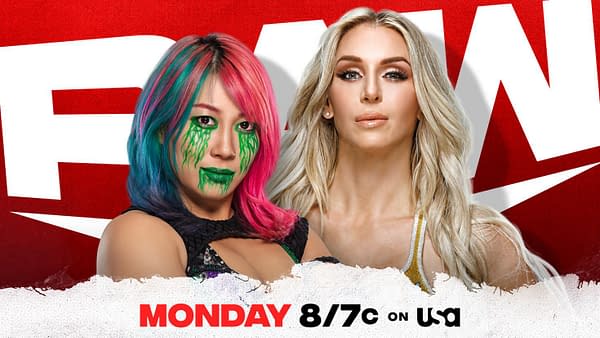 For Ripley, the situation must be stressful. Ripley lost the NXT Championship to Charlotte at last year's WrestleMania, and though many expected Ripley to get some kind of heat back from Flair eventually, Flair ended up leaving NXT without getting pinned by either Ripley or then-new NXT Women's Champion, Io Shirai. In a recent interview with TalkSport, Ripley revealed that things didn't go as planned.
"I didn't really know what the whole plan was for the rest of the year, but I thought it would last a lot longer than it did," said Ripley. "I thought I'd be, in my mind, having matches with Charlotte for the majority of the year then possibly going to RAW or SmackDown and continuing things there. But, it didn't happen and I'm still really thankful I got that extra time in NXT because I got to do so much cool stuff. Like I got to wrestle one of my best friends, Raquel Gonzalez, and have epic matches. I'm still really thankful I got to stay and do my work there, but I definitely thought it was going to lead somewhere different."
Maybe things will go better this time around? Bwhahahaha! WWE Raw airs at 8PM Eastern on the USA Network on Monday.