Chris Rock Unleashes His "Outrage" on Will Smith, Jada Pinkett Smith
Chris Rock: Selective Outrage saw the actor/comedian take the stage and not hold back when it came to Will Smith and Jada Pinkett Smith.
---
Look, it's not like actor/comedian Chris Rock didn't cover a number of topics over the course of his Netflix livestream comedy event, Chris Rock: Selective Outrage – ranging from abortion and (like the title suggests) "selective outrage" to ex-royal couple Harry & Meghan and the Kardashians. But we don't think it's a shocking revelation to say that most viewers wanted to know what Rock had to say about "The Slap" – when Will Smith took to the Oscars stage last year to slap presenter Rock over a joke that Rock made about Smith's wife, Jada Pinkett Smith. "You all know what happened to me, getting smacked by 'Shug Smith,' everybody knows, everybody f***ing knows," Rock shared with the crowd. "I got smacked like a year ago… People are like, 'Did it hurt?' I got 'Summertime' ringing in my ears." But when it comes to any sort of sit down with Oprah Winfrey or Stephen Colbert, fans shouldn't hold their breath. "It's never going to happen, I took that shit like [boxer Manny] Pacquiao." Here's a look at some other Smith-related highlights from Rock's act: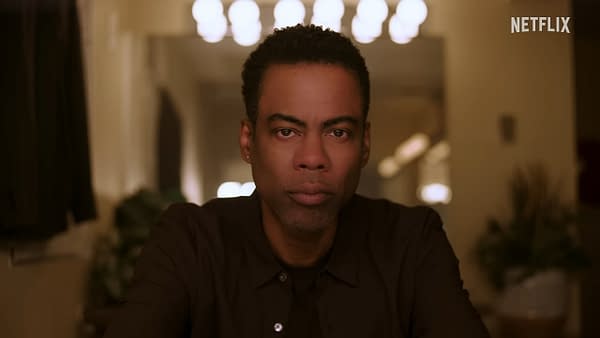 Did The Slap Hurt? "Will Smith is a big dude, I am not. Will Smith is shirtless in his movies. If you see me in a movie getting open heart surgery, I got on a sweater. Will Smith played Muhammad Ali… you think I auditioned for that? I played Pookie in 'New Jack City.' I played a piece of corn. Even in animated movies, this motherf***er is bigger – I'm a zebra, he's a shark."
How Smith Inspired the Title, "Selective Outrage": "Will Smith practices 'Selective Outrage.' Everybody knows… I didn't have an 'entanglements' [Red Table talk reference]. I did not have any entanglements. His wife was fucking her son's friend. I normally wouldn't talk about this shit… No one has ever been interviewed by the person who cheated on us on television. Why the f**k would you do that shit? She hurt him way more than she hurt me. Everybody in the world called him a bitch. I tried to call the motherfucker, I tried to call that man and give him my condolences."
Why Rock Didn't Immediately Respond to Slap: "Because I got parents. I was raised. And you know what my parents taught me. Don't fight in front of white people."
Rock Views Smith Differently Now: "I love Will Smith my whole life… he makes great movies. I rooted for Will Smith my whole life. And now I watch [Smith's newest film] 'Emancipation' just so I could watch him get whooped."
And just a quick reminder that while Rock's special will be available on-demand after the livestream, both the pre-show & the post-show will be one-and-done (meaning they're not being archived). Here's a look back at the date announcement teaser:
Both the pre-show and the post-show specials will be produced by Den of Thieves and directed by Joe DeMaio, with Jill Leiderman and Den of Thieves' Jared Morell serving as executive producers. Now, here's what you need to know to check out the show this Saturday, March 4th. First, Netflix will have a "Watch Live" button on the streamer's interface beginning at around the 6:20 p.m. PT on March 4. Once the show starts, viewers will be able to rewind, pause and jump to Live. If you jump into things late, you can opt to play from the beginning or drop into the show live. And if you have to drop out for a minute, the show will remain listed under "Continue Watching."