Cobra Kai Co-Creator Clarifies Series End; Not Done With "Miyagiverse"
Cobra Kai co-creator Jon Hurwitz clarified that it wasn't Netflix that ended the series and that they're not done with the Miyagiverse.
---
A little more than a month after fans of the "Karate Kid" sequel series learned that Josh Heald, Jon Hurwitz, and Hayden Schlossberg's Ralph Macchio & William Zabka-starring Cobra Kai would be ending its run with its upcoming sixth season, Hurwitz took to Twitter to clarify any misunderstandings out there. In the letter that was released when the news was first announced (see below), the trio shared the process behind them making the decision to end the series with the upcoming series. In addition, Heald, Hurwitz & Schlossberg reassured fans that even with Cobra Kai ending, that didn't mean there wouldn't be more stories coming from the franchise's universe. But in the weird & mysterious streaming world that we currently find ourselves in, there's now this assumption that shows end because a streamer cancels them (and based on the past year, you can't really blame them. So when Hurwitz was asked what his reaction was when Netflix "told you it was the last season," he made it clear that conversation never happened, tweeting, "Netflix didn't tell us it was the last season. We told them it was the last season. We've always wanted to end 'Cobra Kai' on our own terms, and we are grateful we have the opportunity to do so."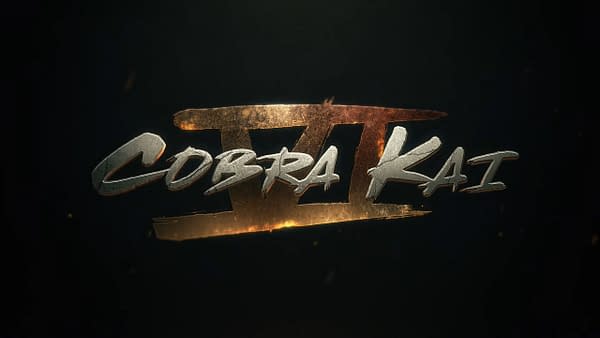 And like the trio have done since the news hit, Hurwitz makes it clear that doesn't mean they're done with the "Karate Kid" world quite yet. "But that doesn't mean we're finished with the Miyagiverse. We love this world," Hurwitz added. Here's a look at Hurwitz's tweet clarifying the matter while teasing more from the franchise's universe to come:
Cobra Kai Creators on Season 6 & Franchise's Future
Promising the "biggest" and "baddest" season yet, the show's creators penned a letter to the show's supporters thanking them for their support and explaining the importance of ending Cobra Kai "on our terms" when the news was first announced last month. Here's a look at the letter: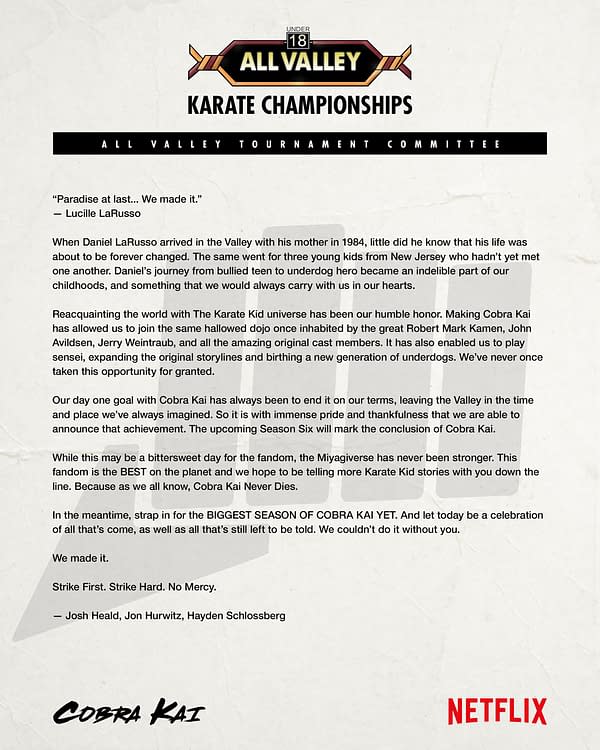 Ralph Macchio (Daniel LaRusso), William Zabka (Johnny Lawrence), Courtney Henggeler (Amanda LaRusso), Xolo Maridueña (Miguel Diaz), Tanner Buchanan (Robby Keene), Mary Mouser (Samantha LaRusso), Jacob Bertrand (Hawk), Gianni Decenzo (Demetri), Vanessa Rubio (Carmen), Peyton List (Tory), and Martin Kove (John Kreese) star, along with Dallas Dupree Young (Kenny), Oona O'Brien (Devon) and Thomas Ian Griffith (Terry Silver).
Alicia Hannah-Kim (Minx) portrays South Korean sensei Kim Da-Eun, who plays a major role in Terry Silver's expansion plans. Dallas Dupree Young's Kenny Payne had been promoted to series regular for the fifth season. In addition, Sean Kanan is returned to the franchise to reprise his role as Mike Barnes. Cobra Kai is written and executive produced by series creators Josh Heald, Jon Hurwitz, and Hayden Schlossberg via production company Counterbalance Entertainment. Will Smith, James Lassiter, and Caleeb Pinkett executive produce for Westbrook Entertainment along with Susan Ekins in association with Sony Pictures Television. Macchio and Zabka also serve as executive producers.