Cobra Kai Season 3 Reportedly Close to Finding New Streaming Home
With YouTube's move away from scripted series content, fans of Cobra Kai were wondering when or if the third season would see the light of day. Considering the cliffhangers we were left with, it would be a crime to not get some answers. We know Ralph Macchio's Daniel is packing his bags and heading to Okinawa, Japan, to find a bit of that "Miyagi mojo" as well as learn the origins of both Miyagi-Do Karate and Cobra Kai. Then there's the matter of whether Karate Kid actress Elizabeth Shue (The Boys) would (finally) make an appearance, how Miguel (Xolo Maridueña) will end up after his accident in the finale, and if Johnny (William Zabka) can get his dojo back from his father (Martin Kove). Well, there might be a bright streaming light on the horizon for Jon Hurwitz, Josh Heald, and HaydenSchlossberg's Karate Kid sequel series.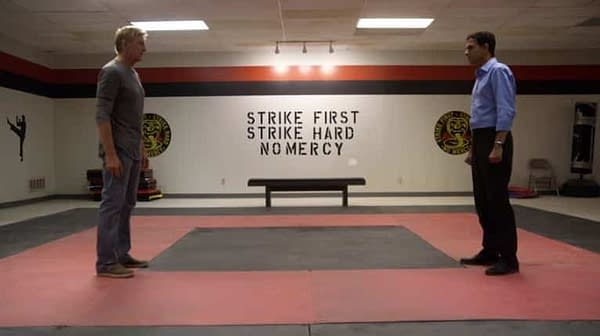 Deadline Hollywood is reporting exclusively that YouTube is ready to release the series to another streaming service once Sony Pictures TV has secured a new home for the series. Reportedly, the number of potential contenders has been narrowed down to Netflix and Hulu. The television landscape is still reeling from the coronavirus pandemic, leading to a lack of scripted programming. A series like Cobra Kai that comes with a full season and a large viewership is a streaming dream for services right now. Apparently, the deal would include exclusive rights to the third season and future seasons, and non-exclusive access to the first two seasons to be able to offer series catch-up options. While YouTube was committed to airing the third season, Sony TV was looking for a service that could offer the series a future beyond that. YouTube and Sony TV are reportedly close to a "successful conclusion" but nothing is expected to be finalized until a new streamer is locked in.