Comisery Production Diary Week 6: The Beginning of The End
It's a strange feeling to enter the homestretch of a production. Comisery, the Asian-American Science Fiction Screwball Comedy webseries that my friend Quentin Lee and I are making is down to its last three segments, last three weeks. Week 6 marks the beginning of the end. Scheduling also got a bit more complicated as some of our actors are now busy. Jennifer Field, who plays Camila, the main antagonist of the story, is also a cast member of the Twitch series Artificial Next, and she gets many more pages of script than we give our actors. The way our story panned out, Camila wouldn't appear in Episodes 6 or 7. We plan for the main cast to be back for the finale in Episode 8.
We are now rehearsing and shooting each episode in a single 3-hour block a week since the actors always come fully prepared. Whatever new we discover during rehearsal that works can be immediately integrated into the shoot rather than have the actors remember those bits when we come back a day or two later to actually shoot.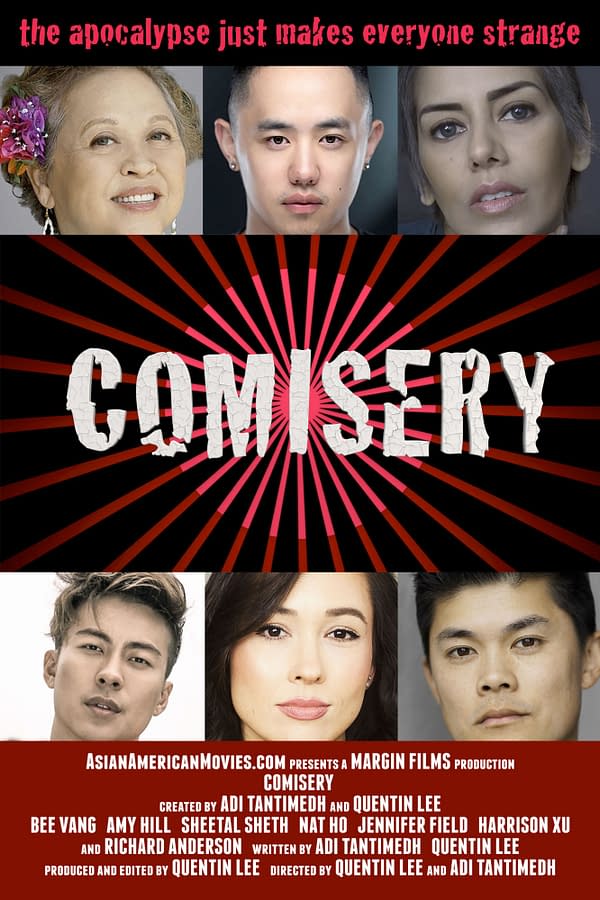 Richard Anderson Keeps Getting Better and Better
Richard Anderson only appears in the cold open this week. When Quentin created this character, he didn't even have a name, just a racist troll bombing a therapy session. Quentin cast Richard as the troll, and when he displayed so much humanity, complexity, and personality, I felt I had to write something more substantial for him. I named the troll Dave from Florida and gave him more scenes with Amy Hill. Then I created another role for him, Howard Hapman, Camila's sexist boss at the TV station she worked at. For episode 7, Richard had a fairly simple scene as Dave. We did five takes of the scene, all flawless because Richard experimented with a different tone, emotion, color, nuance each take. They were all terrific and we could have easily picked any of them for the final cut. We ended up choosing the last take, the jolliest one because that made it the most disturbing.
Comisery: When Actors Duel and Dance
Next came Harrison Xu's first scene with Amy Hill. Their chat is like a duel, each of them dancing warily around each other with existential unease humming away under their words. Ambiguity continues to be the game. Are they who they think they are or they something else altogether? That question runs through the whole series. Harrison's character Kel is grappling with his identity and nothing makes him feel better.
The third scene is the longest in the episode. Harrison, Bee Vang, Sheetal Sheth, and Nat Ho in a group chat. The challenge in writing this is how to make it compelling? How to keep it interesting? We have no fight scenes, no explosions, no chase scenes, just four people talking about various types of uncertainty. Kel about his identity and whether he's the good guy in all this. Bee's character Skylar on whether all this is real or some elaborate game. Sheetal's character Anika worries if her best friend Camila is still alive. Nat's character Nate just sits there embodying Uncertainty itself. Quentin thought Nate was an airhead but I keep saying he's not an airhead, he's just so Zen he has a different relationship with reality than everyone else does. That's what makes him funny. Ironically, Jennifer turned out to be free this week, but Camila doesn't appear in the story because the end of the last episode set up the mystery of her disappearance. Her presence is still felt because the rest of the characters are left wondering where she went and if something bad happened to her.
We go through the filming with nary a technical hitch, barring waiting a few minutes for construction noises outside one of the actors' apartments to stop, and miraculously finish shooting an hour ahead of schedule. This almost never happens on any production. One for the bucket list. We could all go clock off for the day and go get lunch.
The David Lynch Moment
While we were filming the scene, I suddenly had an idea. It's what I called "The David Lynch Moment", those instances in his work where Lynch would suddenly insert a scene or a shot seemingly without context that created a sense of bafflement, even shock and horror. "What the hell was that?" would be the common thought in the viewer. Why not put one of those moments here? It's also a chance to have Jennifer's character Camila appear, even if for literally half-a-second, in a way that was impactful.
As the characters wondered about Camila's fate, there would suddenly be a quick, unexpected insert of Camila, her location and setting unknown. I ran the idea by Quentin, we agreed on the approach, and contacted Jennifer and told her what the insert would be: a shaky, murky close-up of her as she screamed. Perhaps in red light, if she had one – she did. She could shoot it on her phone and send it to Quentin to insert. That way, Jennifer would appear in the episode after all, and in a shot that had some impact. We would end up using that shot as the cold open of Episode 7 as well. This is the kind of spontaneous out-of-nowhere idea that the story can accommodate because it was set up for it. It's what makes working on Comisery so unpredictable and exciting.
You can watch all the episodes of Comisery to date at comisery.tv.
Comisery (Episode 106: "Fallout")

Bid Farewell to LGBTQ Pride Month with #comiserytv! Comisery is an apocalyptic science fiction comedy series told entirely through web chat sessions about a group of Asian-American friends living through an invasion by an alien virus now. Here's the fifth episode starring Rcihard Anderson, Harrison Xu (Shameless), Amy Hill (Magnum PI), Sheetal Sheth (Hummingbird), Bee Vang (Gran Torino), Jennifer Field (9-1-1) and Nat Ho. Quentin Lee, the co-creator of the series, would like to express his solidarity with Outfest. Watch #comiserytv for free and donate to our non-profit partner Outfest!

Posted by Chopso on Monday, June 29, 2020