Did 1923 Star Harrison Ford Spoil or Swerve Us on Season 2? (SPOILER)
We can't tell if Harrison Ford dropped a major spoiler for Paramount+ and Taylor Sheridan's 1923 Season 2 or if he's swerving us.
---
Earlier today, fans of Taylor Sheridan's Harrison Ford & Helen Mirren-starring 1923 learned that Paramount + had decided to continue the story of Jacob Dutton (Ford) and Cara Dutton (Mirren) for a second season. But with a few more episodes to go in this season (and with Sheridan's shows willing to kill off anyone if it serves the story best), it's hard to say who might be making it to the next season. Well, maybe it's not that hard, considering Ford may have dropped a major spoiler about who makes it through to Season 2 during an interview with NBC's TODAY Show's Savannah Guthrie earlier today. From this point forward, we're throwing on the "MAJOR SPOILERS AHEAD!" sign and throwing down an image spoiler buffer just in case it's legit.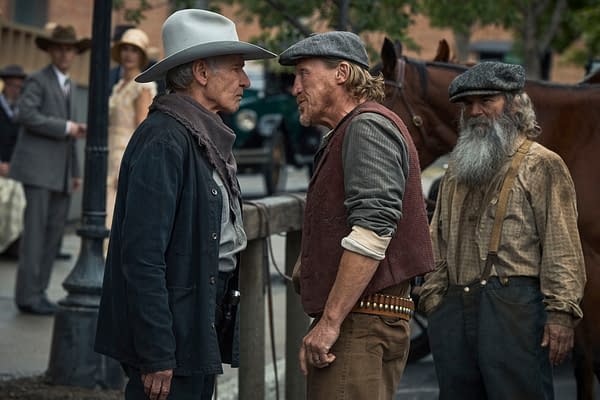 Here's a look at the clip from Ford's interview with Guthrie that was posted earlier today, with the (potentially) big reveal that Ford will be back for the second season. Well, it would be easy to assume that means Jacob survives whatever else the season has to offer. But then again, as we saw with Ryan Phillippe when he was promoting his run on ABC's Big Sky only to be killed in the first episode, there's always the possibility that it could be a swerve. We'll let you be the judge…
With the series set to return from its midseason break on February 5th, here's a look at the midseason trailer for Paramount+'s "Yellowstone" prequel series, 1923 (followed by a featurette focusing on what the cast & creative team had to say about how the prequel series plays into the overarching "Yellowstone" storyline:
The cast of Paramount+'s 1923 also includes Brandon Sklenar (The Offer), Darren Mann (Animal Kingdom), Michelle Randolph (A Snow White Christmas), James Badge Dale (Hightown), Marley Shelton (Scream), Brian Geraghty (Big Sky), Aminah Nieves (Blueberry), Julia Schlaepfer (The Politician), Jerome Flynn (Game of Thrones), Peter Stormare (Fargo, The Big Lebowski, American Gods), Tim Dekay (Oppenheimer, White Collar), and Amelia Rico (Dark Winds, Yellowstone). Produced by MTV Entertainment Studios, 101 Studios, and Bosque Ranch Productions, 1923 is executive produced by Sheridan, John Linson, Art Linson, David C. Glasser, Ron Burkle, David Hutkin, Bob Yari, and Ben Richardson.
Paramount+'s 1923, the next installment of the Dutton family origin story, introduces a new generation of Duttons, led by patriarch Jacob (Ford) and matriarch Cara (Mirren). The series explores the early 20th century when pandemics, historic drought, the end of Prohibition, and the Great Depression all plagued the mountain west and the Duttons who call it home.