Doctor Who: Moffat, Mackie, Lucas Reunite for The Best of Days Audio
Doctor Who Magazine writer and BBC Radio editor Emily Cook announced last week that the final "Doctor Who Lockdown" global rewatch was canceled out of respect for the protests against police brutality towards the Black community that was inflamed by the killing of George Floyd at the hands of Minneapolis police officers. Cook said the decision was made "out of respect for the feelings of Doctor Who fans around the world" and that "it doesn't seem appropriate at this time" (and many agreed).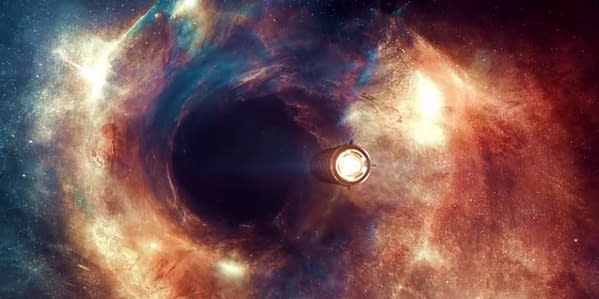 But while the live-tweet look at Peter Capaldi's "World Enough and Time" and "The Doctor Falls" may not have taken place, Cook, ex-showrunner and writer Steven Moffat, actors Pearl Mackie (Bill Potts) and Matt Lucas (Nardoe), and director Rachel Talalay kept their promise of having something special for the fans. Moffat has written "The Best of Days," with Mackie and Lucas reprising their roles as Bill Potts and Nardole, respectively. With Talalay as creative supervisor, music from Murray Gold, and visuals from Benji Clifford, the audio drama sequel finds the two companions trying to keep their spirits up after the fallout. And if it sounds like the world outside our windows right now? It should…
Mackie has asked that viewers/ listeners please make a donation in support of one of the following organizations: UK's Black Lives Matter organization (here); The Black Curriculum, which aims to get accurate Black history on the UK curriculum as soon as 2021 (here); US' Campaign Zero, an organization devoted to reducing police brutality (here); Black Visions Collective, a black, LGBTQ+ led organization that is committed to dismantling systems of oppression and violence and shifting public narrative for long-term change (here); and US' Black Lives Matter organization (here).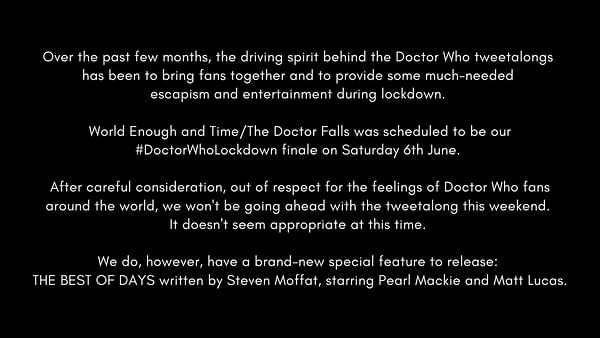 On Monday, May 25, George Floyd, an African-American Minneapolis man, was confronted by police officers over an accusation of using a counterfeit $20 bill at a local market. While details on what happened next are still being pieced together, what we do know is that Floyd was handcuffed and lying face down as police officer Derek Chauvin kept his knee on Floyd's neck for the previously mentioned 8 minutes and 46 seconds. Officers Tou Thao, J. Alexander Kueng, and Thomas K. Lane were the other three officers involved, with Kueng and Lane assisting Chauvin in holding Floyd to the ground and Thao looking on from nearby.