Doctor Who: RTD Offers Williams, Bonham Carter & Mabuse Open Invite
So it looks like Michelle Williams, Helena Bonham Carter & Oti Mabuse have an open invite from Russell T. Davies to appear on Doctor Who.
---
Adding to our list of things that we love about the BBC & Disney+'s Doctor Who showrunner Russell T. Davies is his ability to accomplish a lot in a very little amount of time. We were treated to an excellent example of this over the weekend when Davies appeared on The Graham Norton Show. In the span of well less than two minutes, Davies confirmed that we will be getting a Christmas present this year in the form of a special featuring Ncuti Gatwa's Fifteenth Doctor and Millie Gibson's Ruby Sunday- which means more new "Who" after November's 60th-anniversary event and before the year wraps. And let's not forget that fun bit of knife-twisting Davies did when he reminded Graham Norton of the time Norton called out Davies during an interview for not writing "something real" instead of Doctor Who. But the best part of the clip might just be when Davies jumped into "super showrunner mode" by using the moment to invite Michelle Williams (The Fabelmans), Helena Bonham Carter (Enola Holmes 2), and Oti Mabuse (Strictly) to appear in an upcoming series- with the reactions pretty promising.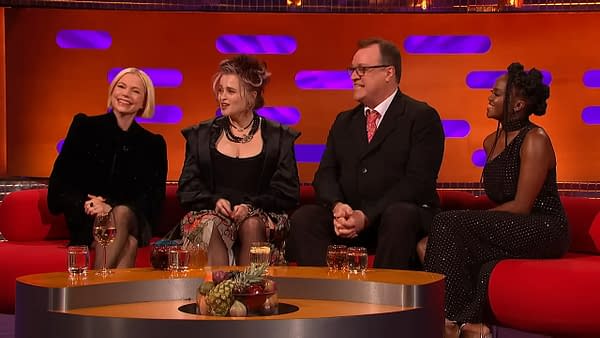 Here's a look at the clip, followed by a look back at what Davies and others had to share about the journey that led to Gatwa and Gibson being cast:
How They Found "Brilliant" Ncuti Gatwa to Lead "Doctor Who"
In Doctor Who Magazine #586 (which you can order here), Davies confirmed that Casting Director Andy Pryor was charged with bringing the creative team "the best in the land," with Davies and producer Phil Collinson confirming that they auditioned "all backgrounds, all genders," including one non-binary actor. The duo also confirmed that another actor was seriously being considered for The Doctor heading into the final audition… and then (as Collinson puts it), "in walked Ncuti [Gatwa] and absolutely stole the part. He took control of it and did things with it that I'd never seen an actor playing 'Doctor Who' do. It was just extraordinary." In fact, Tranter described Gatwa's audition as "the most extraordinary" one that she's ever seen ("He was the Doctor").
Davies On What They Were Looking For & "Brilliant" Ncuti Gatwa: "I think, as a rule, we were looking for younger – most of the people we saw were under 30 – but not as a definite rule, and kind of new talent. Ncuti's not exactly new. He's world-famous already with 'Sex Education.' But we weren't looking for an older, established face. And in he walked. The last person to audition. It sounds like one of those stories you tell as an anecdote, but Ncuti was absolutely the last person in, and everything clicked into place. I sat there thinking, 'Why didn't we just offer [Ncuti the role]? Why did we need to audition the man from 'Sex Education'? Of course, he's brilliant."
Welcoming "Brilliantly Confident" Millie Gibson to the TARDIS
Referring back to Gibson's September 2022 audition, executive producers Jane Tranter found Gibson to be "brilliantly confident and centered and just a shining star," who "held her own, in her own way, as Ruby would with [Gatwa's] Doctor" and that things" just clicked between them." Collinson shared how Gatwa "came down to London on his day off and did a day of auditioning with us," with Davies reminding "Who-storians" that Christopher Eccleston did that very same thing when it came time to audition an actress to play Rose Tyler. And as impressed as they were with what Gibson was bringing to the role, they were soon far from alone. We showed those auditions tapes to the BBC and to Disney, and everyone instantly went, 'Millie, Millie, Millie.'"
Davies Had His Eye on Millie Gibson Since Her "Coronation Street" Days: I'd had my eye on Millie for a while because I'm still watching 'Coronation Street' [Gibson played Kelly Neelan from 2019 to 2022] and, I tell you, the writers obviously loved her. Over four years, I noticed her getting more and more to do. That reached the most extraordinary synthesis of plots where she was on a drug heist, and her father had been kidnapped, and she was being accused of murder, at the same time as she was winning North-West Regional Hairdresser of the Year!"