Fox Unveils 2018-2019 Trailers: Last Man Standing, The Cool Kids, Rel, and More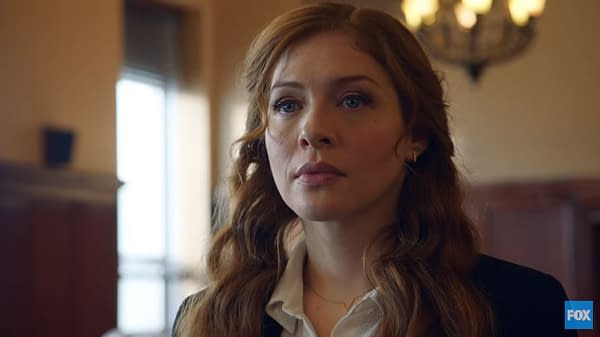 As part of Monday's upfront presentations to Madison Avenue ad executives, Fox released a number of first trailers for its upcoming fall programming as part of the release of its 2018-2019 schedule, Variety reports. Comedies The Cool Kids, Rel, and the returning Last Man Standing will debut in fall 2018; while dramas The Passage and Proven Innocent will premiere alongside the next installment of Cosmos during midseason.
Inspired by the life of Lil Rel Howery ("Get Out," "Insecure," "The Carmichael Show"), REL is a multi-camera comedy starring Howery as a loving husband and father living in Chicago, who finds out his wife is having an affair, and must rebuild his life as a single father, following his divorce. The comedy also stars Sinbad ("A Different World," "The Sinbad Show," "Jingle All The Way"), Jess "Hilarious" Moore ("Wild 'N Out") and Jordan L. Jones ("NCIS: Los Angeles," "Wisdom of the Crowd").
From executive producer Charlie Day ("It's Always Sunny in Philadelphia"), "The Cool Kids" is a multi-camera comedy about a rag-tag group of friends living in a retirement community who are willing to break every rule in order to have fun – because, at their age, what do they really have to lose? The series stars four comedy veterans: Tony Award nominee David Alan Grier ("The Carmichael Show," "In Living Color"), Emmy Award nominee Martin Mull ("Veep," "Roseanne"), Emmy Award winner Leslie Jordan ("Will and Grace," "American Horror Story") and Emmy Award winner Vicki Lawrence ("Mama's Family," "The Carol Burnett Show").
https://www.youtube.com/watch?v=sP-vqGmK5cE
Hit comedy "Last Man Standing" joins the Fox lineup. A fan-favorite for six seasons, the series stars Tim Allen as Mike Baxter, a married father of three girls, who tries to maintain his manliness, despite being surrounded by women. The series also stars Nancy Travis, Jonathan Adams, Amanda Fuller, Christoph Sanders and Jordan Masterson.
Based on author Justin Cronin's best-selling trilogy of the same name, "The Passage" is an epic, character-driven thriller written by Liz Heldens ("Friday Night Lights"). Executive-produced by Heldens, Emmy Award winner and Academy Award and Golden Globe nominee Ridley Scott ("The Martian," "Gladiator") and writer/director Matt Reeves ("Dawn of the Planet of the Apes," "Cloverfield"), THE PASSAGE focuses on Project Noah, a secret medical facility where scientists are experimenting with a dangerous virus that could lead to the cure for all disease, but also carries the potential to wipe out the human race. When a young girl (Saniyya Sidney, "Fences," "Hidden Figures") is chosen to be a test subject, a federal agent (Mark-Paul Gosselaar, "Pitch") is tasked with bringing her in, but ultimately, becomes her surrogate father, determined to protect her at any cost – even as Project Noah's work threatens to unleash an unimaginable apocalypse.
https://www.youtube.com/watch?v=P3rpbxfJxec
Emmy and Golden Globe Award winner and EMPIRE co-creator Danny Strong partners with David Elliot ("Four Brothers") to tell the emotional story of one woman's fight for the innocence of others, as well as her own. PROVEN INNOCENT follows an underdog criminal defense firm led by a fierce and uncompromising lawyer, who was wrongfully convicted in a sensational murder case that made her an infamous media obsession, a household name and a national cause célèbre. The drama stars Rachelle Lefevre ("Under the Dome," "A Gifted Man"), Vincent Kartheiser ("Mad Men"), Russell Hornsby ("Seven Seconds," "Grimm"), Brian d'Arcy James ("13 Reasons Why," "Spotlight") and Tony Award winner Nikki M. James ("BrainDead," "The Good Wife," "The Book of Mormon").
Airing as a global event on FOX and National Geographic, the Emmy and Peabody Award-winning COSMOS will return for its third season in Spring 2019. It will once again be executive-produced, written and directed by Ann Druyan (NASA's Voyager Record, "Cosmos: A Personal Voyage," "Contact") and executive-produced by Seth MacFarlane (FAMILY GUY, THE ORVILLE, COSMOS: A SPACETIME ODYSSEY), Brannon Braga (THE ORVILLE, COSMOS: A SPACETIME ODYSSEY), who also is co-writer and director of the series, and Jason Clark (THE ORVILLE, COSMOS: A SPACETIME ODYSSEY). Neil deGrasse Tyson, the famed pop-culture icon, astrophysicist and host of the Emmy Award-nominated "StarTalk," will return as host. Co-created by the legendary astronomer Carl Sagan and Ann Druyan in 1980, COSMOS has transported a global audience to the farthest reaches and most deeply hidden recesses of the universe. In the course of those journeys, the series has examined the real stories of the forgotten searchers who helped us understand our place in the universe. Following the wildly successful second season, COSMOS: A SPACETIME ODYSSEY, seen by more than 135 million people worldwide on National Geographic and FOX, and the most-watched series ever on National Geographic Channels internationally, the new season, COSMOS: POSSIBLE WORLDS, will premiere in the U.S. on both FOX and National Geographic and globally on National Geographic in 180 countries and 43 languages. Continuing the legacy of its predecessors, COSMOS: POSSIBLE WORLDS will translate the revelations of science into a lavishly transporting experience, taking audiences on a series of spiritual voyages of exploration. We are living in the golden age of discovery of new worlds to explore and possibly inhabit. In the vastness of time and the immensity of space, their number and the stories they contain are virtually infinite. The new season will reveal previously uncharted realms, including lost worlds and worlds to come, and those that we may one day inhabit in a thrilling future we can still have. In conjunction with the launch of the new season, National Geographic Books also will publish a companion book, COSMOS: POSSIBLE WORLDS, by Ann Druyan, the long-awaited follow-up to Carl Sagan's historic international bestseller, COSMOS: A Personal Voyage.