"Game of Thrones": Naomi Watts on Fan Reaction to Prequel Series: "I Think They Won't Be Let Down" [VIDEO]
HBO's righteously popular global phenomenon Game of Thrones shuffled off the cable giant's programming coil with a finale that – hmmm, what the best way to put this ? Let's just say that series finale "The Iron Throne" left fans with enough to debate and discuss until one of the show's prequel series makes it to air. With prequel series The Long Night currently filming its pilot in Northern Ireland (reportedly until working title "Bloodmoon), actress Naomi Watts (Twin Peaks: The Return, Showtime's upcoming limited series The Loudest Voice) shared her thoughts on the upcoming series with The Associated Press.
Here's a look at the clip – which shows Watt's is clearly aware of the finale's fallout, understands the responsibility behind taking on a project like this, and is quite confidant in the team assembled to tackle the prequel:
Taking place thousands of years before the events of Game of Thrones, the series will chronicle the world's descent from The Golden Age of Heroes into its darkest hour. And only one thing is for sure: from the horrifying secrets of Westeros' history to the true origin of the white walkers, the mysteries of the East, to the Starks of legend… it's not the story fans think they know.
The prequel's official overview above is pretty much in line with what Game of Thrones mastermind George R.R. Martin confirmed to Entertainment Weekly in late 2018:
"10,000 years is mentioned in the novels, but you also have places where maesters say, 'No, no, it wasn't 10,000, it was 5,000.' Again, I'm trying to reflect real-life things that a lot of high fantasy doesn't reflect. In the Bible, it has people living for hundreds of years and then people added up how long each lived and used that to figure out when events took place. Really? I don't think so. Now we're getting more realistic dating now from carbon dating and archeology. But Westeros doesn't have that. They're still in the stage of 'my grandfather told me and his grandfather told him.' So I think it's closer to 5,000 years."
Showrunner Jane Goldman (X-Men: First Class) and Martin co-created the project and wrote the story, with Goldman also writing the teleplay. Martin and director S.J. Clarkson will oversee production. Goldman and Martin executive produce alongside Daniel Zelman, James Farrell, Jim Danger Gray, and Vince Gerardis (Game of Thrones), with Chris Symes co-executive producing.
In October 2018, Martin took to his Not A Blog site to announce his excitement over Watts' casting: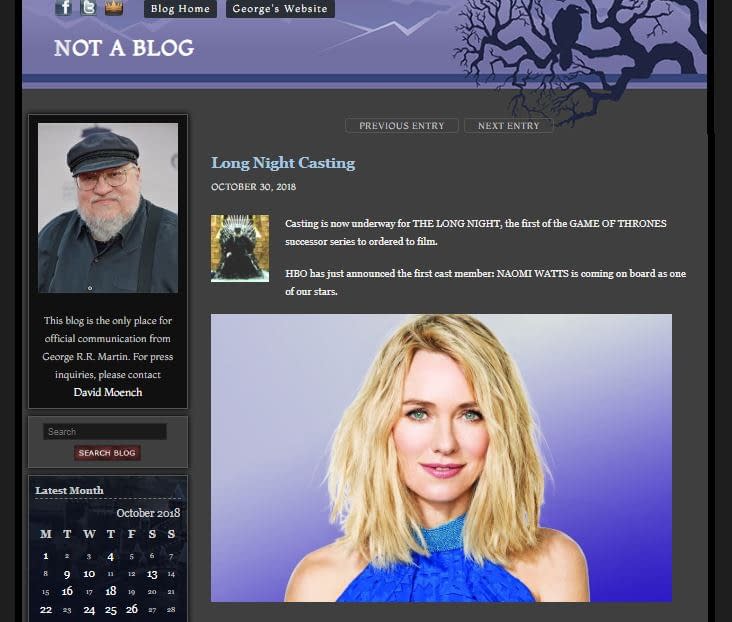 "I could not be more excited. Welcome to Westeros, Naomi."
Game of Thrones prequel pilot The Long Night also stars Naomi Ackie, Denise Gough, Miranda Richardson, Josh Whitehouse, Sheila Atim, Jamie Campbell Bower, Ivanno Jeremiah, Toby Regbo, and Alex Sharp.