'Game of Thrones' Night King is Death More Than Evil Say Showrunners
The Night King from Game of Thrones– who was he? Is he somehow connected to Bran? What is his undead motivation, and why does he seemingly hate the living? Maybe we don't know all (or any, really) the answers yet, but we DO know how the two GoT showrunners David Benioff and Dan Weiss think about the leader of the White Walkers.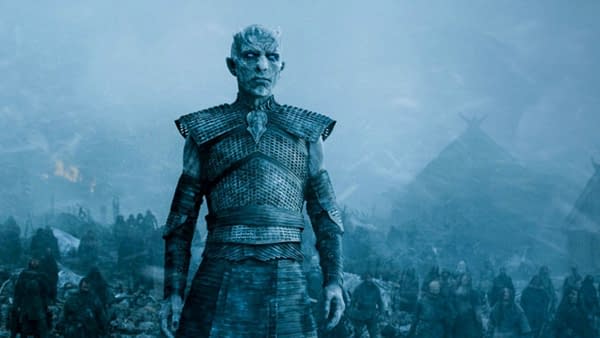 "I don't think of him as evil, I think of him as Death," Benioff told Entertainment Weekly in a recent interview. "And that's what he wants — for all of us. It's why he was created and that's what he's after."
Weiss offered some insight into the Night King's history:
"It was almost logical as you went back in time, as you create the prehistory for all this. We've seen what the White Walkers do, we've seen how they perpetuate themselves and created the wights. If you're going backwards, well, they made these things … so what made them? We always liked the implication that they weren't some kind of cosmic evil that had been around since the beginning to time but that the White Walkers had a history — that something that seems legendary and mythological and permanent wasn't. They had a historical cause that was comprehensible like the way the wars on screen we're seeing unfold are comprehensible. They're the result of people, or beings, with motivations we can understand."
Benioff added, "And once you go back into that flashback scene, that required a person there — and that was Vlad [the character was played initially by Richard Brake and later by Vladimir Furdik], who for a long time was our best stuntman."
Needless to say, we've got a lot of questions about the character that we're hoping we get some answers about when the 8th and final season of Game of Thrones premieres on April 14th on HBO.