The Good Place 'Chidi Sees the Time-Knife' Recap: Michael Makes His Case (SPOILERS)
Everything is fine!
Well, it wasn't…then it was…then it maybe wasn't again for our friends on NBC's The Good Place with this week's penultimate episode "Chidi Sees the Time-Knife."
Let's jump in–of course… spoilers are ahead!
Michael (Ted Danson) has arranged for a meeting with the Judge (Maya Rudolph) at the IHOP – the Inter-dimensional Hole of Pancakes – to discuss the crucial flaw in the points system of the afterlife.
With the humans and Janet (D'Arcy Carden) in tow, Michael makes the case that life is way too complicated for the current system to be effective. The Judge sees for herself and decides that life on Earth is far too complicated and messy and awful, so they bring in head-baddie-in-charge Shawn (Marc Evan Jackson) to negotiate a new system.
After Chidi (William Jackson Harper) falls into one of the portals (and sees reality folding onto itself to form a time knife – wonder where they got the episode title?), he suggests that in order to prove Michael's theory that humans have to be taken out of Earth and put in a controlled environment to prove if they are good or not, they need to repeat the experiment.
This leads them all back to The Medium Place, with Mindy St. Claire and Derek, Janet's son/rebound/booty call. Mindy has rebooted Derek so many times that he's not quite as much of an idiot as before, which still isn't saying much. However, Janet being around her ex again is giving Jason (Manny Jacinto) some seriously conflicted feelings, especially now that she's agreed to go on a date with him.
Tahani (Jameela Jamil) is still Tahani and lovely as ever; Eleanor (Kristin Bell) and Chidi are officially dating, (forking finally!), which seems like non-news but it's still adorable.
The episode ends with the compromise: Michael gets to design the neighborhood but doesn't know who the humans are, and Shawn gets to pick the humans. One Earth year will be spent monitoring the four new humans, and in the end, if they do indeed become less terrible people–like our "soul squad"–then the system gets revamped.
However… if they don't, The Bad Place will continue to dominate the afterlife and the four original humans will be tortured for eternity by an evil Michael clone.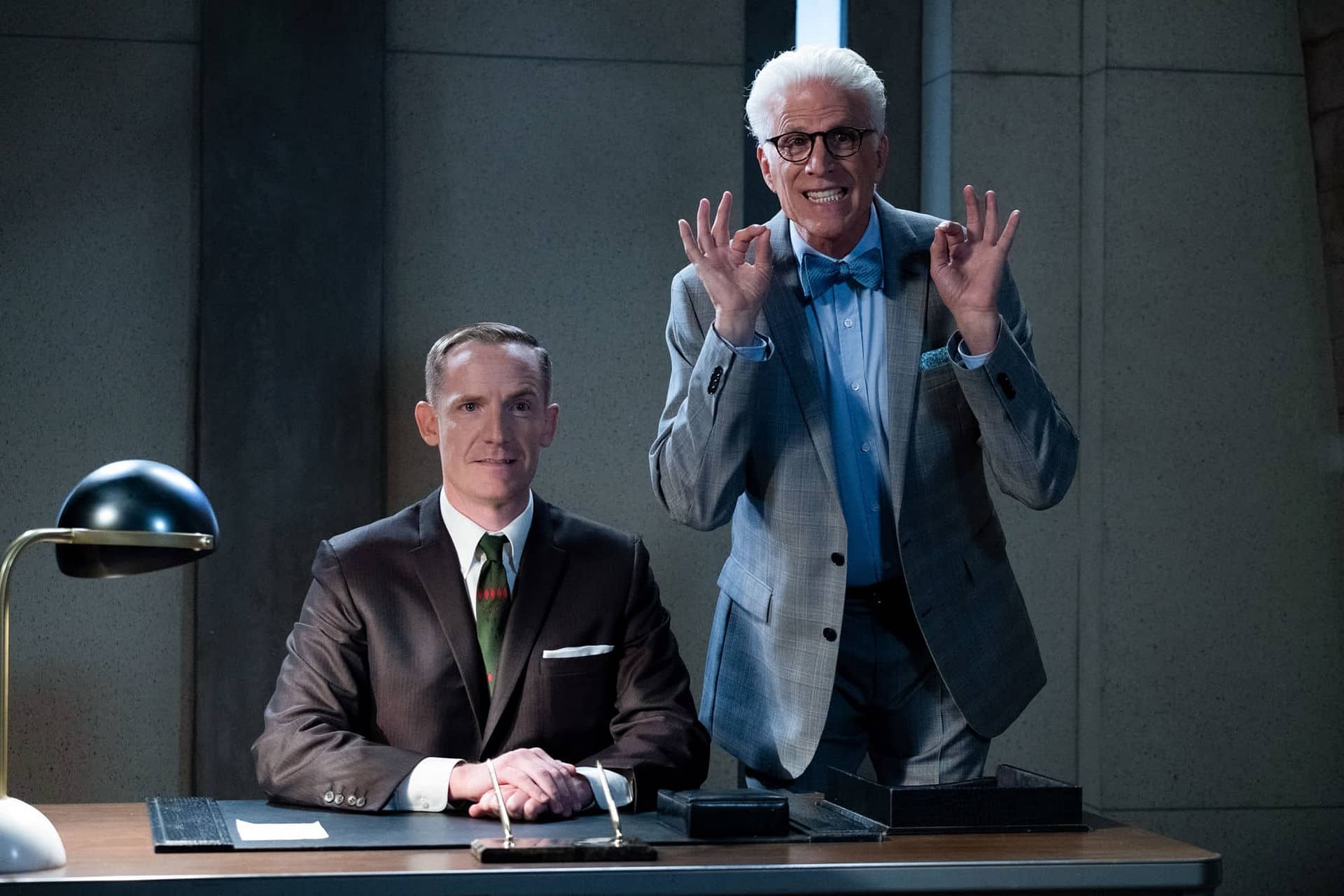 That last detail is unknown to the humans: right before the first human came in, Shawn called Michael to reveal that gem of a surprise, which threw him off his game. The first human wakes up, and instead of being greeted by Michael–Michael is totally freaking out as we see Eleanor wondering what to do.
What will Eleanor do?
Will she take Michael's place and greet the newly-deceased human?
Will she snap Michael out of it?
Will these new humans be anywhere as cool as our current humans?
Will the new neighborhood fail?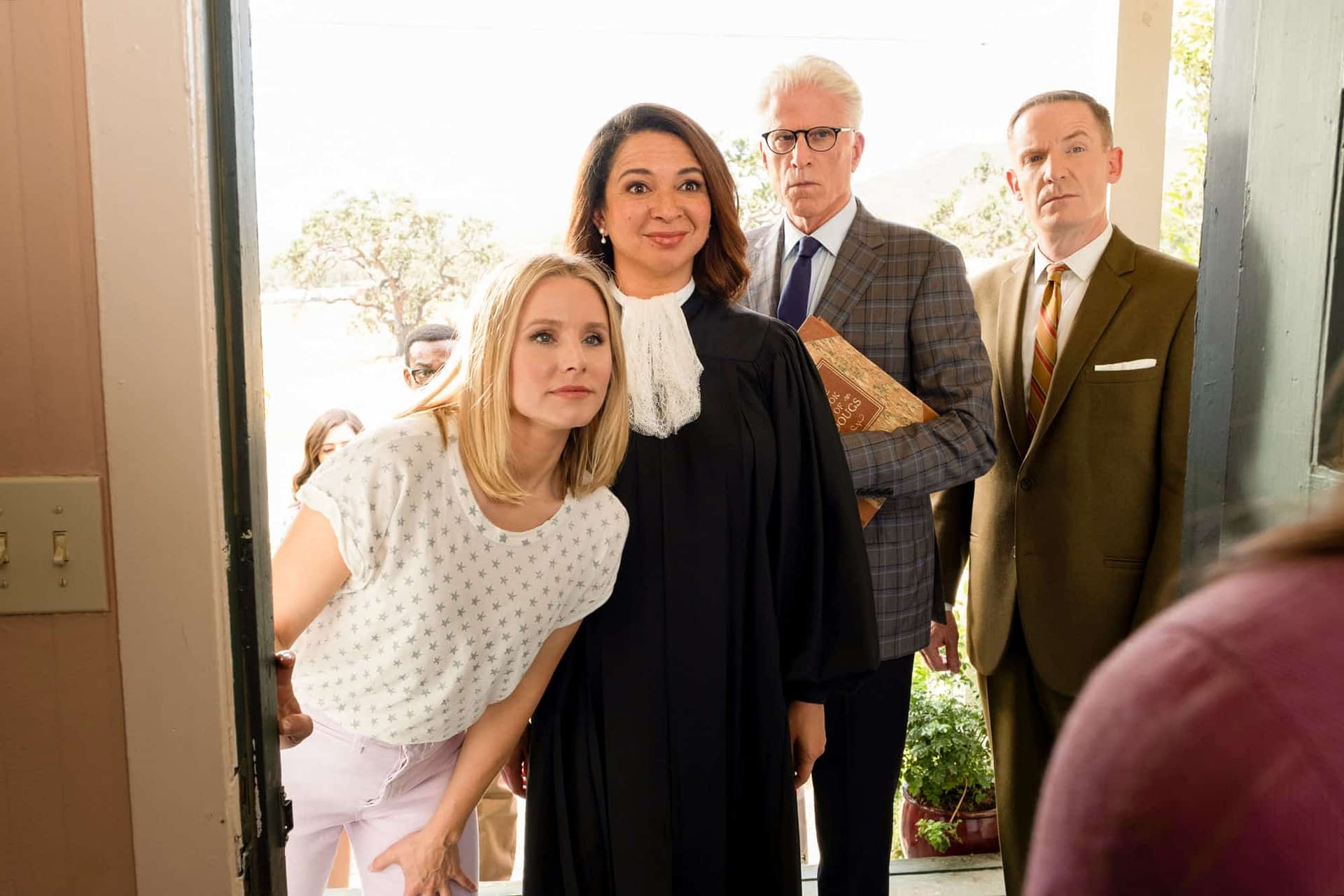 Next week, it's the season 3 finale of NBC's The Good Place 'Pandemonium,' and we can't forking wait!