Recent ratings news must feel like a breath of fresh air for the people behind Deadly Class, the SYFY series based off of Rick Remender and Wes Craig's comic series about the trials and tribulations of an amiable group of teen-aged assassins.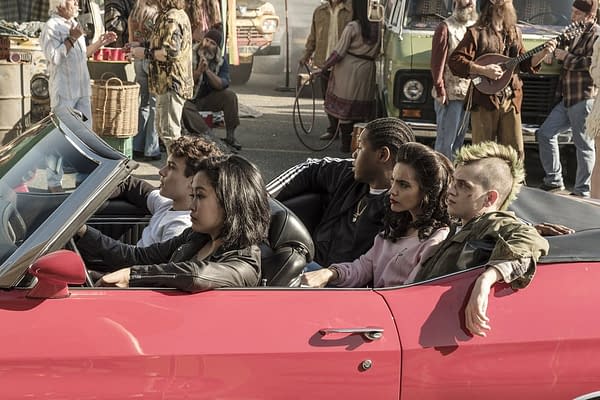 According to TV by the Numbers the brand new series has seen a steady and dramatic climb in viewership since its premiere in mid-January:
Once again, "Deadly Class" has scored the week's biggest adults 18-49 percentage gain of any of the shows in the cable Live +7 ratings for the week of Feb. 11.

The SyFy freshman series grew from its original 0.1 rating in the demo to a 0.4 (+0.3, +300%) with seven days of delayed viewing. "Deadly Class" also posted the week's third-highest percentage gain in the total viewers measure, after drawing in an additional 639,000 (+154%).
That makes Deadly Class one of the fastest growing shows on television right now, with a 300% climb in viewership over a 7 day period. That's news good enough to put some fresh ice in a certain bucket!
It's not hard to see what's attracting fresh viewers, either. Strong word of mouth certainly draws in fresh eyes, and the show certainly earns its loyal fan base with sharp writing, great acting, and an unflinching approach to story telling in a tumultuous period in U.S. History.
There's another factor at work, too: the world of Deadly Class feels very lived in. Kings Dominion is bustling with kids from all over the world, and each and every one of their dorm rooms feels like a real kid lives in it, from Shabnam's Fright Night poster to all of the Day of the Dead artifacts in Maria's room:
Hopefully, this excellent ratings news will bring us a second season of Deadly Class, because I can honestly tell you we haven't even scratched the surface of the source material!
Deadly Class has three more episodes set to air for season one, which you can see Wednesday nights on SYFY!
Enjoyed this article? Share it!