Hello America: Nice to See Nish Kumar But a Baffling Quibi Choice
Hello America is an unexpected show on Quibi. It features British comedian Nish Kumar doing a 10-minute monologue snarking about America from a British point of view. And they've put the first episode up on YouTube for free. As the official synopsis goes: "Several months after the UK's dramatic exit from the European Union, the US and the UK are showing signs of trying to strengthen their "special relationship." Nish Kumar tries to make sense of the political minefield that is US politics in Hello America, only on Quibi."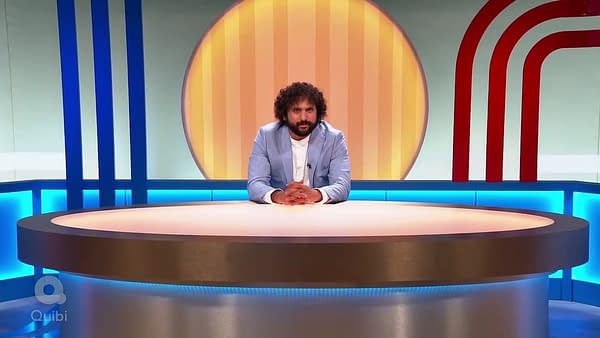 What was Quibi thinking??
Don't get me wrong. There are those of us who enjoy Nish Kumar and The Mash Report. The latter is really the UK's answer to The Daily Show on BBC One. It's a weekly satirical talk show where Kumar and a team of comedians offer the snarkiest possible commentary about the week's events. Hello America looks like the opening monologue of an episode of The Mash Report. It looks like Quibi just decided to pay Nish Kumar to do the opening monologue of his BBC show but under a different name. Good for him, I suppose, but hardly anyone in America knows who Nish Kumar is, and they already have Trevor Noah with The Daily Show and John Oliver with Last Week Tonight. Does Quibi seriously think anyone is going to subscribe to their ridiculous app for this??
Here's an excerpt from The Mash Report on full blast:
The Mash Report is currently on its annual hiatus after completing its latest season a few months ago, shot entirely on lockdown. Kumar, Rachel Parris and the rest of the cast all did their bits from the security of their own homes. The BBC sent the lighting and camera equipment to their houses, properly sterilized and with instructions for how to set up and shoot, then upload the footage to the BBC for editing and postproduction. There's a shockingly toothless version of the BBC News on Quibi, so this seems to be of a piece with their greenlighting policies. Somehow Quibi decided to just pay for more opening monologues and nothing more. You can tell this is current because Kumar still hasn't been to the barbers after months in lockdown.
Quibi continues to make unfathomable choices. Maybe they just need to burn through that nearly-$2 billion they raised before they disappear altogether.