Here's How Stranger Things 4 Started Getting Representation Right
Despite earlier seasons of Netflix's Stranger Things being lackluster and not great in terms of representation (looking at Billy in the second and third seasons), Stranger Things 4 is getting a lot of it right on those terms, both of sexuality and experiences. To start out, PTSD as represented in media has been limited to the "cinematic" experiences of freaking out or flashing back to the traumatic event. During the current season, we are shown a more nebulous and cerebral manifestation of the PTSD mind. The best example of this is in Chapter 4, "Dear Billy." Max is still conflicted by the death of her step-brother Billy, and Vecna is using this to infiltrate her mind and pull Max into his nightmare world. In the earlier episodes, we do see Max thinking about Billy and flashing back to his death, but it's done in a way that's realistic as opposed to the more "cinematic way" of constantly showing the character freaking out every time they flash back.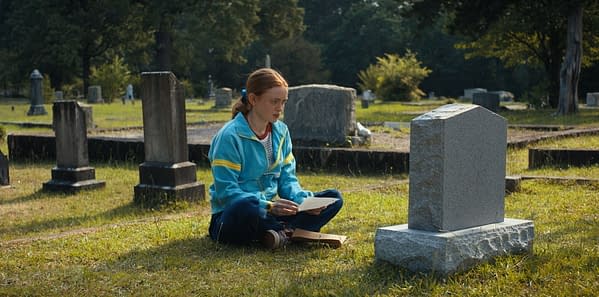 This event is something Max has lived with and played over and over in her mind – it's an intrusive thought she's lived with for a minute and she compartmentalizes her emotions and as a result pulls away from friends, family, and life itself while she closes herself off emotionally and socially. This coping mechanism is the most common, and the least represented on-screen with this same emotional punch of an effect that Stranger Things 4 delivers.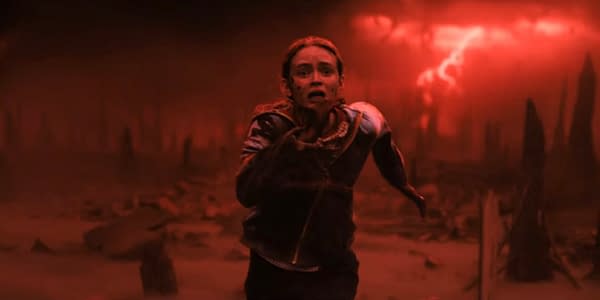 Another coping mechanism that keeps her grounded in the real world is music. Kate Bush's "Running Up That Hill (A Deal With God)" factors heavily into Stranger Things 4 as Max's favorite song that she listens to on repeat to keep her grounded and anchored to reality. I'm pretty sure people better educated than I have done research into why this works in real life with PTSD, but from my experience, songs are a safe haven for emotional experiences we can't have in our lives, same with movies, TV, and media. It's not escapism, but it does give the traumatized brain something familiar and safe to cling onto – like a stuffed animal or favorite blanket. At any rate, it's not only a realistic representation of the young brain dealing with PTSD, but also a solid coping mechanism commonly used.
Another strong aspect of representation this season is in Robin: a sarcastic, kickass lesbian character introduced last season, but with the reveal of her coming out not happening until halfway through episode 7. It feels like we're just getting to know her character in Stranger Things 4. True, there are a lot of other shows that have good lesbian representation – but something about the combination of including her in the 1980s coming of age story that has focused heavily on straight romantic relationships hits differently.
In Stranger Things 4, Robin and Steve's banter is that of the himbo and the grounded lesbian who wishes she got half as much ass as him, but she doesn't because she's helplessly awkward and has no idea how to flirt. That is such a relatable character trait, especially for a character who is in a situation where she can't come out and might not have unless something happened, like your best friend being super high and confessing his love for you. Relatable representation, 10/10.
Throughout this season, Robin and Steve's dynamic has evolved into not only talking about girls together and giving advice on one another's love lives but just being comfortable around each other. Robin needed the social interaction from someone who knows her honestly, and Steve needed a female relationship in his life that wasn't about romance. Robin also helps Nancy figure out her love life, not in a "stereotypical sassy gay bestie" kind of way, but in a genuine way of having the outside perspective of a relationship and understanding what both parties need.
All-in-all, the 80s might have been really weird (I have no idea – I was far from alive then), but Stranger Things 4 brings representation to real issues in a way with more meaning than a cheap cliche nostalgia grab that grafts modern issues into a period setting. Stranger Things 4 allows fully developed characters to roam free and grow within the world as it is at the time, and that includes dealing with messy issues like navigating sexuality, mental health, and PTSD.