Home Improvement: Pamela Anderson Stands By Tim Allen Accusation
During an interview with ET Canada, Pamela Anderson addressed Tim Allen denying he exposed himself to her while working on Home Improvement.
---
Last month, we reported on how Pamela Anderson (Baywatch) alleged in her HarperCollins memoir Love, Pamela that her then-Home Improvement co-star Tim Allen had exposed himself to her in 1991. "On the first day of filming, I walked out of my dressing room, and Tim was in the hallway in his robe. He opened his robe and flashed me quickly — completely naked underneath. He said it was only fair because he had seen me naked [Anderson had modeled for 'Playboy' prior to starting on the ABC series]. Now we're even. I laughed uncomfortably,' Anderson wrote in the except that was released." In a released statement, Allen denied the claims, saying, "No, it never happened. I would never do such a thing." Allen would follow those comments up with the Daily Mail, adding, "She was a great co-worker, I'll tell you that. She's a fun girl. Everybody loved her, but everybody at ABC is a little disappointed in her memory, put it that way. All of us at Disney [and] ABC, really." Now, Anderson is responding to Allen's denial during an interview with ET Canada's Morgan Hoffman in support of her memoir and her Netflix documentary, Pamela: A Love Story.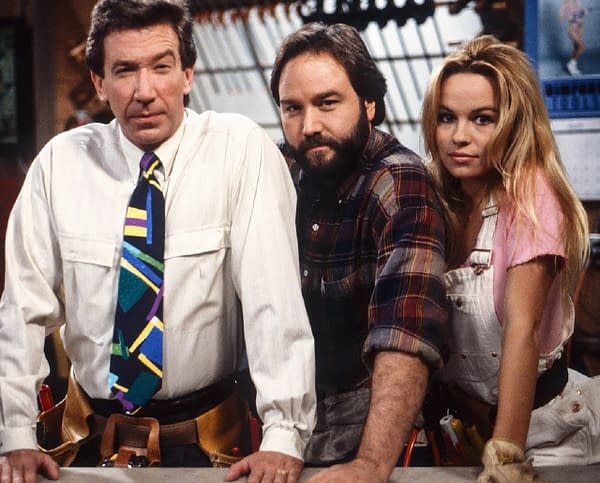 In the following extended look at her interview (beginning around the 11:50 mark), Anderson shares her account of the incident again. As to why Allen would deny a story, Anderson believes that Allen has to deny the story because we live in a time where actions like that are viewed differently – and not accepted. As for why she shared that incident in her book, Anderson explains that it was a "pivotal moment" since it happened during her first major career move. But one thing that's clear from the segment is that Anderson is sticking by her story:
Here's a look at the official trailer & overview for Pamela, A Love Story, currently streaming on Netflix:
An intimate and humanizing portrait of one of the world's most famous blonde bombshells, Pamela, A Love Story follows the trajectory of Anderson's career from small-town girl to Playboy model, actress, and international sex symbol. Featuring never-before-seen home videos and journal entries, the film offers bracingly honest reflections from Anderson on the sometimes tumultuous but always deeply felt experiences that have shaped who she is today — including her explosive, whirlwind romances and the infamous stolen tape that became the internet's first viral video and would mark a turning point in her career. Directed by Ryan White and produced by Jessica Hargrave, Julia Nottingham, and Brandon Thomas Lee, Pamela, A Love Story places the narrative back in the hands of the only woman who can tell it: an icon, a mother, an activist, and a lifelong romantic.