Impact Wrestling 6/30/20 Part 1: Ken Shamrock Makes a Friend
Well, Impact has had an interesting past couple of weeks. Three wrestlers have been fired due to #SpeakingOut allegations, and Impact has parted ways with its world champion, Tessa Blanchard, while she still holds the title. Slammiversary is just a few weeks away, and the main event is missing two competitors, including the champ. Oh, and Impact already filmed a bunch of television leading up to the PPV, which means they've got to figure out some really creative editing to pull it all together by July 18th. With all of that in mind, it's time for Impact Wrestling!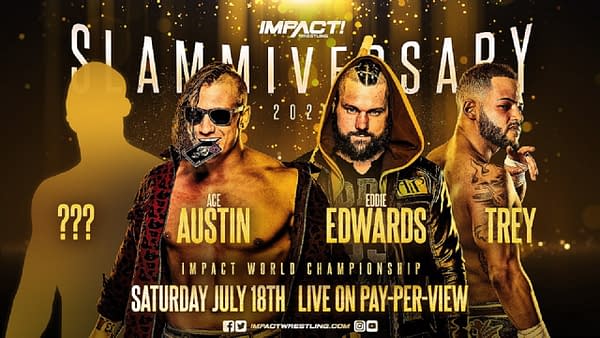 Josh Matthews and Madison Rayne open the show by revealing that the World Championship is now vacant and a new champ will be crowned at Slammiversary. Madison tells us the main event will be Eddie Edwards vs. Ace Austin vs. Trey vs. a mystery opponent. Oh my god, Heath Slater is going to be the new Impact World Champion at Slammiversary! In a trailer park in Wenatchee, Washington, Don West wakes up from a Natty Ice coma and blurts out, "what is Keith Skater doing in the Impact Zone?!" and then promptly falls right back asleep.
Chris Bey and Johnny Swinger head to the ring for the opening match. Bey is facing Suicide in a tune-up match ahead of his X-Division Championship match against Willie Mack at Slammiversary. Madison Rayne makes the case that though Suicide literally came out of a video game, Chris Bey could be a video game character himself because he moves like one. I'm not sure what she's getting at here. This match is full of lots of acrobatic moves executed awkwardly. I don't envy Suicide wrestling in that full-body outfit. It's gotta be sweaty. But on the other hand, he's got the best coronavirus protection in the business right now.
Suicide doesn't seem like he's ever actually getting a push, but for some reason, he's always presented very competitively. The match is pretty even and Suicide is feeling good about his prospects, but there's still the problem of Johnny Swinger on the outside. Luckily, Bey and Swinger are courteous enough to line themselves up outside the ring in perfect range of a top rope dive. With Swinger incapacitated, Suicide looks to close on this match, but when he heads to the top again to finish it, Swinger knocks him off the ropes and Bey hits a springboard famouser and gets the pin.
Bey and Swinger celebrate, and we head back to Josh Matthews' living room, which is where he and Madison Rayne have apparently recorded all these new transitions to try to salvage Impact's pre-recorded material with all the changes that have rocked the company. Matthews sells the PPV and the mystery opponent. Rayne predicts Ace Austin will be the next Impact champ, based on the three men we know about. Rayne claims to know who the fourth man is but won't reveal it. For that, you'll have to call the 1-900 hotline.
Backstage, Moose cuts a promo on Crazzy Steve. He says Steve is all fun and games, but fun and games didn't get Moose where he is now. He brags about the millions of dollars he made in the NFL. Why the hell is he wrestling for Impact if he's a millionaire? Moose says Crazzy Steve will find out why Moose is a legend tonight, and Impact goes to commercials.
Backstage, Johnny Swinger congratulates Chris Bey on his victory. He says he'll bribe the ref with 30 bucks to make sure Bey wins at Slammiversary. The ref overhears him and says Swinger is gonna be banned from ringside. Bey is upset, but Swinger says he has a plan.
Those posers Reno Scum head to the ring for a match against TJP and Fallah Bahh. Reno Scum attack P and Bahh while they're making their entrance, but P and Bahh get the better of them anyway. Josh Matthews has been remiss in not talking about Impact MicroBrawlers yet, so he rectifies that situation during this match. TJP is running circles around the one with the mohawk, but the one with the bum flap trips up TJP while he's running the ropes and Reno Scum take control. The one with the bum flap uses the one with the mohawk's mohawk as a weapon on TJP, but TJP manages to tag in Fallah Bahh. After some more nonsense, the match devolves into chaos with all four men in the ring. TJP and the one with the bum flap are fighting on the top rope, and TJP throws him onto Fallah Bahh's shoulders for a Samoan drop. TJP hits his splash and gets the pin.
Now it's time for Locker Room Talk with Madison Rayne and Johnny Swinger. Swinger complains about being banned from ringside, but Rayne has no time for that drama because she has more important drama to get to. She brings out John E. Bravo and wants to know about Bravo's relationship with Rosemary. Bravo says they've just hung out, but Rayne isn't buying it. She wants to know if they're doing the hibbity-dibbity, but Bravo isn't talking, so Rayne brings out Rosemary.
Rosemary asks Bravo to explain how he feels about her. Johnny Swinger interrupts to say he can feel the sexual tension in the air. But it's not between Bravo and Rosemary. It's between Swinger and Rosemary. This upsets Bravo, who gets in Swinger's face. Jealous much? Madison calms them down and wants to know if Bravo is in love with Rosemary. Before he can answer, Taya Valkyrie arrives. She wants to talk to Rosemary. She can't count on Bravo and wants Rosemary to be her tag team partner. Swinger thinks he's about to see some HLA and gets overly excited. Rosemary accepts, and that concludes Locker Room Talk. Impact takes a commercial break.
After the break, we get a video package for Deonna Purrazzo's feud with Jordynne Grace. That will be settled at Slammiversary. After that, The North head to the ring. They're going to explain why they attacked Ken Shamrock last week. Josh Alexander talks up Ken Shamrock's toughness, but all good things come to an end. Alexander says Shamrock didn't even make it to the ring last week. Ethan Page says that Shamrock has no friends and can never get a tag team partner because he's crazy, he has rage issues, and he can't control his temper. Page says that if he were Shamrock's friend, he'd call a psychiatrist for him. Page says having a friend is what really makes someone the World's Most Dangerous Man. Uh, what?
Shamrock has had enough and he comes to the ring, but Sami Callahan interrupts on the Impactron to say "who needs friends when you've got an enemy?" The lights flash and Callahan is in the ring. Callahan and Shamrock send the North running. Josh Matthews says it's like Batman and the Joker coming together. Callahan must be Batman in this scenario because the lights go out again, and when they come back on, Sami has disappeared. But wouldn't that make Shamrock Commissioner Gordon? Whatever. Impact goes to commercials.
After the break, Scott D'Amore pretends to be talking to Luke Gallows and Karl Anderson on the phone when The North interrupt to complain about being attacked in the previous segment. D'Amore agrees that something needs to be done about this senseless violence, so he books them in a match against Shamrock and Callahan at Slammiversary for the Tag Team Championships. The North are not thrilled with this conclusion. Time for the Impact Plus Flashback Moment of the week, which is Eric Young vs. Magnus. And this seems as good a time as any to wrap up this first part of the Impact report, so I'll see you soon in part two.