Impact Wrestling Teases Sting, Kurt Angle, More for Slammiversary
Impact Wrestling stepped up their teaser game during tonight's episode of Impact. During a video promo for the Slammiversary main event, which will feature Ace Austin vs. Eddie Edwards vs. Trey vs. a Mystery Opponent for the vacated Impact Championship. The belief has generally been that the mystery opponent will be a WWE midcarder fired in April for "cost-cutting" measures, but during tonight's video, Impact teased the potential return some more major stars, such as Sting and Kurt Angle. They also teased that Bully Ray, who recently parted ways with Ring of Honor, could be the mystery opponent, as well as James Storm, who finds himself with nothing to do now that NWA is shut down, which is the same story as Mr. Anderson/Mr. Kennedy. Some of those names seem unlikely but it's nice to have more options.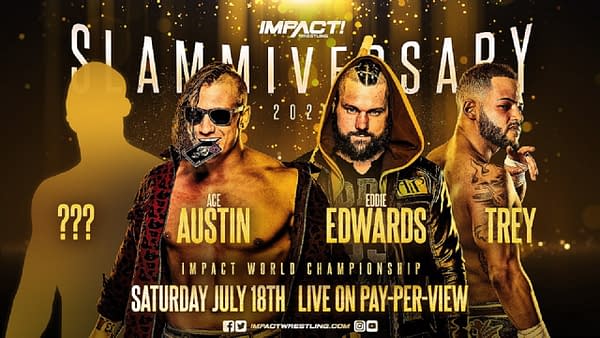 Below is the recap of the package from our Impact Wrestling report, which is currently in progress (I'm writing this article during a commercial) and will be out in the morning.
A video package explains the current Impact World Championship situation. Impact parted ways with Tessa Blanchard, who was still champ at the time. They also parted ways with Michael Elgin over #SpeakingOut allegations. Now, Eddie Edwards, Trey, and Ace Austin will be joined by a fired WWE midcarder in a fatal four-way at Slammiversary. The video talks up each of the competitors (except the fired midcarder because we don't know who it is yet). The video is long as hell, as Impact has a lot of time to fill since they had to scrap a bunch of pre-recorded material due to the #SpeakingOut firings. The package teases EC3, Luke Gallows, Karl Anderson, Mike and Maria Bennett, Curt Hawkins, Eric Young, Bully Ray, Kurt Angle, James Storm, Sting, and Mr. Kennedy.
So who do you think the mystery opponent will be for the Impact World Championship at Slammiversary? Watch the video here.