Pilgrim (Babou Ceesay) has begun his march on the Badlands, and Cressida (Lorraine Toussaint) decides to mark the occasion by demanding more tribute from Lydia (Orla Brady) and Nathaniel Moon (Sherman Augustus) -but gets caught in the Widow's (Emily Beecham) snare, which sets off a chain of events that completely alters the power dynamics of Into the Badlands forever.
The Widow Minerva learns some interesting news from Cressida that she's not too happy about, which causes her to distance herself from Gaius Chau (Lewis Tan). She also needs intel on Pilgrim, so she sends Tilda (Ally Ioannides) and Nix (Lorraine Toussaint) on a scouting mission.
Pilgrim is having troubles of his own, and is coughing up a ton of blood after the strain of waking the sleeping Dark Ones from the Monastery. That doesn't stop him from charging after the Widow in what becomes one of the most epic battles in Into the Badlands history.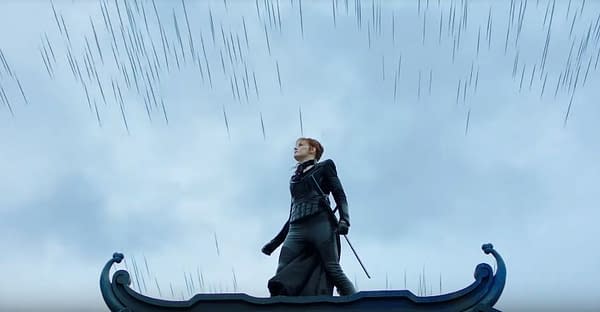 And I don't say that lightly.
This is the third to last episode of the series, so the action is ramped up to a pretty intense degree, and there's magic in the mix now, too. Looks like Cressida can summon red rain and red eyes. Red stuff. She's a lot scarier than I thought she was, which I think is a mistake Lydia, Moon, and the Widow made as well.
There are a couple of sequences that look just a tiny bit sped up, but those sequences involve about 30 people slashing, hacking, and chopping at each other while leaping about, so I'm not going to fault that. It's still some super intense fighting!
Spoiler Time!
The Widow finds that she is pregnant, and that the child will die if she doesn't abandon the Badlands. She's not sure if she believes Cressida, but you can tell the news shakes her a bit.
Still, duty first.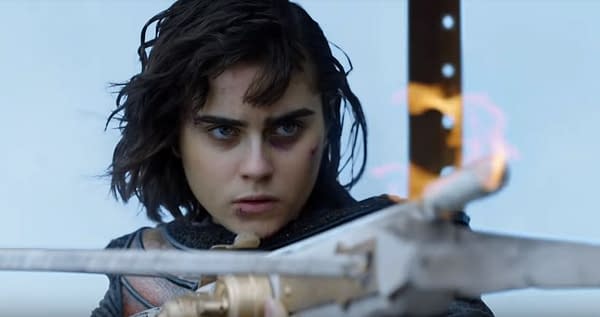 In one of the most iconic scenes yet, the Widow lures Pilgrim into combat with her, and it's glorious. We're talking walls of arrows, flaming barricades, and flying punches and kicks. Somehow, the Widow's forces manage to take out a large chunk of Pilgrim's army, but he still has plenty.
The action shifts to another arena, as Gaius and Moon hold off the Dark Ones so that Minerva can escape. It's a very frantic fight, but it's really orchestrated beautifully.
Then all hell breaks loose when Lydia tries to kill Cressida, who uses her magic to become a nitro-fueled kung-fu ass kicker. Cressida stabs Lydia, who sadly doesn't survive for long after that fight.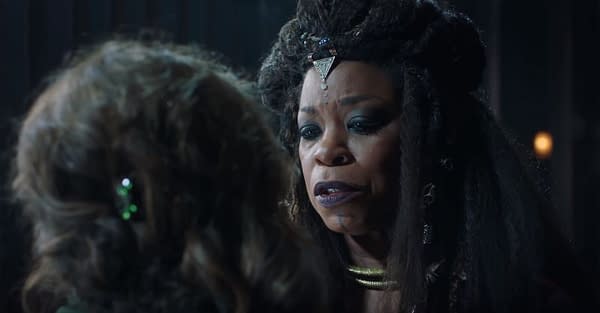 This leads to one of the most emotionally authentic moments in the series, as Lydia tells Moon to throw his blade in the sea and live a life of peace.
It's brutal, honest, and lovely. Orla Brady has done some great work on this show, but this was her absolute best scene.
There's also a lot with Sunny (Daniel Wu), Kannin (Eugenia Yuan), and Bajie (Nick Frost), who does not trust Sunny's long-lost sister at all. This leads to a fantastic exchange between Bajie and Sunny, with Bajie letting the ex-Clipper know exactly how bad his judgement has been.
Frost is effortless with his comedy, and it's little moments like this that pour so much heart into such a brutal show.
What's next? Cressida is loose in the Badlands, Pilgrim is rampaging across the Sanctuary, and Nathaniel Moon, one of the greatest Clippers in the history of the Badlands, is probably out for blood.
On Monday, April 29th, AMC presents "Requiem for the Fallen". This will be the second to the last episode of Into the Badlands, and I can only imagine how brutal it's all going to get!
Enjoyed this article? Share it!