"It's Always Sunny in Philadelphia": Dwayne "The Rock" Johnson… Frank "The Trashman" Reynolds… "Thundergun 5: Nyte Krollers 4 Life"? [VIDEO]
With season 14 now in the record books and the doors to Paddy's closing for a long winter's nap, FXX's It's Always Sunny in Philadelphia is now set to surpass ABC's The Adventures of Ozzie and Harriet as the longest-running live-action comedy series.
Now that's a title Mac (Rob McElhenney), Dennis (Glenn Howerton), Charlie (Charlie Day), Dee (Kaitlin Olson), and Frank (Danny DeVito) will be more than happy to hang behind the bar – and one they're expected to hold onto for awhile.
Safe to say things are pretty good for The Gang from Paddy's Pub – and from the sounds of FX CEO John Landgraf, the network would like things to keep going "pretty good" for two more seasons (at least).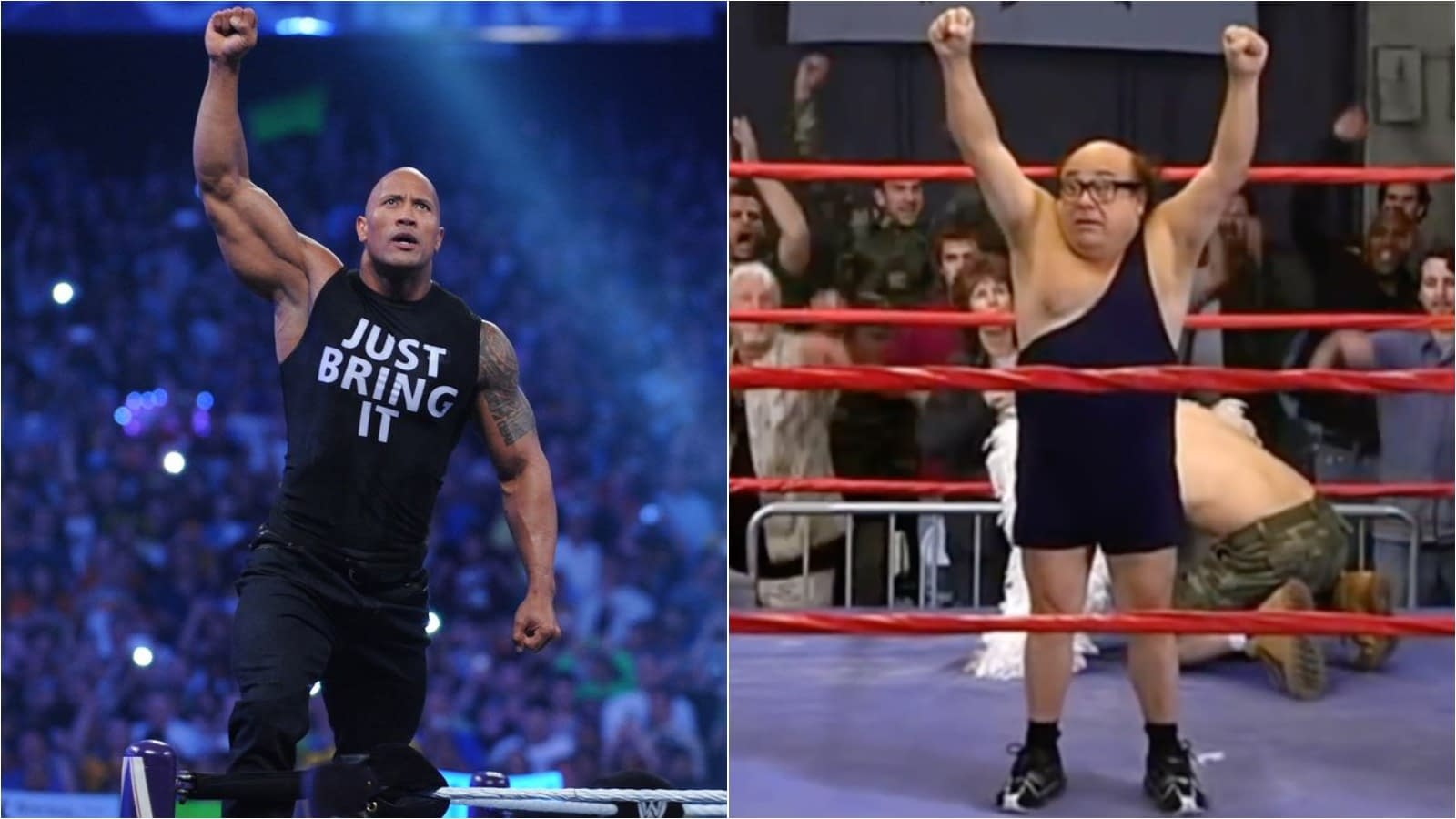 Since the cast doesn't get packed away and wheeled away to warehouse like the end of Raiders of the Lost Ark between seasons, they get a chance to expand their acting horizons beyond the streets of Philly.
One of those is DeVito, who is co-starring with box office heavyweight Dwayne "The Rock" Johnson as well as Kevin Hart, Jack Black, Karen Gillan, and Danny Glover in Jumanji: The Next Level, the upcoming sequel to box office blockbuster Jumanji: Welcome to the Jungle set to open in theaters on December 13.
Finding themselves in Cabo San Lucas, Mexico, to promot the film, Johnson and DeVito decided to crash a wedding to surprise the bride and groom – to the tune of Nat King Cole's "Unforgettable". Johnson posted the video of the "Twins v2.0" pair enjoying themselves (video below) – enjoying themselves so much that the Always Sunny Twitter account had us wondering if Frank might be getting a new "nyte krollers" partner:
First mentioned in season 5's "The Gang Gives Frank an Intervention" (and viewed briefly in season 11's "Being Frank), "nyte krollers" (night crawlers) is a game played by Charlie and Frank that involves blankets and crawling around like worms. What makes it even more odd (if that's possible) is how protective-secretive Charlie is when it comes to discussing the game.
Hmmm… hope you can smell what Charlie's cookin', "Rock" – just don't smell that sweat sock!
Here's a look at Johnson's post from this past weekend:

After a failed attempt at finding love (at least for some of them) and a successful (if not "scorched earth"-like) effort to "save" the Thunder Gun franchise, Dennis, Mac, Charlie, and Frank didn't want to waste time getting back to the scheming. Unfortunately for them (but big props to Dee), they ran face-first into the brick wall that was "Dee Day".
From there, The Gang had to deal with "sh*tting the bed" in a righteously bad way, just when Frank needed them most. But all was forgiven as The Gang headed out to the zoo. *cricket sounds*
Moving quickly on from there… the season got back on track as we travelled into Charlie's twistedly bizarre mind as he looks to crack the case of who "diarrhea-poisoned" Frank. Then "The Gang Solves Global Warming"… only to find a way to leave things wonderfully worse – before "Paddy's Has a Jumper" and The Gang tries to apply analytics to their questionable sense of morals.
Which lead us to the one-hour season finale "A Woman's Right to Chop" / "Waiting for Big Mo" – with the folks at FXX and Always Sunny sharing the not-so-great-that-they're-awesome blooper moments from this season: