It's Always Sunny in Philadelphia: Meet Artemis, The Gang's 6th Member
When Dennis (Glenn Howerton), Dee (Kaitlin Olson), Charlie (Charlie Day), Mac (Rob McElhenney), and Frank (Danny DeVito) ring the bell on the 15th season of FXX's (and FX on Hulu's) It's Always Sunny in Philadelphia, Paddy's will have a very cool title belt to hang behind the bar: the longest-running live-action comedy series in television history. Now far be it from me to suggest any changes to The Adventures of Ozzie and Harriet-beating series that's been our favorite since the first it first crashed our screens back in 2005. So instead of offering a suggestion, I'm going to throw some fuel on my brain's "dumpster fire of speculation" and offer five episode-based reasons why Artemis (Artemis Pebdani) would be a perfect official sixth member of The Gang.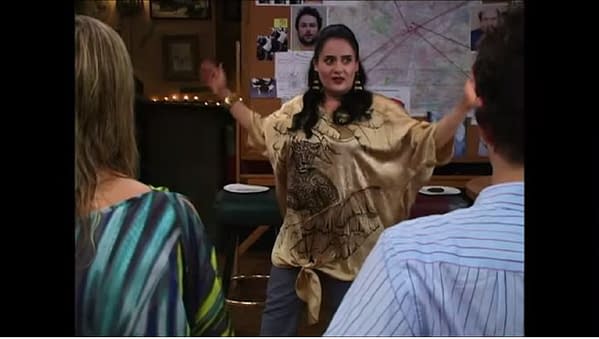 If you're a regular watcher of the series, that shouldn't come as a big surprise. And let me be clear, it's not that the show hasn't built up a rogues gallery of freaks, weirdos, and possibly wanted criminals that are all deserving of a little more screen-time love. From Matthew Mara aka Rickety Cricket (David Hornsby), The Waitress (Mary Elizabeth Ellis), and Bill Ponderosa (Lance Barber), to brothers Liam (Jimmi Simpson) and Ryan McPoyle (Nate Mooney), and Rex (T. J. Hoban), there is (in some instances, literal) a murderer's row of potential.
So why Artemis? Simple: she's the same lovable alpha degenerate that Dennis, Dee, Charlie, Mac, and Frank are, which means she's more than able to give as good as she gets. The others? They're all betas who continue to keep coming back to their abusers, getting just enough "victory" every now and then to keep them blissfully ignorant of their station in the Always Sunny universe. But Artemis? She's willing to play along, assist with yet another scheme that goes a thousand different ways wrong, and even f**k Frank. But she's also more than willing to flip them off or highjack Dee's attempt at a Wade Boggs redux for equality.
So with that said, here are the five Artemis episodes we would submit to the court as evidence to make our case as to why The Gang has a potential new accessory to a future crime. I mean, starting late worked for DeVito- and the series:
Season 4 "Who Pooped the Bed?": We know we said five, but if you're short on time and can only watch one episode, this is the one. Dee "convinces" The Waitress and Artemis to have a Sex and the City "ladies night" with her, one that ends with talk of bleached assholes and blasted nips. But it's her turn as a "Poop Poirot" at the end that seals the deal, as she weaves together a conspiracy theory that included everything short of the Moon landing, that's our closing statement.
Season 5 "The Waitress is Getting Married": A fantastic look into the sex life of Frank and Artemis (it's not like that so get rid of those visuals before they scar you for life), where we learn that Artemis likes having bacon bits in her hair so (as she so poetically says) "they rain down on me when we bang" because she enjoys feeling "like a Cobb salad." That doesn't mean there aren't some food-based lines that shouldn't be crossed, as Frank learns with a no-no move on himself with some onions. Now try getting that out of your brains.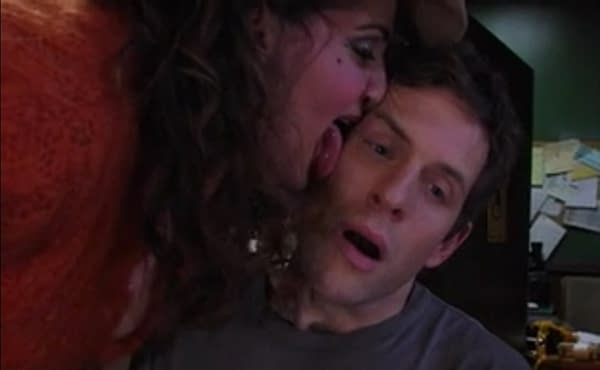 Season 1 "Charlie Has Cancer": Artemis' audition to be a Coyote Ugly-style bartender is worthy of consideration for two personal reasons. First, Pebdani gave a hotter performance than anything in the original movie- and she was going for comedy. Second, props to Howerton because if he was able to pull off that licking scene in less than ten takes without losing his collective s**t from laughter, he's worthy of an Academy Award.
Season 4 "The Nightman Cometh": One of the few people who truly gets Charlie and his commitment to his art, Artemis not only serves as an assistant to his director but also translates Charlie's series of sketches, doodles, pseudo-words, and lack of basic sentence structure into a workable script. So the next time you're proclaiming yourself the "Champion of the Sun," take a moment for a karate bow in honor of Artemis: the woman who made it happen.
Season 13 "The Gang Beats Boggs: Ladies Reboot": Artemis at her militant capitalist best, grabbing the reigns of Dee's Wade Boggs v2.0 and flipping it on its feminist head- while making a profit in the process. Artemis's scam (see, she has scams, too)? Selling women on sexual health products that are supposedly spiritual in nature. Think of it as her version of the water stain Jesus fiasco from the second season- with a blatant nod to Bridesmaids thrown in, too.