With season 14 currently underway (and off to a strong start – check out our review here), FXX's It's Always Sunny in Philadelphia is now tied with ABC's The Adventures of Ozzie and Harriet as the longest-running live-action comedy series.
Now that's a title Mac (Rob McElhenney), Dennis (Glenn Howerton), Charlie (Charlie Day), Dee (Kaitlin Olson), and Frank (Danny DeVito) would be more than happy to hang behind the bar – and one they're expected to hold on their vey own very soon.
Safe to say things are pretty good for The Gang from Paddy's Pub – and from the sounds of FX CEO John Landgraf, the network would like things to keep going "pretty good" for two more seasons (at least).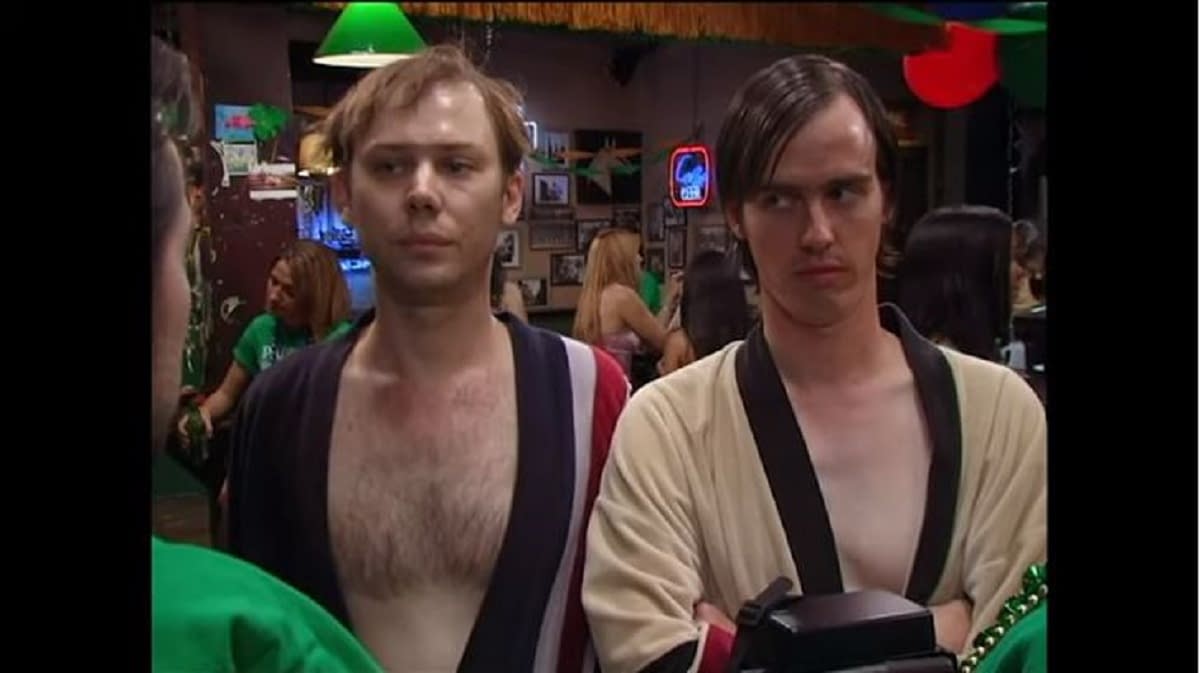 Now before we take a look ahead to this week's episode, let's take a look back and celebrate the greatness that is The McPoyles. Now while Liam (Jimmi Simpson) and Ryan (Nate Mooney) are the most (in)famous of the inbred, milk-lusing clan, let's not forget deaf-mute sister (and Mac hook-up) Margaret (Thesy Surface) – and of course, none other than filmmaking legend and icon Guillermo del Toro as "bird whisperer" Pappy McPoyle.
After a failed attempt at finding love (at least for some of them) and a successful (if not "scorched earth"-like) effort to "save" the Thunder Gun franchise, Dennis, Mac, Charlie, and Frank aren't wasting any time moving onto the next plan… the next scheme…
Except Dee has plans and schemes of her own… and those plans and schemes have a name: "Dee Day."
And as we learned from "Mac Day," it's the one day the rest of gang has to do whatever the "Day" person wants them to do… and Dee has some things she definitely wants them to do:
"It's Always Sunny in Philadelphia" season 14, episode 3 "Dee Day": The guys are in the final preparation stage for an unknown scheme when Dee enters to inform them that it is "Dee Day," and they have to do everything she wants without complaint.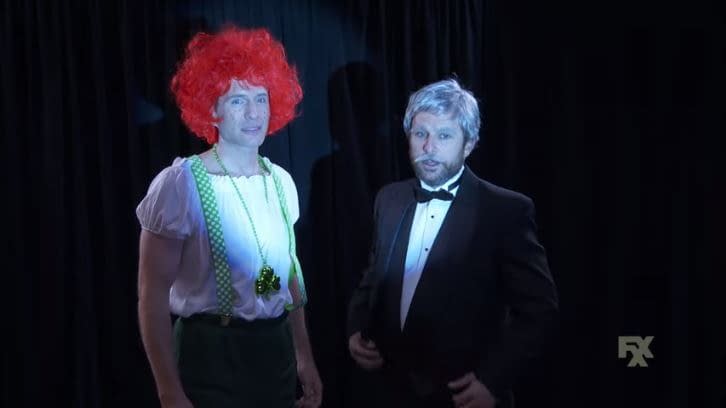 https://youtu.be/zhbcZluEDNs
In the following preview, viewers get an overview of what lies ahead this season, including more clues on that whole "Casaba" mystery (see below), a demonstration of just how much Frank repects the elderly, and Charlie clearly confused by what an actual "joke" is…
https://youtu.be/z1P-7X29RQM
In this previously-released look at the upcoming season, the disturbing Frank/Casaba melon mystery deepens as an essential question is put forth: What fruit would you "bang"?
https://youtu.be/vfXSLjK5Wr4
That clip followed up on an earlier McElhenney Instagram post that had us seriously concerned about what's going on with Frank and that Casaba:

McElhenney also gave us a look inside the editing room at a scene he referred to "as Sunny as it gets." Without spoiling what you're about to see, here are a few things to keep in mind: Mac is still way too submissive to Dennis, Frank's behind on getting his teeth sharpened, Dee finds herself on the losing end of a comment once again – and a familar face returns:
When filming was officially complete, McElhenney shared a video that shows that even after 14 seasons-and-counting, McElhenney, Howerton, Day, Olson, and DeVito still find ways to make each other laugh – and that speaks volumes for the show's incredible success:
Enjoyed this article? Share it!