"It's Always Sunny in Philadelphia": Rob McElhenney Willing to "Keep Doing It Forever" – As Long as Fans Want
With season 14 in the record books and Paddy's doors closed for a long winter's nap, FXX's It's Always Sunny in Philadelphia will now surpass ABC's The Adventures of Ozzie and Harriet as longest-running live-action comedy series. Now that's a title Mac (Rob McElhenney), Dennis (Glenn Howerton), Charlie (Charlie Day), Dee (Kaitlin Olson), and Frank (Danny DeVito) will be more than happy to hang behind the bar – and one they're expected to hold onto for awhile. But The Gang does not live by Paddy's alone – so to keep things flowin', they continue to extend their creative efforts into other arenas – both in front of and behind the camera.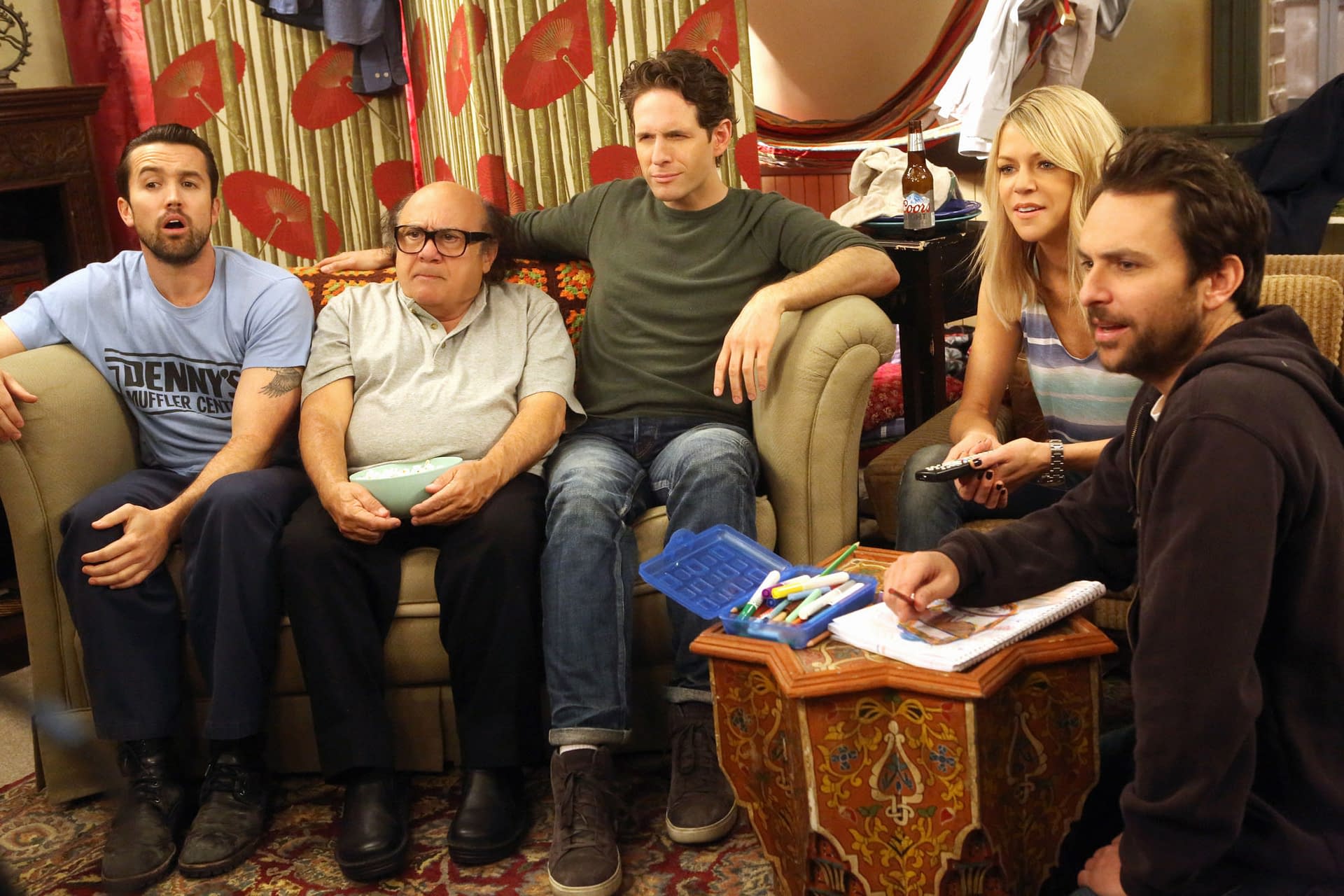 Case-in-point: McElhenney and Day, who are executive producing the new Apple TV+ comedy series Mythic Quest: Raven's Banquet – co-created by McElhenney and Megan Ganz, and produced by Lionsgate, 3 Arts Entertainment, and Ubisoft. With less than three weeks to go before the nine-episode, half-hour series is set to premiere (Friday, February 7), the streaming service is giving the series a serious show of support: a second season pick-up.
But that doesn't mean there wasn't time for McElhenney to discuss the future of Always Sunny while at the Television Critics Association (TCA) winter press event – and it should music to the ears of fans everywhere. Asked about the future of the long-running sitcom and if Mythic Quest would create scheduling conflicts, McElhenney did not mince words when he clarified that the two shows are two different worlds and won't conflict. Going further, he also assured fans that as long as they want to frequent Paddy's then they'll keep the doors open:
"It takes us about five months to make a season of Sunny. We have that period of our lives carved. We're going to keep doing it forever if people keep watching."
Earlier this month, McElhenney took to Twitter to make that very same point about the two shows not impacting one another – possibly looking to avoid the drama Howerton ran into when A.P. Bio was first announced:
As far as FX Networks Chairman John Landgraf is concerned, FXX would love to have The Gang back for a 15th and 16th season, too. It's all up to McElhenney, Howerton, and Day – saying last summer:
"It's completely up to them. We will absolutely make more seasons of Sunny if the gang chooses to make more seasons of Sunny."
Landgraf revealed that additional seasons was a topic that's been discussed in the past:
"Rob has been pretty positive about wanting to keep going with it, but it's ultimately his call. I can't believe it still exists after 14 years, but if he wanted to make it 15th or 16th season, we would absolutely do it. The show is still good; it's as good as it's ever been."

In the following preview, we think we're seeing an underlying "theme" taking shape: when in doubt, McElhenney's Ian thinks his being shirtless and greased up can explain pretty much everything…
Now here's a look back at the official trailer – featuring Ian in all of his well-intended-but-ego-stroking glory:
Meet the team behind the biggest multiplayer video game of all time. But in a workplace focused on building worlds, molding heroes, and creating legends, the most hard-fought battles don't occur in the game—they happen in the office.
Mythic Quest: Raven's Banquet is executive produced by McElhenney and Day; Michael Rotenberg and Nicholas Frenkel (3arts), Jason Altman, Danielle Kreinik, and Gérard Guillemot (Ubisoft), co-star David Hornsby (It's Always Sunny in Philadelphia) and Megan Ganz (Modern Family, It's Always Sunny in Philadelphia). The series ensemble cast also includes Academy Award-winner F. Murray Abraham, Danny Pudi, Imani Hakim, Charlotte Nicadao, Ashly Burch, and Jessie Ennis.