It's Always Sunny in Philadelphia S15: A Dee-Less Gang Goes for a Ride
After offering Danny DeVito and his peaches the respect that they deserve, it's time for another look at what's going on in front of the camera for the record-setting 15th season of FXX and FX on Hulu's It's Always Sunny in Philadelphia. But this go-around includes a look at Frank (DeVito), Mac (Rob McElhenney), Dennis (Glenn Howerton), and Charlie (Charlie Day) without Dee (Kaitlin Olson). Because as much as we love having The Gang together, seeing how the boys think they can operate without her (from trying to escape from an escape room to trying to figure out who got Dee pregnant) has been known to make for a pretty good time.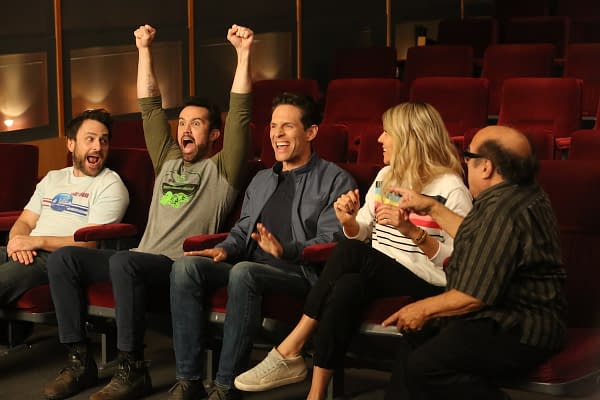 "Four clowns crammed in a hot car doing jokes," wrote Howerton in his Instagram post, which you can check out below. Following that, a look back at what we've seen so far as production rolls along:
And her a look back at yesterday's TikTok video from McElhenney showing the love and respect that DeVito and his peaches get on set:
Last month, Day posted a look that was very familiar to any "Sunny" fan out there. In the interest of full disclosure, we had to make sure that the image below was new and not from Season 5 Episode 7 "The Gang Wrestles for the Troops." And we're about 98.76% sure that it's a new image, which means the "Birds of War" might just be taking flight once again:
For a look at The Gang back together on the set (and being pimped out by McElhenney to promote Wrexham AFC), check out the video below:
McElhenney took to TikTok last month to share a look at the front of the script for the It's Always Sunny in Philadelphia season opener. Written by McElhenney, Day & Howerton, and directed by Todd Biermann, the season will kick off with S15E01 "2020: A Year In Review"- with McElhenney offering a look at Mac that has us really, really concerned about how he spent his days leading into the new year.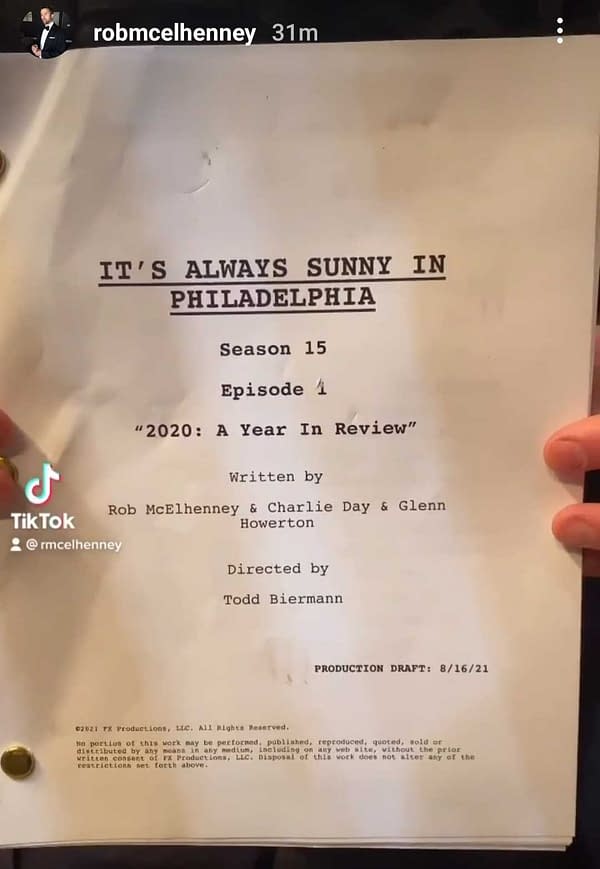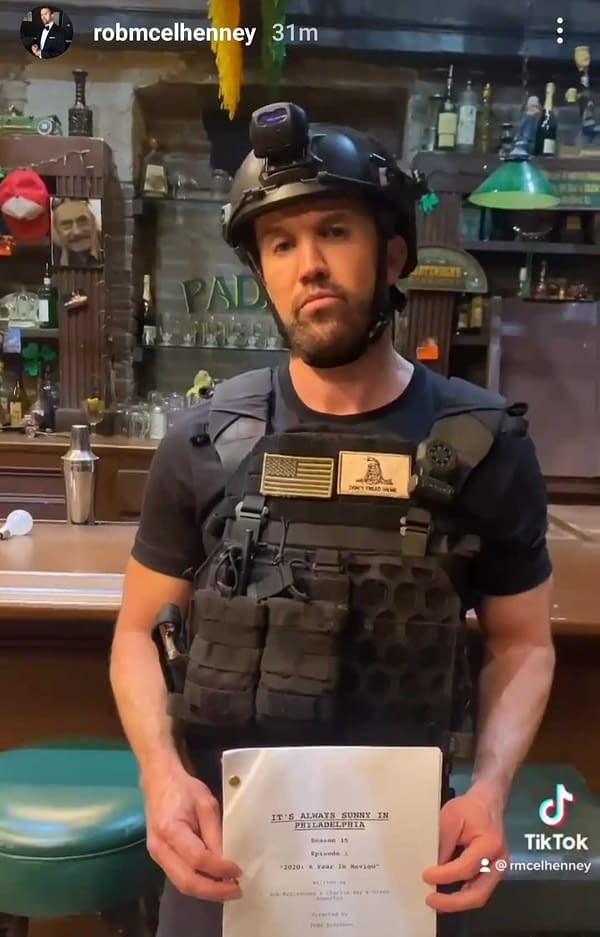 Now here's a look at McElhenney's TikTok video from earlier with the reveal:
And this is a look back at the first time we came face-to-face with "Your Pop Teen Country Boy Band":