"It's Always Sunny in Philadelphia" Season 14: "The Gang Chokes"… On Its Feelings?!? [SPOILER REVIEW]
With season 14 currently underway (and off to a strong start – check out our review here), FXX's It's Always Sunny in Philadelphia is now tied with ABC's The Adventures of Ozzie and Harriet as the longest-running live-action comedy series.
Now that's a title Mac (Rob McElhenney), Dennis (Glenn Howerton), Charlie (Charlie Day), Dee (Kaitlin Olson), and Frank (Danny DeVito) would be more than happy to hang behind the bar – and one they're expected to hold on their very own very soon.
Safe to say things are pretty good for The Gang from Paddy's Pub – and from the sounds of FX CEO John Landgraf, the network would like things to keep going "pretty good" for two more seasons (at least).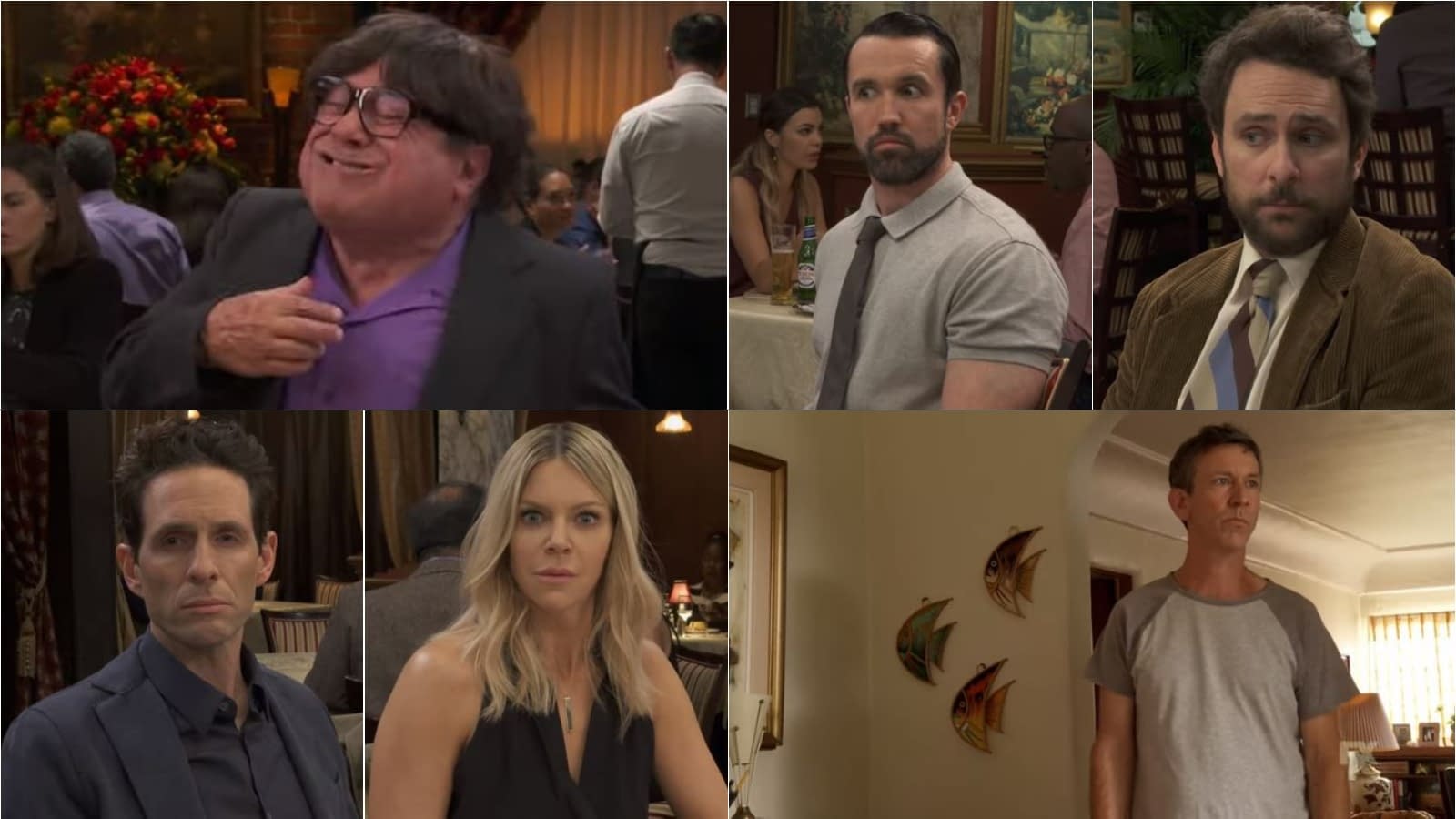 After a failed attempt at finding love (at least for some of them) and a successful (if not "scorched earth"-like) effort to "save" the Thunder Gun franchise, Dennis, Mac, Charlie, and Frank didn't want to waste time getting back to the scheming. Unfortunately for them (but big props to Dee), they ran face-first into the brick wall that was "Dee Day".
This week, Dee, Dennis, Charlie, and Mac aren't there when Frank needs them the most… at a moment when their very next action is a literal "life or death" decision…
Do we really need to tell you how that turns out? Of course we do… so MAJOR SPOILERS ahead!
"It's Always Sunny in Philadelphia" season 14, episode 4 "The Gang Chokes": Annoyed that the Gang failed to react as he nearly choked to death on an appetizer, Frank decides the Waiter, his savior, is the only person who has his back.
Yes, The Gang does have feelings… even Dennis, in his own restraining order-requiring way.
Though considering how this week's episode "The Gang Chokes" starts off, it would seem like that would be a tough argument to make – and that's why it work so well.
Written by John Howell Harris and directed by Howerton (his second this season, after "The Gang Gets Romantic"), "The Gang Chokes" begins with The Gang at a restaurant. In the middle of the meal, Frank begins choking – and as you can tell from the facial expressions above, Dennis, Dee, Mac, and Charlie, none of them exactly "jump to action." Thankfully for Frank (and apparently as the next chapter in his Karmic payback for a past-life shittily-lived), The Waiter (Michael Naughton) is there to save the day – and that's when the layers kicked in.
Initial instinct? These are some cold, heartless f*ckers! But it's how they respond after that elevates the episode beyond a premise most shows would be more than comfortable leaning hard on for 24 minutes (minus commercials). Each of them is impacted by both what they saw almost happen and their inability to react – and act out in manners representative to who they are.
Dee wants to live life on the edge… and then see what's after (spoiler: not good). Dennis shifts into self-preservation mode by shifting his health concerns into over drive (not the highest score on the "emotion" scale, but it did show his ability to have some kind of "feeling" reaction. Unfortunately for Dennis, Mac's acting out was to (to no one's surprise) go way over the top and "Munchausen by proxy" Dennis into needing him. Then there was Charlie, who internalized his feelins on the matter for most of the episode – only to prove himself the most feeling of the four when he apologizes to Frank for not being there got him – and promising that will never happen again.
Yup. We got "The Feels." Of course, this comes after a poisoning plan fell apart – and then into Dee's system.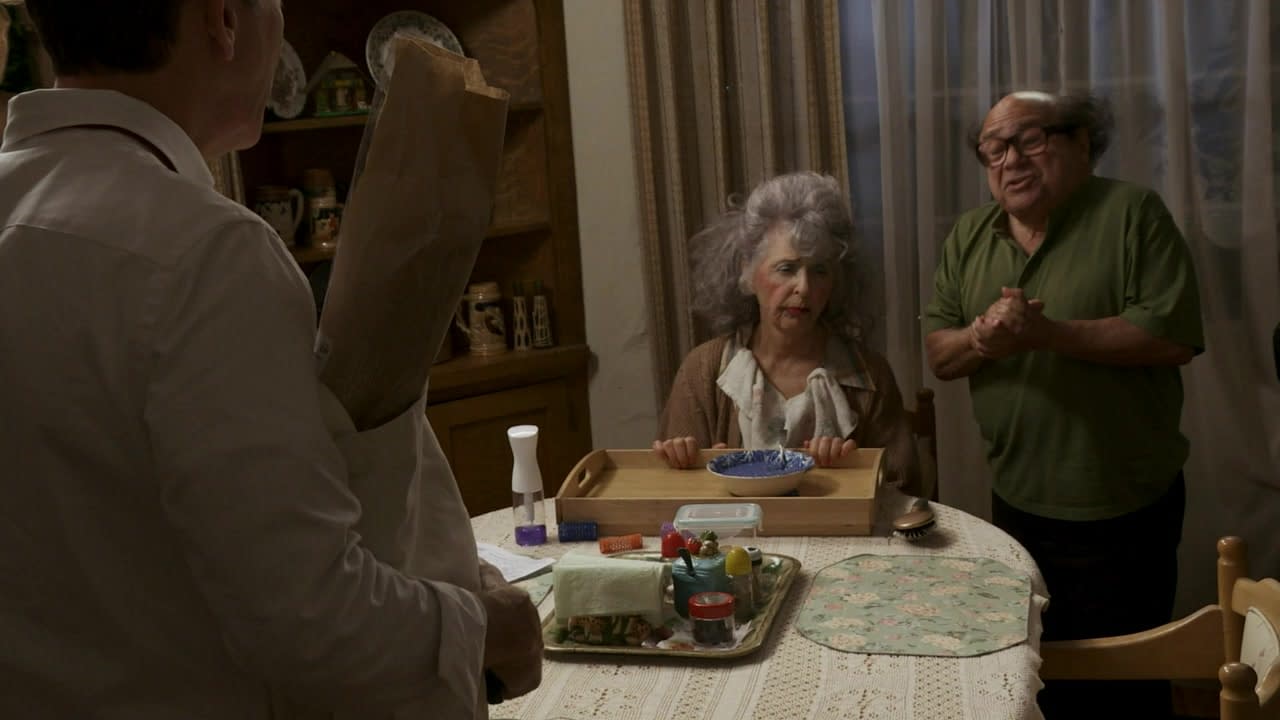 But let's look at how Frank reacted: by inserting himself into The Waiter's life, enrolling him back into pilot's school, and getting his ailing mother put into a home. Looks great – until The Waiter just can't give Frank enough credit, and then it all goes to hell. Frank's disgusted that The Waiter let his mother be put in a home against her wishes – despite the fact that Frank did it without him and convinced him to remain emotionally attached. Pulling the financial lifeline away, Frank storms out of The Waiter's life – forcing him to bring his mother home and now deal with a school debt.
My initial reaction to where this was going wasn't a positive one – it was in danger of going down a too-cruel-for-its-own-good route. But as it plays out, I realized that this may have been the angriest Frank we've seen so far – and considering he almost died and his "family" did nothing to save him, it makes sense. Frank feels obligated to The Waiter for saving his life – but also resentful because c'mon? Who the hell is this guy to be saving Frank?
So Frank runs an emotional gauntlet, going from saint to destroyer – unleashing all of his anger towards The Gang onto The Waiter. Yet, we understand – though that doesn't mean we may necessarily agree.
But we can't imagine Frank and Charlie having the moment they had at the end of the episode if things didn't go down that way. It's one of the most appealing aspects of It's Always Sunny in Philadelphia: taking even a basic premise and mining it for complications and considerations others wouldn't.
SIDE NOTES: (1) We're pretty sure The Waiter's mom is eventually going to die from whatever that blue crap was Frank was feeding her. (2) My Dominican female roommate confirms Dee wouldn't be able to run fast enough if she pulled those lines in real life.

https://youtu.be/zhbcZluEDNs
In the following preview, viewers get an overview of what lies ahead this season, including more clues on that whole "Casaba" mystery (see below), a demonstration of just how much Frank repects the elderly, and Charlie clearly confused by what an actual "joke" is…
https://youtu.be/z1P-7X29RQM
In this previously-released look at the upcoming season, the disturbing Frank/Casaba melon mystery deepens as an essential question is put forth: What fruit would you "bang"?
https://youtu.be/vfXSLjK5Wr4
That clip followed up on an earlier McElhenney Instagram post that had us seriously concerned about what's going on with Frank and that Casaba:

McElhenney also gave us a look inside the editing room for this week's episode, highlighting a scene he referred to "as Sunny as it gets." Without spoiling what you're about to see, here are a few things to keep in mind: Mac is still way too submissive to Dennis, Frank's behind on getting his teeth sharpened, Dee finds herself on the losing end of a comment once again – and a familar face returns:
When filming was officially complete, McElhenney shared a video that shows that even after 14 seasons-and-counting, McElhenney, Howerton, Day, Olson, and DeVito still find ways to make each other laugh – and that speaks volumes for the show's incredible success: