James Gunn Cleans Up Bautista/Bane Report; Teases Vertigo "Things"
Along with cleaning up some Dave Bautista/Bane/DCU reporting, DC Studios' James Gunn had something to share to make Vertigo Comics fans smile.
---
Okay, so we're only two days into the week, and we're on our third update when it comes to DC Studios' co-head, James Gunn, cleaning up & clarifying all of the rumblings going on out there regarding what is (and isn't) happening with his & Peter Safran's new DCU. First up, Gunn called out some reporting on Dave Bautista that ran a quote from him that gave the impression that Bautista had no interest specifically in joining the DCU to play Bane after Guardians of the Galaxy (more on the realities of that below). In reality, the quote was part of a bigger quote where Bautista explains that he doesn't care about being a movie star overall and all of the trappings that come with it that Gunn shared via Twitter. "In another article, they claimed I 'sacked Zack Snyder,' a filmmaker who hasn't worked for DC for years before I got here," Gunn added in a follow-up tweet.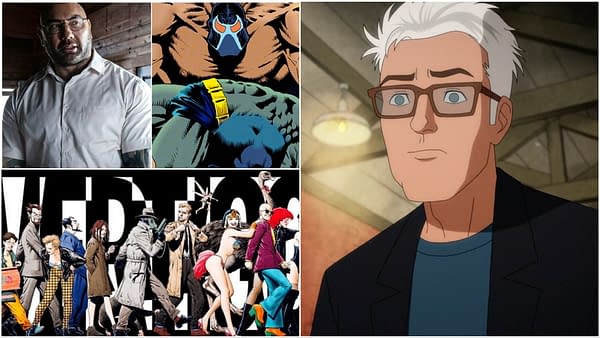 Asked why he bothers responding to reporting like that, Gunn explained, "I don't usually see them, but I learned about this site this morning with a bunch of really shitty articles that either stretch the truth to the point of snapping or just ignore it entirely." But, proving that even bad situations can yield a silver lining, someone asked Gunn in the same thread if we would be seeing any more Vertigo Comics characters being adapted. And that's where things got (cautiously) promising. "Swamp Thing was in Vertigo comics, but he was really a DC character. That said, we're dealing with a couple potential things with Vertigo – comics that I really adored." Okay, our first two thoughts? Animal Man (we're saying the entire run) and Grant Morrison & Frank Quitely's We3.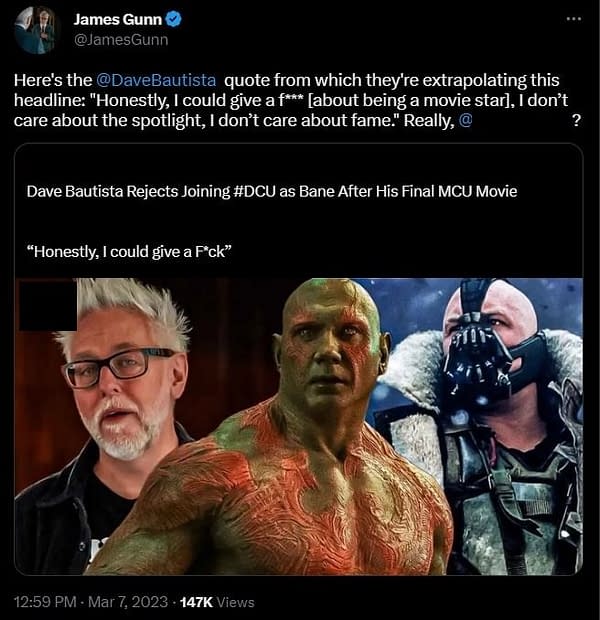 During an interview with Insider in January of this year, Bautista revealed that he spoke with his GotG director about the possibility of playing Bane after Gunn took over the DCU. "I have had conversations with James about that, but I think the direction he's leaning in, completely rebooting that whole universe, he's starting from scratch and starting younger and fresher, and I think you need to do that," the actor revealed. But with that understanding came the realization that his window to play Bane may be up. "I think for the DC Universe to be revived, you need to start from scratch, and I think you need to start with younger actors. You need to start to plan for the next 15 years, and I just don't think you can do that with me. And I understand that," the actor continued. "And, also, I have to say that I appreciate that because I don't want to play a character that I can't bring justice to it. I don't think at this point in my career that I can bring justice to Bane anymore. I just don't know if I could handle the physical part, and I don't think I would have the longevity to plan ahead for films. So, I just don't know if I'd be that guy."