Jes Macallan Upped to Series Regular for Legends of Tomorrow Season 4
Looks like the John Constantine/Sara Lance/Ava Sharpe love triangle will get to play out even more next season on DC's Legends of Tomorrow. With the show getting renewed for a fourth season just yesterday, it was announced today that Jes Macallan, who plays Agent Sharpe, will be a series regular for next season. This adds to Matt Ryan's Constantine, who was announced a few weeks back as a series four regular… if the show was renewed. And of course Caity Lotz, who has been on the series since its debut and played Sara on Arrow for two seasons.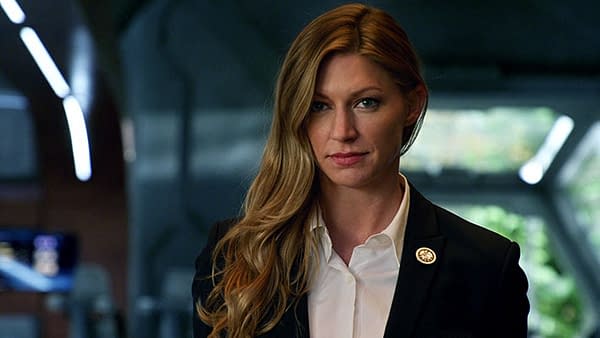 Sharpe was introduced at the beginning of the season as part of the Time Bureau created by Rip Hunter (Arthur Darvill). We watched as the season progressed and her hatred of the way the Legends worked turned into respect for Sara and led to the two getting involved. But it was also discovered that she is a clone from the year 2213, selected by Rip to be the perfect agent… and then replaced when that didn't work out. Though we are on the 12th version of Agent Sharpe, it's not clear if this is the same Ava all season or if she has been replaced since we've met her.
Prior to joining Legends, Macallan did a lot of television guest spots on shows like Grey's Anatomy, NCIS: Los Angeles, and Red Band Society before getting a starring role on the series Mistresses where she appeared in 52 episodes as Josslyn Carver.
The character of Ava Sharpe doesn't appear to come from the comics, but it is always possible that the show might merge her into an existing character as they have done a couple of times.
Source: EW.com