"Kidding" Season 2 "The Acceptance Speech"/"A Seat on the Rocket": Tyler the Creator's Cornell Explains Why "Compassionate Deceptions" Aren't Lies [PREVIEW]
Jim Carrey, Michel Gondry, and Dave Holstein's critically-acclaimed Showtime series Kidding is down to its final two weeks/four episodes – which brings two things to mind. First, we can't shake this feeling that the Jeff (Carrey)-Deidre (Catherine Keener)-Seb (Frank Langella) dynamic end up the same as it was last season when the dust settle on this season's finale. Second, we're still not sure why the cable network has been burning through the season with weekly two episode drops – a series like this needs to have time to grow.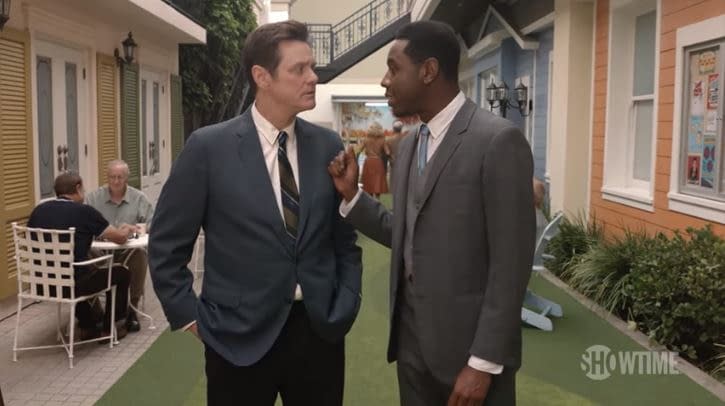 But until Showtime hires me as an "on the ground" geek consultant (that's a thing), we've got the following promo and preview for "The Acceptance Speech" (followed by preview images for that episode and the following, "A Seat on the Rocket") for your eyeballs to feast on – with Tyler the Creator's Cornell explaining to Jeff why "compassionate deceptions" aren't "lies"… and why they matter:
"Kidding" season 2, episode 7 "The Acceptance Speech": Deirdre deals with a medical issue while attending Jeff's Lifetime Achievement Award ceremony. Jeff tries to be anyone but himself. Seb meets someone old and someone new. Directed by Bert & Bertie, and written by Michael Vukadinovich.

"Kidding" season 2, episode 8 "A Seat on the Rocket": Jeff decides to start a new Pickles family while Deirdre tries to get some good PR for the show. Directed by Bert & Bertie, and written by Jas Waters.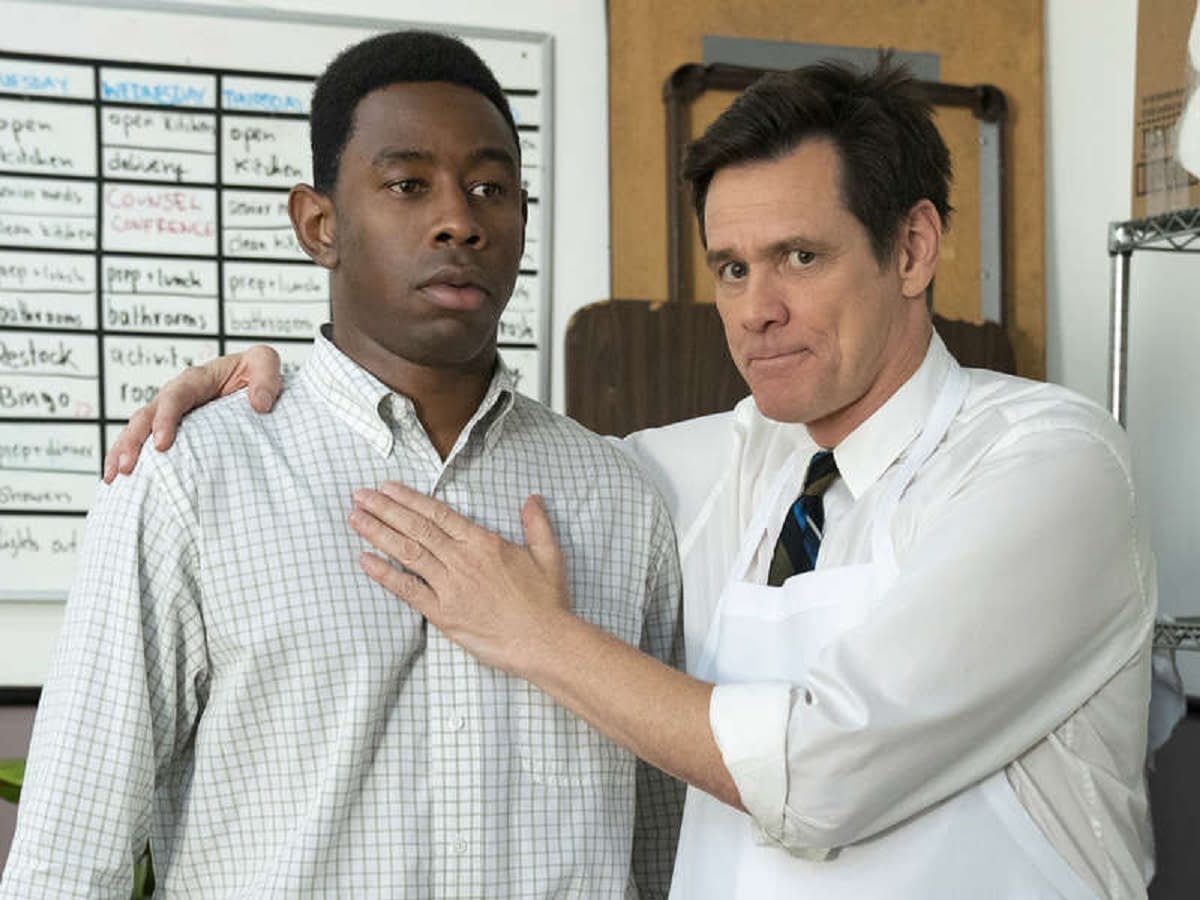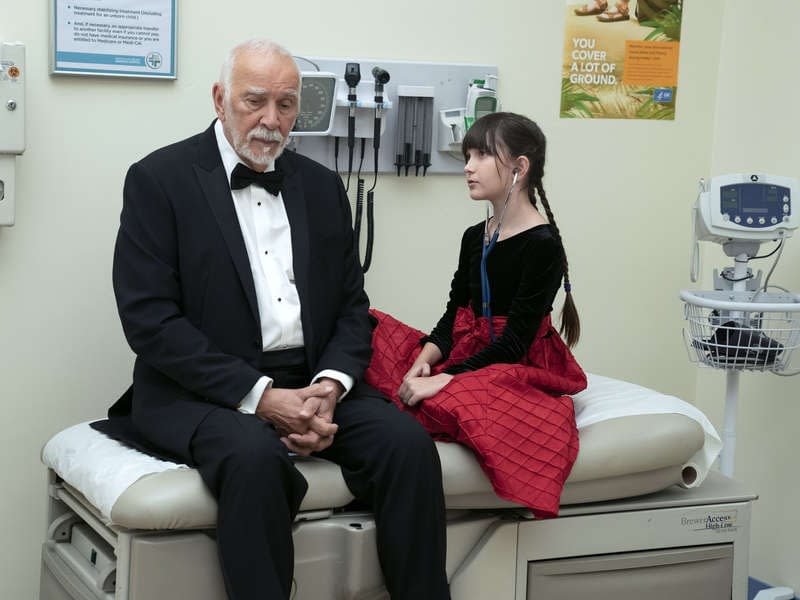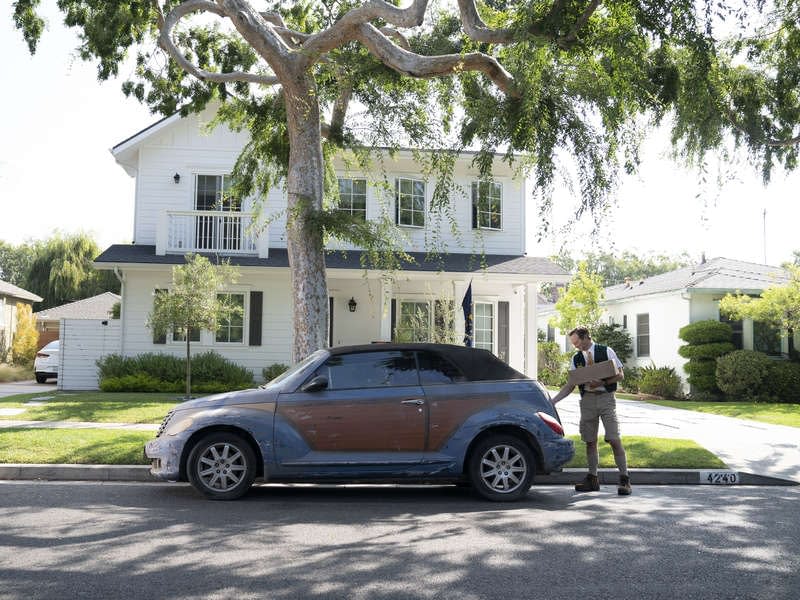 The loss of "Mr. Pickles" was one that was felt by children of all ages, as Phoebe Robinson, Lena Waithe, Andrew Rannells, William H. Macy, and more express their pride in being a part of the "Pickle Platoon" – and how everything from the puppets to the music to the man himself impacted their lives:

With his beloved Mr. Pickles' Puppet Time off the air for the first time in 30 years, Jeff Pickles must find a way to communicate with his many fans who still need him. Jeff creates a new and controversial method to talk directly to children across the world only to become the target of animosity for the first time in his career. As Jeff navigates the most complicated moral gray areas of his life, he discovers a new side of himself in a season full of music, magic, puppets and pathos.

Kidding was created and is executive produced by Holstein (Weeds, Raising Hope), who wrote the pilot and serves as showrunner. The series is also executive produced by Oscar winner Gondry (Eternal Sunshine of the Spotless Mind), who is directing several episodes, including the premiere. In addition, Kidding is executive produced by Carrey, Michael Aguilar (I'm Dying Up Here), Roberto Benabib (Weeds), Raffi Adlan (The Green Hornet), Emmy nominee Jason Bateman (Ozark, Arrested Development) and Jim Garavente (Bad Words).