Knockouts Gauntlet Match Then…Heath Slater?!?: Impact Slammiversary
Welcome to Bleeding Cool's live ongoing coverage of Impact Wrestling's Slammiversary PPV. This report will be broken up by match, with any promos or antics that occur before or after a match included. We've so far seen the Motor City Machine Guns answer the open challenge from The Rascalz and Moose defend his TNA Championship. Now it's time for the Knockouts #1 contender Gauntlet Match.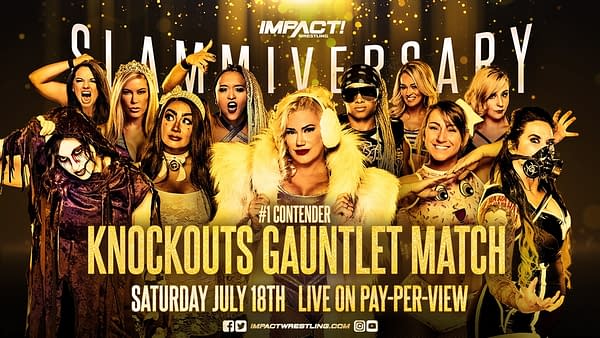 Tasha Steelz and Kylie Rae start out as the first two competitors. A Gauntlet Match in Impact isn't like a Gauntlet Match in WWE. Instead, it's like a WWE Royal Rumble. After two minutes, another Knockout comes to the ring. It's Taya Valkyrie. Except, it's actually John E. Bravo in a wig. Bravo gets tossed over the top rope and Valkyrie is announced as eliminated. Kimber Lee comes out next. After her, it's Kiera Hogan. Steelz and Hogan immediately decide to work together. Lee tries to form a threesome, but they aren't interested. Steels and Hogan start to beat down Lee and Rae when Susie comes out, evening the score for Kylie Rae. Susie superkicks Tasha Steelz over the top rope, eliminating her.
Katie Forbes comes out next, all aspects of the Cancel Culture gimmick eradicated. Forbes is mostly here to twerk, but she does make a halfhearted effort at trying to get Kiera Hogan out of the ring before Madison Rayne comes out. Rayne and Hogan get into a shouting and slapping match. Havok comes out next. Havok gets the monster entrance, with everyone in the ring feeding her except Rayne, who wisely backs away and gets on the ring apron. The real Taya Valkyrie comes out now dressed in an outfit inspired by Captain Hook. She works with Katie Forbes and Alisha Edwards comes out next. Then Neveah.
So far, other than John E. Bravo's comedy spot, there hasn't been anything too memorable during this Gauntlet. A wrestler comes out, gets a little bit of offense, and then gets into shoving contest on the ropes along with everyone else while the clock counts down for the next competitor. Rosemary comes out next with her Costco brand Marilyn Manson knockoff tune.
So now we finally get some story happening in this match. Taya and Rosemary work together and eliminate Susie. Then Rosemary's music plays again, and of course, it's John E. Bravo dressed as Rosemary. Rosemary and Valkyrie start to bicker over that, and Valkyrie ends up punching Valkyrie. Havok tries to eliminate Taya and Rosemary, but Bravo eliminates Havok instead. Kylie Rae eliminates Bravo and then apologizes for it. Madison Rayne goes after Kylie and gets eliminated herself. This match kicked into warp speed with the eliminations. Neveah and Alisha Edwards eliminate each other. Rosemary eliminates Kiera Hogan.
Now it's Valkyrie and Rosemary vs. Kylie Rae and Kimber Lee. They square off as teams at first, but then Kylie Rae and Kimber Lee fight, and Rae eliminates Lee. That was not a good move, as it leaves her alone with Taya Valkyrie and Rosemary. Rosemary puts Kylie into the Upside Down submission, which has Rosemary hanging over the top rope. Valkyrie picks up Kylie and causes Rosemary to be eliminated. There's some ambiguity over whether she did it on purpose.
That leaves this as a one-on-one. Kylie Rae hits a Canadian Destroyer and a superkick and gets the win. This match was alright at the end, but the entire first 90% of the match was completely pointless other than for the comedy spots by John E. Bravo. We just waited for everyone to get into the ring with little happening, and then waited for them to all get eliminate before we finally got anything meaningful with the final four.
As Josh Matthews and Don Callis are talking about the next matches, Heath Slater walks up behind them, grabs a microphone, and gets in the ring. He wants to accept the open challenge against The Rascalz and wants Rhino to join him. If he's too late for that (he is), he wants to be in the main event. Slater is just going by "Heath" now.
Rohit Raju comes out, impressed with Heath's new attitude. Raju tells him the show started an hour ago and Slater missed the open challenge. Also, Slater isn't getting into the main event when Raju has been here paying his dues and hasn't gotten that kind of opportunity. Raju says the last time Heath was in a world title match (on Monday Night Raw two weeks ago), it was over quickly. Raju attacks Slater. Matthews and Callis talk about this invasion and people's spots getting taken. Slater gets the better of Raju and stands tall in this not-quite-a-match.