We keep saying it but Legion remains a high point of episodic television. It's trippy, very psychedelic, and strangely addictive.
The story of mutants and mental powers being told in the rich visceral era the original Chris Claremont X-Men stories were placed in was a genius move, and one that sets the show apart on FX from any of the other comic book based properties.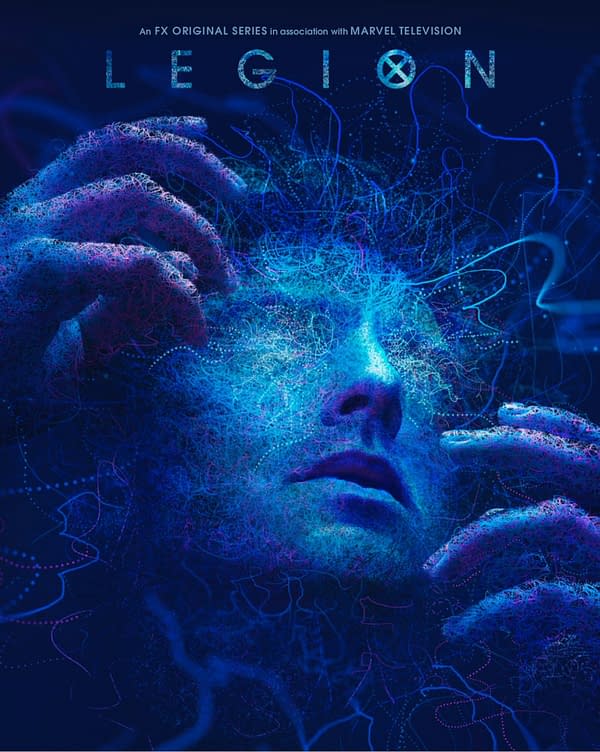 If you didn't see last week's episode "Chapter 14", you can catch up here.
Season 2 episode 7 "Chapter 15" has another simple synopsis (seriously, sensing a theme here):
"A delusion starts like any other idea, but ends in disaster."
Things that happened in Legion s2e7: (we live update as the show airs)
A quick refresher of last week, with David discovering his past, present and future
The egg, the idea, that slimy black thing
A young man is reading Bone Chiller comics, as his mother expresses concern
there is a panel of angry adults trying to get rid of the comics, one of the covers has the Yellowed Eyed Demon
Children are clamoring around the Yellow Eyed Demon
Whats more terrifying? "Fear, or the frightened?"
Farouk is charging his car, with something akin to the Cylon baths from BSG, and we're getting flashes of David back in his vat of liquid
Farouk puts a coin into a fuel station, and whistles
David and Farouk are sitting across from each other at a dinner table, a lovely room with paintings and a fireplace
David accuses Farouk of killing his sister, and Farouk makes it out to be that he was doing what David wanted him to do
"You wished her dead, for calling you insane."
"Gods make rules, they don't follow them," Farouk says.
Farouk says he's sending David back to the kiddies table, and that they'll see each other again once he has his body back
David comes face to face with his sister, he holds her head and tells her he's sorry, but she starts laughing and he rages- which pushes him back into the present
While in bed with Syd, she asks if he wants to talk about his sister's death
They talk about future Syd, that present Syd isn't jealous at all. "Let's lay down some ground rules," she says
Looks like Farouk's car is about ready, he puts on some flight goggles as a pink Pink Floyd light show happens
Farouk is in a hall of light, and future Syd is there.
"In my timeline the race ends and he kills you," she tells Farouk.
Syd and Farouk are circling around a throne, and she tells him she needs him to stop the world from ending
He figures out that what Syd is telling him, without words, is that he, the villain, would be the hero this time
Back in her cell, Lenny is pacing and replaying the death of David's sister/her rebirth by snapping
Syd comes to see Lenny, tells her she's not Amy or Lenny, that she's a distraction
Lenny says that Farouk raped her, but it's unclear if Syd is buying it
The Vermillion and Fukuyama come to visit Ptonomy, holding him and implanting one of the dark ideas in his head.
Ptonomy whispers into eggs, and leaves them at the bedside of Syd, Kerrie, and Clark
Turns out the Vermillion are part Weeping Angel part baby dancing Groot
David is back in his tank, goes to the pink light place to see Future Syd
She tells him to make good choices
Wait. Did Syd just put on Fukuyama's basket?
David goes to find everyone, and discovers a hallway filled with broken eggshells.
The Vermillion face off in a hallway with Kerrie and Ptonomy, but there's not just three Vermillion now, there's an army of them
Kerrie takes several out with her axe, clearly her training has been going well
Clark and Syd have made it to Fukuyama's room, and he removes his basket
Instead of the man they thought it was, Syd sees the large black demon
David appears in time to prevent Syd shooting Fukuyama, and manages to pull the bad ideas out of their minds
"Insanity," David calls them
Ptonomy falls to the ground, and a GIANT one of the insanity dark ideas bursts from his back
The thing escapes the room, and David chases after it
Some of the remaining Vermillion take a dying Ptonomy into Fukuyama's forest wall, and plug him into a tree
David tries to reason with the giant thing, telling him "it's not a good time" for this attack, "I'm dealing with a lot here, with the Shadow King."
The creature charges towards David and shrinks, becoming one the tiny ones
David scoops it up, puts it in a jar, and uses his powers to fold it in on itself
Future Syd is watching David through a porthole, sadly, like she knows she's not going to see him again
The 'saved' Ptonomy awakens inside a computer, binary code flashing all around him. He's not alone, and the old woman in the rocking chair holds up a finger to shush him.
***
This was not my favorite episode this season. Overall, I didn't connect with it the way I did the rest of the chapters, but I'm pretty sure it's a means to an end. Hopefully next week will pick back up.
Legion airs on FX on Tuesdays.
Enjoyed this article? Share it!