Let's Talk About America's Next Top Model Cycle 24 Episode 5
Join us tonight for our Lets Talk About America's Next Top Model, when cycle 24 episode 5 "Beauty Is Unconventional" airs at 5 p.m. (EST) on VH1. On tonight's episode, beauty blogger Patrick Starrr (introduced adorably by judge Ashley Graham) tests the contestants on their ability to beautify on a budget using… unconventional methods.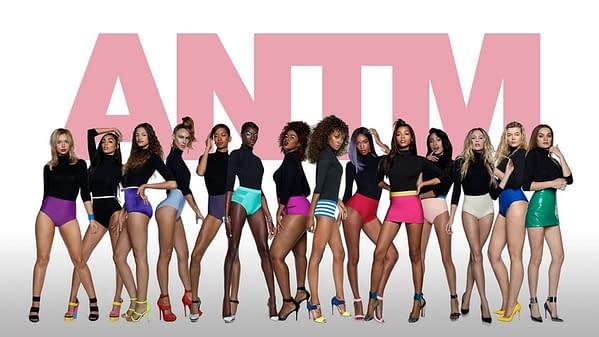 Also, if you missed it last week, you can catch up on what happened here. Don't forget that VH1 has this cycle's episodes on their website, within a day or two of airing. And- watch the interview segment with judge Drew and the girl that went home in c24e4 here.
As a reminder, prizes for the winner of this cycle of America's Next Top Model include a cover and spread with Paper magazine, modeling contract with Next Management, and the new twist this year- an ANTM mobile game where the winner will be an avatar along with Tyra, and $100k from Pantene.
We're going to keep a running commentary of the highlights of the episode as it airs, so check back.
Things that happened:
The episode started with a short recap vid of last week's drama
Khrystyana got best photo, and it's shown in the house
The girls are still talking about Liz leaving (by choice)
Coura is concerned about her performance levels going down
Judge and supermodel Ashley Graham visits the house
She's there to talk to the girls about "unconventional beauty", and all the
different kinds of body types, skin types and colors
Jeana talks about her baldness being unconventional
Ashley introduces the girls to beauty blog sensation Patrick Starr
Patrick looks FAB in a red frock and chic turban
The challenge is for the best unconventional beauty tutorial, and the winner will
have her vid shown on Patrick's channel.
One group of three will be competing, the rest are groups of 2
hard boiled eggs, shaving cream, tape, and of COURSE the condoms.
the girls get 30 minutes to come up with a beauty hack
one group does a chicken cutlet blender
another group does mustard filled condoms as a blender
The girls only get ONE TAKE
Christina and Rio are using scotch tape to contour in their 'hack'
Christina….is sort of a mess
Rio seems to be better on camera, she's aware of her audience
Jeana and Kyla present their chicken cutlets for blending
Sandra and Shanice use a lotion filled lube-less condom
Liberty and Erin use a hard boiled egg for blending
Brendi, Coura and Khrystyana use a razor and shaving cream to exfoliate
Ashley and Patrick shout out to Shanice for her naaaasty self
Christina was told her energy brought Rio down
The winner is Sandra! She'll be featured on Patrick's channel, and she gets an
advantage in the next challenge.
The rest of the girls are not so thrilled with the choice, but mostly Rio and
Jeana.
Rio talks a bit about how she had a brain tumor, and had to 'reinvent herself so
many times'
the wine starts to flow, and Rio starts to talk about everything that bothers
her.
Sandra does her best to defend herself from what she feels is an attack, and Rio
doesn't help matters by constantly commenting back.
The next day, Drew Elliot shows up at the house
He calls the girls out to the pool, to give them their challenge
"Making a beauty sandwich in groups of three"
Sandra's advantage she won in the challenge is: Ashley appearing in the photo,
and she gets to help direct the shoot for Sandra.
Ashley tells Sandra that beauty shoots aren't about "fierce" all the time, that
sometimes they need to be soft
Rio, Coura, and Jeana are in the first beauty sandwich together
Coura struggles, being in the middle of the stack can't be easy for her
Khrystyana, Liberty, and Brendi are grouped together
Erin, Shanice, and Christina are next, Erin is in the middle.
"There's a lot of smooshin' of the faces" says Erin
Christina struggled with finding the right body position
Sandra, Kyla and Ashley are grouped together
Rio throws a bit of a fit during their shoot, albiet quietly
Tyra Mail #1 in the episode warns the girls that a "cut is coming, which one of
you is going home."
Law Roach, Drew, Ashley and Tyra are back for panel, and she reminds the
contestants of the prizes
Rio was told she did the best out of her group
"As we can see, the bottom is a magical position," Law says of the second group
Shanice gets told she did the best out of her group
Shanice straight up calls Christina lazy
Ashley says that Christina wasn't being a team player
Law says that Brendi and Khrystyana did the best out of their group
Sandra and Kyla did really well, Ashley said it helped that they got "girl time"
along with their "model time"
First name called this week is Rio
It comes down to Coura and Christina
Coura going is home (I 100% disagree)
Christina's attitude is horrible, and she should NOT be kept because of it.
Thanks for joining folks, we'll see how the next two weeks go with the Olympics coverage, there may be a break in our ANTM chats, but they'll come back, I promise.